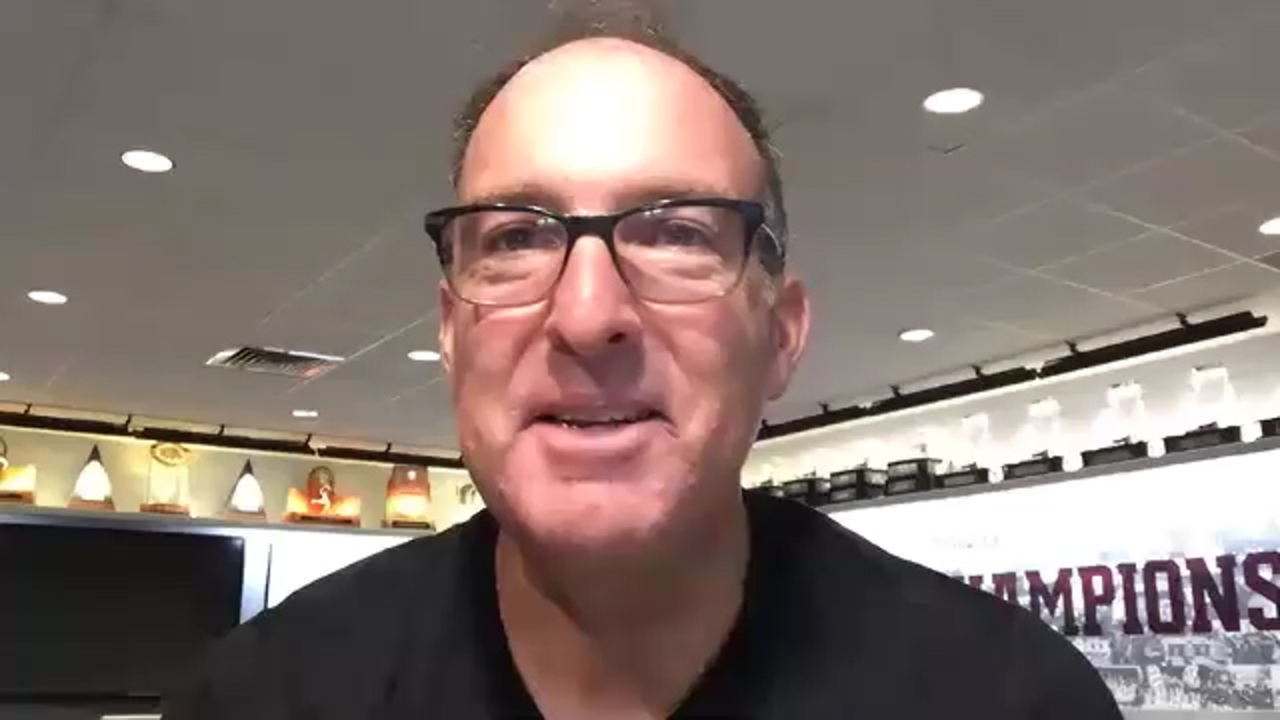 G Guerrieri
Jimena Lopez
Jordan Burbank
Texas A&M Soccer
Aggie soccer returns to Ellis Field as training for 2020 season begins
---
Finally.
Texas Aggie soccer began training on Tuesday and returned to the training pitch on Wednesday morning as the Maroon & White prepares for the upcoming season. The 2020 season is slated to begin in just under a month.
Head coach G Guerrieri described his excitement level, as well as the team's, to get back to official soccer activities to back on Ellis Field.
"If we didn't have the masks on (the field), you'd see that we all had smiles on our faces," said Guerrieri. "With everything that's going on, at least we got a start."
Senior defender Jimena Lopez didn't mask her emotions about returning to Ellis Field.
"It was awesome just to be out there," said Lopez. "It's really a blessing just to be able to be here and get to practice with the whole team."
Texas A&M will be tasked with replacing the offensive firepower of All-American striker Ally Watt, who scored 16 goals in 2019.
"If we didn't have the masks on (the field), you'd see that we all had smiles on our faces. With everything that's going on, at least we got a start."
"Ally was definitely a big part of our program for four years," said Lopez. "We're going to miss her, of course, but I think this gives us a chance to change our style of play. With these new freshmen coming in, I think we have a lot – a lot of talent."
Guerrieri echoed those sentiments and added that while A&M's offense might look different, it won't necessarily be any less dynamic.
"We'll have probably a different shape to the way we play because we'll adjust it to these new players and to the strength that we have returning, but it'll still be a Texas A&M team that hopefully strikes fear into our opponents," said Guerrieri.
With the ongoing COVID-19 pandemic, different protocols have been put in place by A&M's athletic department and the SEC to keep the Aggies as safe as possible, including continued testing of the entire program. Guerrieri outlined some additional safety measures that his team must follow.
"With COVID precautions, it's crazy. We don't get to use the locker room," said Guerrieri. "The girls don't get to hang out at all. A lot of things that we would be doing to build teams, all the protocols are for not building teams. They're for building individuals and spaces, which is understandable."
However, Guerrieri noted that an added benefit is a longer training camp than usual, which allows for more recovery time for the players between workouts.
"Typically, we would be training twice one day and then once the next, then twice, then once," said Guerrieri. "That can be a real grind on the players. The fact that this thing has been stretched out, I see as a real benefit because the players get a full 21 hours to recover from a hard training session today."
While changes to the schedule could still occur in the coming days and weeks, Aggie soccer is currently slated to begin the 2020 season with Oklahoma State on Sept. 5 in Stillwater. Texas A&M will host TCU on Sept. 13 in their first match at Ellis Field of the new campaign.
Never miss the latest news from TexAgs!
Join our free email list