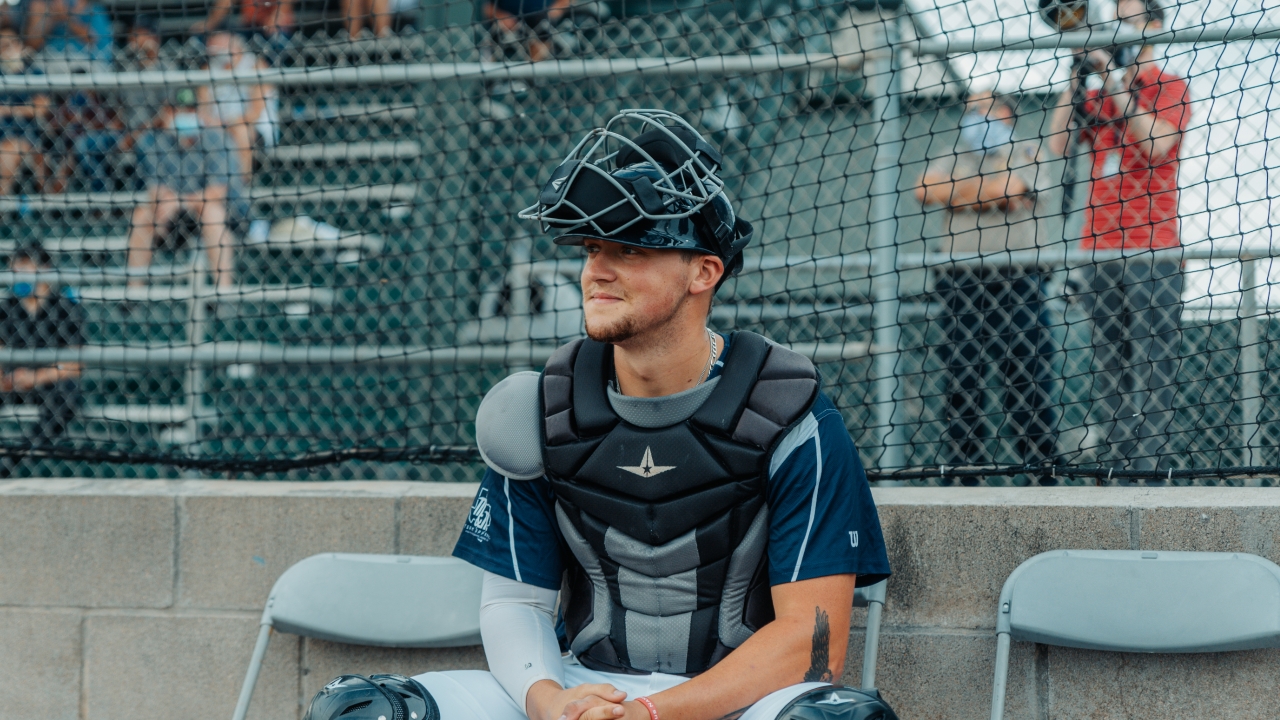 Photo by Baylee Griffin, Brazos Valley Bombers
Texas A&M Baseball
Bombers catcher Taylor Smith excited for his next chapter in Aggieland
---
Key notes from Taylor Smith interview
It's a blast with the Bombers. It's a great group of guys. We have some other Aggies on the team, so I'm getting to know the guys and the College Station area pretty well. It's been the best summer so far. Fuego is definitely my favorite food spot.

It's been crazy with COVID. We're just trying to play baseball and make the most fun out of it that we can. We're just playing and hoping for answers. The people around you wearing masks is the most different thing. I like seeing people smile and be happy, but you can't see that right now. Once you get to the ballpark, though, it's just like normal: Batting practice and then a game to play.

This Bombers team is an excellent team with a great bunch of guys. Our lineup and pitching staff is deep. Hopefully, we can go out and win this next series — hopefully, a sweep — and make a move for first place.

I'm hoping to come into Texas A&M and earn an everyday spot in the order and help out any way I can. Like everyone else, I'm just trying to get to Omaha.

Bryce Miller has been outstanding. I can't say anything bad about him. His fastball is running up into the mid- to high-90s. His breaking stuff is good too. He just needs to run his innings up a little bit more, and he'll be good to go as a starter.

Out of high school, I got a shot at UIW. I took full advantage of up. We decided my best option would be junior college after my coaches Pat Hallmark and Scott Shepard left for UTSA. I headed to Grayson Junior College and had a great experience there. After that, I fell in love with College Station and fell in love with this A&M program. I'm just excited to play and be an Aggie.

Being a mid-major guy, everyone has a chip on their shoulder when you play those big schools. It felt good to get two hits as a freshman at Olsen Field and to beat A&M. Now, I'm an Aggie. I'm in the SEC. We're with the big dogs.

Jordan Thompson and I became good friends at UIW. He's an outstanding outfielder. He's going to take advantage of his opportunity here at A&M. He's got a little angry swing, but he does good with it. With him, you're getting speed, power, an arm, and somebody who will play with their hair on fire.

I can't lose. I don't want to lose, and I won't fail. I'm here to help the Aggies in any way I can.

Being a sophomore really helps. It's definitely a positive. I think everybody should get their year back and take advantage of that opportunity.

All of the traditions at A&M are neat. I'm excited to be apart of that. When I was growing up, Texas A&M baseball was the dream team in the state of Texas. I'm hoping we can get this team to Omaha while I'm here.
Never miss the latest news from TexAgs!
Join our free email list