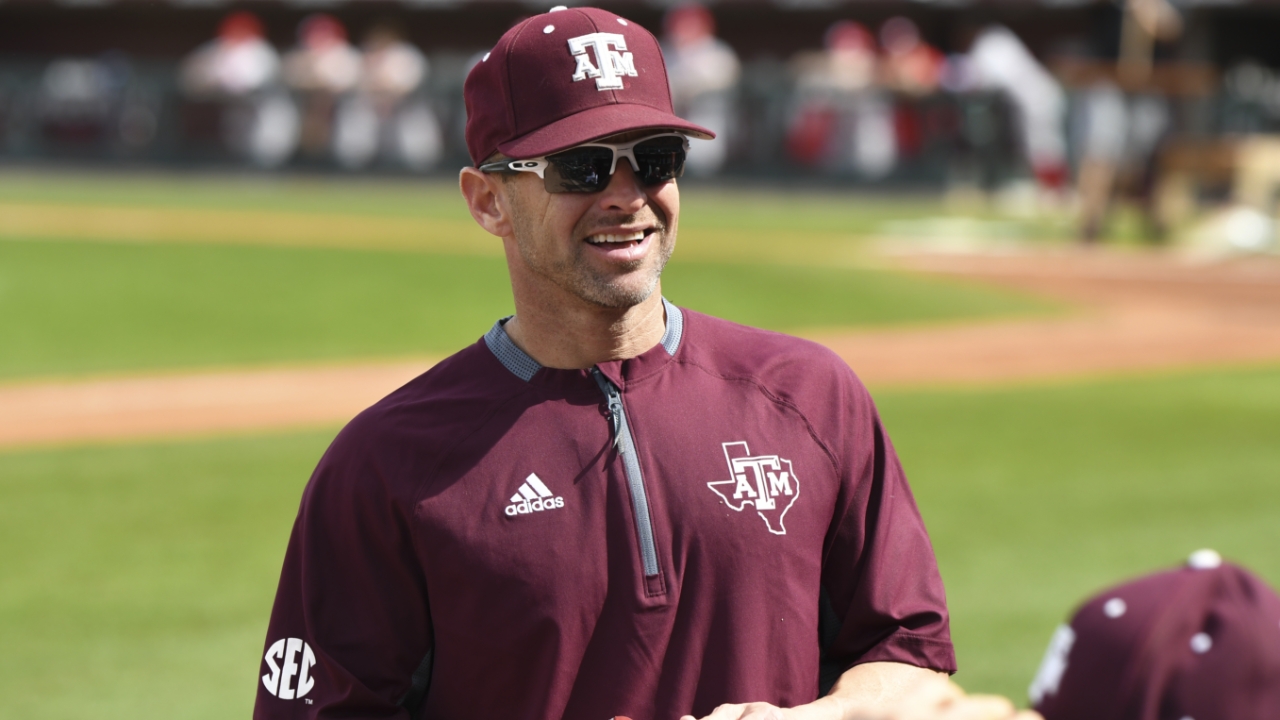 Photo by Jamie Maury, TexAgs
Texas A&M Baseball
Chad Caillet on the remote recruiting process, instilling culture at the plate
---
Key notes from Chad Caillet interview
There is a lot of online recruiting going on. We're fortunate that a lot of these tournaments are streamed online so we can tune in and see these guys moving around the baseball field a little bit. It's tough. It's been challenging for all of us. We're learning about these kids before the games, but you can see the arm strength and stuff like that. The hard part is seeing how these guys interact off-camera and how they handle success or failure. We have to rely more on their coaches and the people around them.

Just Seely and I don't watch the games together. We watch on our own and come back to discuss what we like and didn't like. We break them all down. We're trying to collect as much information as we possibly can. I'm tackling more of the out-of-state prospects because of my background. We're just trying to figure out what we're getting and what we're looking for in a future Aggie.

There is no question that the Texas A&M brand is much easier to sell from a recruiting standpoint. They know the history and tradition. That's something I had to see when I was at Southern Miss. The education side has been something that has been missing from my recruiting. The degree and the Aggie ring helps a lot when you're selling your program to some of the top-ranked players in the state of Texas and beyond. I'm surprised by how many people are educated about our program. That's a testament to the success that Rob Childress has had here.

The conversations I've had with every returner have been about how to improve. I spent a lot of time watching swings and rewatching our games. I've conversed with a few of our guys, and we're going to make some adjustments this fall. I was fortunate that I inherited such a talented group. The struggle for me last fall was that I didn't know much about the individuals. It was an evaluation period for the guys and me. I was new. It was more about the team offense and how we were going to play as opposed to making as many adjustments with an individual. That's what I've been able to do this summer. This fall will be so much easier for me, Justin, and Cliff Pennington. The returners are going to be able to play faster because they'll have a year under their belt.

We want to win. We're all in. Mikey Hoehner was telling me that this is it for him. He's all in as far as helping us win a national championship. The supporting cast and the upperclassmen are going to have a much more significant role in our team this year.

We added some nice pieces. From a position player side, we have some experienced players coming in and exciting freshmen coming in. Taylor Smith from Grayson Community College. He's a catcher and switch hitter. He has an unbelievable bat and talent behind the plate. We hope he'll be a nice addition to the middle of our order. Brett Minich from Blinn can play first and outfield. Very versatile with excellent bat-to-ball skills. Those are our only junior college position players coming in. The two freshmen I'm excited about is Kalae Harrison and Cade Merka. They're going to have to get after it. Those are the two pieces that can help immediately. Unfortunately, they won't be able to come in this summer. We will be a little behind, and it'll be a challenge for them and for us. There is a slew of freshmen that we're excited about. It should be a fun season with a nice balance of experience and exciting young talent.

It will be the most talented college baseball season ever. We have so much depth. That's why I came to Texas A&M. This is what I expected with this kind of roster and things that we can use. Injuries happen, but we are so much deeper this year than we were on paper. We'll have to get to work this fall and put together the best nine each day.
Never miss the latest news from TexAgs!
Join our free email list