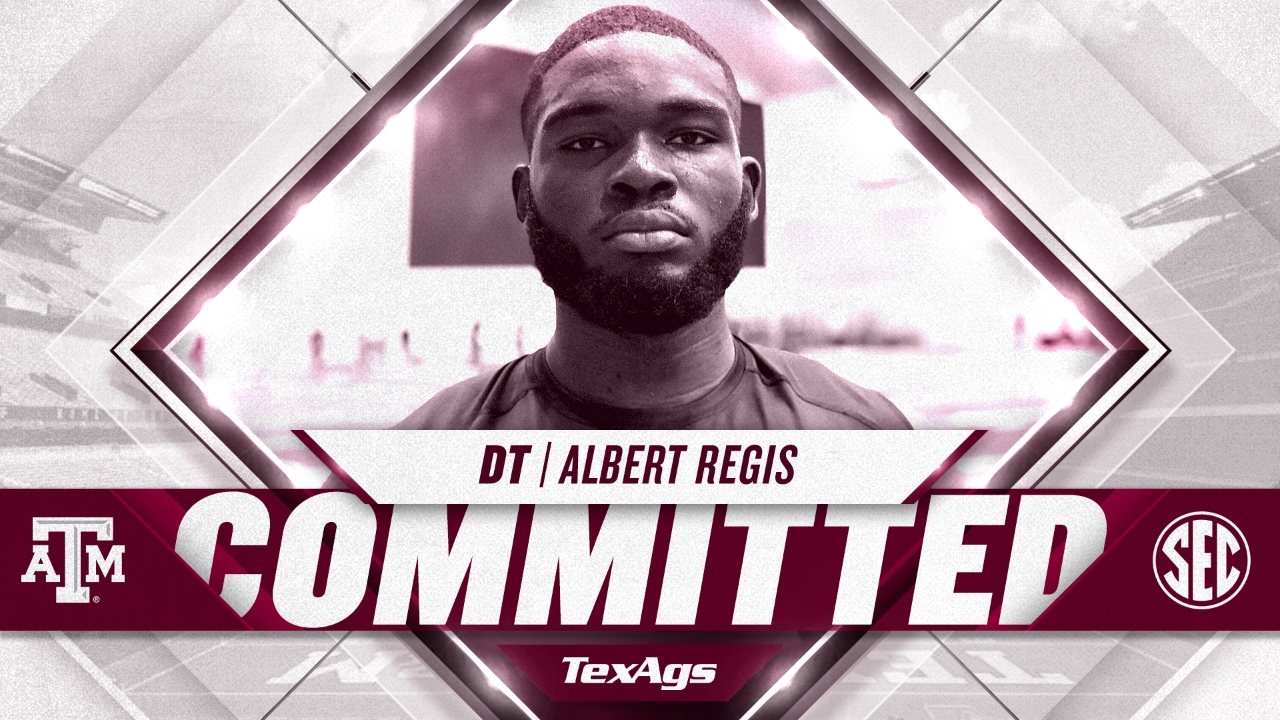 Texas A&M Football Recruiting
La Porte defensive tackle Albert Regis commits to Texas A&M
---
When the Aggies offered La Porte defensive tackle Albert Regis‍ on June 1, it quickly became clear that Texas A&M would be a major player in his recruiting process. Now, it is clear that A&M is not just a player; they are the choice.
Regis has always been a big-bodied athlete who has been a versatile standout on the football field. He has lined up at running back, H-back, receiver and along the defensive front.
"I've been doing this a long time and he's the biggest, most athletic kid that I've ever coached," La Porte head coach Anthony Renfro said. "His size and his ability, I think, is what makes him so intriguing. And he's 6-3, he's about 290 right now. He slimmed down a little bit since we've been playing. He still can run, still has his speed. I think that's what's so intriguing about him."
His explosion and quickness impressed Texas A&M at camp in the summer of 2019, but at 6-1, 250-pounds his size was something coaches wanted to monitor. His early summer measurements came back at 6-foot-3, 290-pounds, which prompted Jimbo Fisher and the Aggies to send a June offer Regis' way.
"When A&M offered, I could barely control my excitement," Regis said after the offer. "It was probably a good thing I was sitting in my car because I would have been jumping around and going crazy. I have an offer from Tennessee, so it wasn't my first chance to play in the SEC, but to get the opportunity to play at Texas A&M...it's just an incredible feeling. I'm overwhelmed with excitement."
Regis was once committed to Minnesota but re-opened his recruiting process in late May, and he named a top six of Texas A&M, Texas, Arkansas, Texas Tech, Ole Miss and Houston in late August. He also held offers from the likes of Baylor, TCU, Tennessee and Virginia Tech.
He is the Aggies 15th commitment and 8th Texan in Texas A&M's 2021 recruiting class. He joins a defensive line class which includes Jahzion Harris‍, Marcus Burris‍ and Victory Vaka‍, and he is the 9th defensive commitment of the class.
Regis is currently ranked No. 37 in the TexAgs Texas Top 100.
"I think he's such a good interior defensive lineman," Coach Renfro said. "You can't move him. And he's still fast enough to run. They'll run inside zone and the back will bounce it, and he's running past our other defensive linemen that have a better angle. I just think he creates so many mismatches inside. He could play on the edge too. Some schools have talked about using him on special teams or as an H-back or fullback type of kid. It wouldn't surprise me what he did at the next level. If he wound up doing some of those things it wouldn't surprise me at all."
We'll have more breakdown soon for our TexAgs Premium subscribers.
Never miss the latest news from TexAgs!
Join our free email list