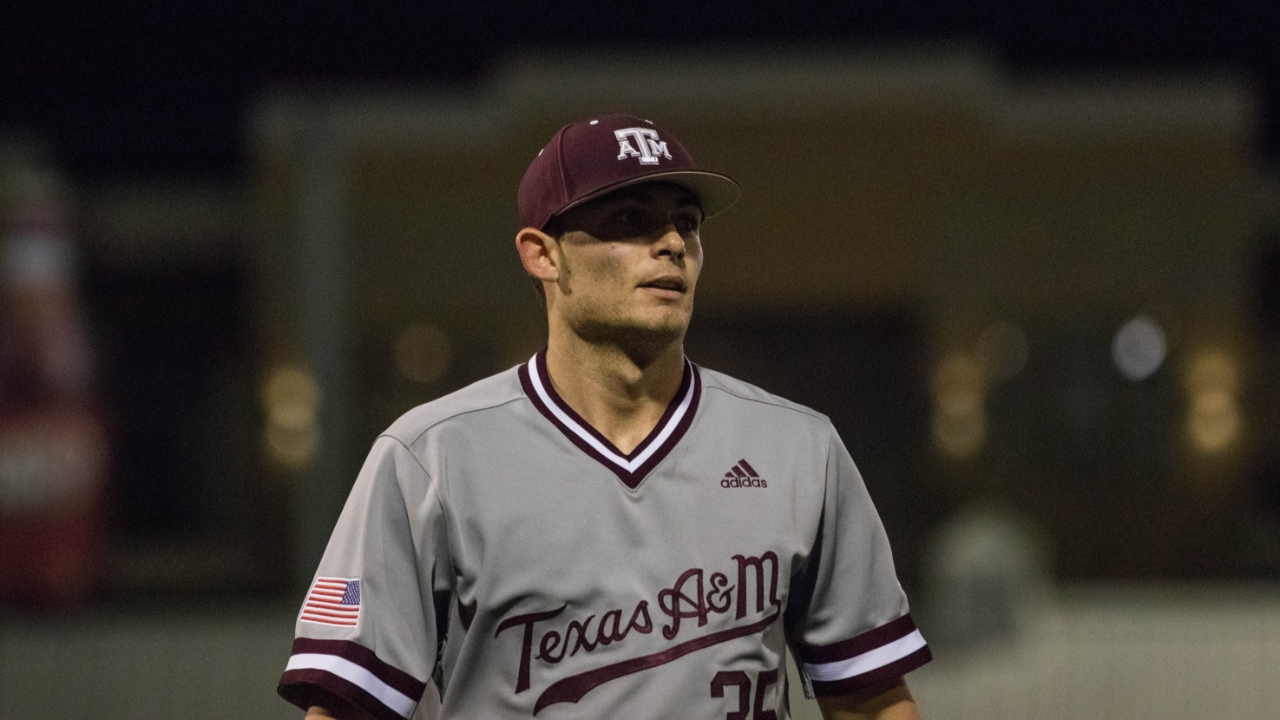 Photo by Angelina Alcantar, TexAgs
Texas A&M Baseball
Diamond Talk: Asa Lacy's potential to be the No. 1 overall pick
---
Key notes from Diamond Talk
I think the only positive of the season being canceled is many guys that needed to get healthy now have that opportunity. I would also think that there would've been lots of kids throwing a lot of innings, so maybe with youth baseball canceled, this gives kids an opportunity to grow into their bodies and arms, so they aren't injuring themselves given how prevalent Tommy John surgery is nowadays.

Last year was such a bad season because of the weather, and we only played in about five of the ten tournaments we signed up for. Now we're looking at 13 and 14-year-olds that are about to enter high school baseball that hasn't played nearly as many games in the last two seasons. That's been a significant change.

I think one of the things a lot of people don't know, 75 percent of the next recruiting class for the SEC is already decided. But that other 25 percent, this evaluation period is critical. I don't see how they're going to find those opportunities for those kids that are breaking through and seeing their talent develop. You have a group right now that can easily get lost in the shuffle now that an entire senior class is coming back. There is so much going on right now across all levels of baseball that will have a ripple effect for the next three or four years.

You throw in the draft, which by all accounts will be five rounds, so a lot of these guys that were pegged to be sixth-11th round draft picks, they now won't have a chance to get drafted. Then you factor in the reduction of minor league teams, and now there are massive amounts of kids on the cusp of being a college or pro baseball player that no longer will have that opportunity. If you're a graduate transfer, you're looking and hoping some of these kids can find their chance to play and get an opportunity, but chances are they aren't going to be getting the opportunity anymore. They're playing musical chairs, and many are left without a chair. Some of these guys are now having to prepare for a job in the real world now instead of pursuing baseball.

There's a point in time when you have to hang up your cleats, but a lot of players get told when they are much older. A lot of kids being made aware right now that sometimes the real world gets in the way, and that's a sad reality.

I went back and looked, the first player in Jeff Granger's draft, did he turn out to be anything? It was Derek Jeter, so you imagine teams will look to the hitters first, and Granger to this point is the highest-drafted Aggie at number five.

Spencer Torkelson is being touted as the number one pick, but I have to imagine with what Asa Lacy possesses as a lefty flamethrower, he has to be at least a top-three pick. I think Lacy was doing it against the best conference. We watched Casey Mize two years ago, but do you see anything different between Lacy and Mize?

The funny thing looking over these draft projections is that they are saying Lacy has the best slider in baseball this year. Not to take away from Mize or Torkelson, but Lacy has everything a team needs in a number one pick. Baseball is different, though, since a lot of these guys won't be seen for a few years. You want to talk about getting shell-shocked as a quarterback, but getting called up too early as a pitcher to a terrible team can be detrimental to a pitcher's development.

I think teams near the top of this year's draft that think Spencer Torkelson is their number one pick, but I believe Lacy should be the first pick. We saw what Lacy did this year against Nick Gonzales from New Mexico State, who is a projected top-five pick, and that is what he's been doing for the last year and a half. He's just overpowering, and I don't see how a team can justify letting him fall any lower than the second or third pick. Not to take anything away from Torkelson or Austin Martin from Vanderbilt, but Lacy has everything you want in an ace. Teams better be smart and take him early, and unless someone sees a Derek Jeter or a Ken Griffey Jr. in the high school ranks, you better not take a high schooler over him. Not in this draft. That's how general managers lose their jobs.

I wonder if a junior varsity system would help some of these players get the opportunity to play in the fall season. These players need time, and you have players that are out of redshirts and have lost other opportunities to play, so I feel something needs to be done to create games or tournaments to get those opportunities back. I would like to see them relax the rules and find specific ways to create chances. That would be hard to do given the fall sports that need the attention as well, but doing this would allow for bench players to play and earn a role by playing against junior colleges and small schools and by showing themselves to coaches that would see this player knowing he doesn't have a spot on the roster in the spring. It could change a lot of things.

I think Christian Roa will be a top-three round draft pick. Had he been able to play a full season, I think he would've had the opportunity to rise draft boards even more than he did.

For Zach DeLoach, no one moved up further on draft boards than him. He showed up early and often and, like Roa, I think he would have continued his meteoric rise up draft boards, but that being said, I think he will find his suitor in the second or third round.

I think several players will be back that otherwise wouldn't have been. I think you'll see Ray Alejo and Cam Blake again. Maybe Will Frizzell would have gone in the later rounds, but now he's added an extra year of health and will return. Logan Sartori would have been another name, and I'm positive that Bryce Miller would have been a guy that would've been drafted in the later rounds had the draft been like usual. You're getting a lot of key contributors back next year that can make next year's team interesting.

Going off the topic of the day and talking favorite recruit storylines, I really would have loved to have taken a dive deep into the recruitments of Donell Harris and Fadil Diggs. Knowing the defensive ends A&M has seen in the past and knowing how important that position is. They were two great ones to follow and a tremendous pull by Jimbo Fisher. I think they will be a very good tandem, and I honestly I'm just excited to see the season get played, and I can't wait to get Aggie football back again.
Never miss the latest news from TexAgs!
Join our free email list