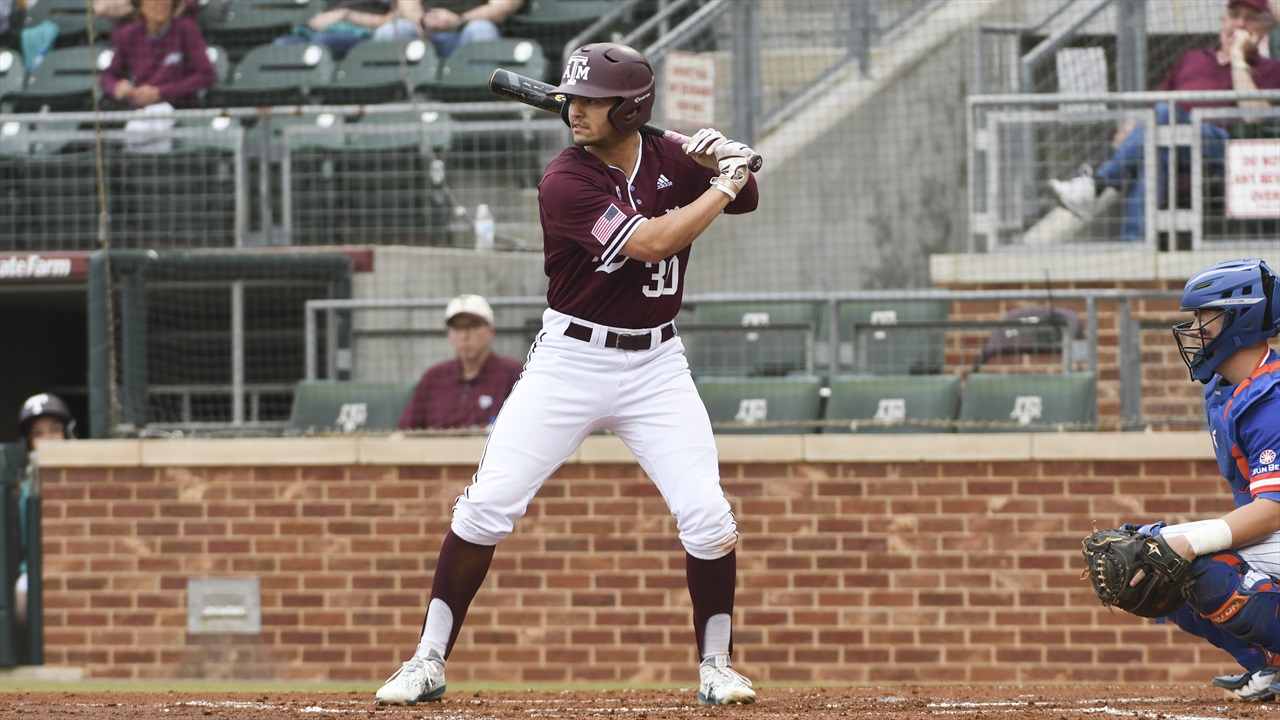 Photo by Elisa Schmitt, TexAgs
Texas A&M Baseball
Cam Blake plans to return to Texas A&M as a fifth-year senior in 2021
---
Key notes from Cam Blake interview
I was a little skinnier back in the day, so I could really track down those long fly balls when I was playing shallow. We're working on it now, though. I was so upset when Brauny told me to go stand in right field because I was talking too much. I was such an offended 13-year-old.

I hope Coach Seely isn't listening, but I've definitely missed a pitch or two when Asa is on the mound.

It's been a weird three weeks. This is nothing anybody has ever experienced before. For me, I stayed in my room for three or four days to gather my thoughts. I didn't know if I had played my last game or if I even wanted to come back. Five years in college baseball is a long time. I didn't want to react too quickly.

I've had an interesting four years at A&M. I wouldn't change anything about it. I've grown up a ton from it. At the end of the day, I can look in the mirror, knowing I've played as hard as I could and give my body, mind, and heart for the team. If that was it, I would've been okay with it. I would have no regrets.

I was on the phone with one of my old summer ball coaches. At first, I was done. I was going to move on. I've thought about it. That coach told me, "You've got the rest of your life not to play." That hit close to home. I'm 23. That's not that old. I'm going to do anything that I can to come back and keep playing.

I've talked to a few of the guys, and we stay in touch. I live with Bryce Blaum. I won't speak on what other guys are deciding. I know that Ray Alejo is coming back. I do think that the core nucleus of guys, we're all planning on coming back. We will have to wait and see what happens with the draft - myself included. That core is on the same page, though.

The hardest part has been getting home. My mom and dad being down my throat about everything. My mom is on a conference call right now, so I'm just chilling. Routine is everything for a baseball player, so that's been an adjustment. This time is really showing how much you want it. I'm trying to get my body right for next year. I'm focused on my health, mentally and physically. I'm working on my school work. It's kind of been a blessing in surprise.

I want to say that ball that I hit against Vanderbilt - that triple - gave me chills. DeMarco in center gave me that one, so thank you. Other than that, the moment that stands out to me is John Doxakis against Auburn in the SEC Tournament. That was the most dominant performance I've ever seen on a baseball field, and I didn't even play that game. I was standing right next to Kaylor Chafin along with Chandler Morris and Allonte Wingate. We were letting it eat. Casey Mize was pitching that day. I was letting him hear it too.

I think it's huge that everyone got relief. I thought it was either going to be all or nothing. For juniors who get to stay juniors, that's huge. If the draft doesn't work out, they can come back. It's almost free publicity and free experience. The NCAA handled this well. It's nice to see they're not just worried about what's going to line their pockets, but also our well-being.

Ornelas and Magers have figured out the key to success at this level. It's about being comfortable with who you are. Mason Ornelas is the same way. He throws 88, not 94, but he knows you're going to roll over. Alex Magers - "Maggy" - is the same way. It's about going out there and trusting your plan whole-heartedly.
Never miss the latest news from TexAgs!
Join our free email list