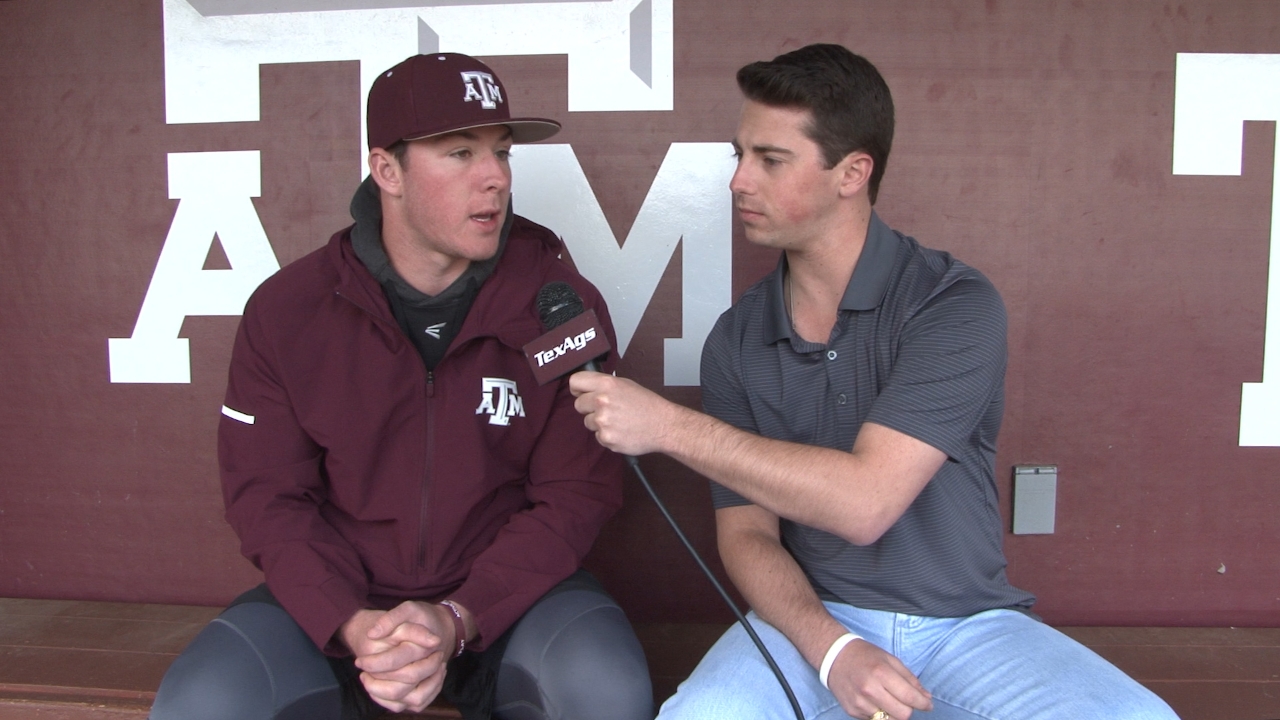 Texas A&M Baseball
Dugout Chat: Bryce Blaum named SEC co-POTW after hitting .500 in week two
---
How does it feel to be the SEC co-Player of the Week, and how did you learn you had received the honor?
It was an incredible honor to get. I think it was a by-product of what we're doing as a full offense, just everybody selling out to the plan that the coaches have been doing. I found out because my mom texted me in all caps. I woke up from a nap to that text, so it was a pretty cool text to wake up from.
What changed in your approach, from week one to week two, that caused that .500 tear?
Coach Seely called me into his office and had a talk with me to just trust it and trust the plan that they're instilling and to just go have fun. That really brought me back down to earth, and I knew that I had guys behind me that we're going to do the job. As a collective unit, it took a ton of pressure off myself. Once I bought into that, and everybody has bought into the same thing, it was easier to do than to have kind of everything on your shoulders.
How has sliding up into the leadoff spot changed your approach at the plate?
It hasn't changed at all. I hit leadoff about 3/4 of the year last year, and then we switched about 3/4 of the way through it. Just anything that I can to get on base of this team. One through nine, we know that we have guys that can put the ball in play and leave the yard. Having Logan Sartori hit behind me, a guy that packs a lot of punch, and then Will Frizzell or Cam Blake - whoever is in that three-hole - knowing they can get the extra-base hits, so just trying to get on base for them to do their job and drive in runs.
You were also asked to play three different positions this last week being second base, shortstop and third base. What extra work do you have to put in to be at the top of your game at all three positions?
It's been a blessing to have a guy like Coach Pennington come in who played all three positions in the big leagues. Just getting the extra work with him on a daily basis gives me and Trevor (Werner) or Logan (Sartori) or Ty (Coleman) or whoever needs to play whatever position the best opportunity to be our best that day at whatever position we're asked to play.
What has been the single biggest improvement that you've noticed through these first two weeks under Chad Caillet?
He preaches taking on the personality that he has. He has a very energetic personality and preaches playing fast. I think we have a lot of more ways to score this way. Last year, we were kind of a stagnant offense, waiting for the big hit, but now we're putting pressure in the run game, the bunt game. Just all of the philosophies that he's brought, everyone has bought into it, and we can see just by the small sample size that it's turning the page. It's been a down year for the offense the last couple of years. It's very exciting to be a part of. We're looking forward to keep building on it as a full unit.
Chad Caillet is a Louisiana native just like you. How quickly did you form a bond with him?
It's pretty funny. I was traveling this summer when I found out that he got the job, so I texted Coach Childress and was like, "Hey, do you mind sending me Coach Caillet's number? I want to call him and just say welcome. We're very happy to have you." I got off the phone with (Caillet) and was like, "Oh my gosh." It felt like I was talking to one of my relatives. Just his accent, the words he uses and just the mannerisms that you see in the third-base box, it's literally like looking at one of my family members with the way he goes about his business and acts. It's pretty cool.
What is the difference in preparing for the Frisco Classic and three different clubs as opposed to preparing for just one team for the weekend?
Right. I think that this weekend is a big test for our team. The teams we play are very talented. Illinois on Friday night, then UCLA - who has always been a powerhouse program - and then Oklahoma State on Sunday. It's a little bit different preparation because normally we have a hitter's meeting the day before a series starts where we can watch all of their starters or their relievers. Now we're probably going to have to go through a different preparation with watching video every single day before the game. I think if we take care of the business that we've been doing as far as the offensive side and then our pitching staff is going to do what they do all of the time, if we take care of the ball on defense and buy into what our coaches want us to do, then the results are going to speak for themselves. I think we can compete and beat anybody in the country.
What have you been saying to Trevor Werner to try and take the true freshman under your wing?
Just have fun. I mean, that guy is an unreal talent. Thankfully we got him to our program. I mean, at shortstop, he's took on a big role that not that many people could handle in the country as being a true freshman playing at shortstop. At the plate, that guy has incredible juice. Can hit the ball to any part of the ballpark. Just trusting his swing and being the aggressor. It's tough being a freshman because you haven't seen this caliber of pitching, but he has the tools to do it. As you said (Tuesday night), going out there, I was playing shortstop while he was pitching. Just looking back at the board like this guy looks free and easy throwing 98. Hasn't pitched all year, and he hops on the mound and throws 98? That guy is blessed with a lot of abilities that a lot of us wish we had.
Can you bench press more than Ryan Brauninger can?
Pound for pound, yes. Overall, no.
With Mardi Gras being this week, where is the best place to get a king cake, and what is your favorite Cajun dish?
I forget the name of the bakery. My mom gets it when we go to New Orleans, but it's a specific bakery in New Orleans, and I can't remember the name. My favorite dish is my mom's crawfish etouffee. It's unbelievable.
Who is a big leaguer you looked up to and tried to model your game after?
I wouldn't say model my game after, but I had an Albert Pujols fathead in my room growing up. I just thought the guy was an incredible hitter, and early in his career, he could steal bases and do it all. It's been cool to hear stories from Coach Pennington because he played with Albert Pujols for a couple of years with Angels. It speaks volumes to everything I thought of him as a person has been verified by Coach Pennington. How good a person he is and everything he does in the clubhouse as far as a teammate.
Give us your best Chad Caillet impression.
*Speaking in a higher-pitched voice* "Play fast!"
Never miss the latest news from TexAgs!
Join our free email list