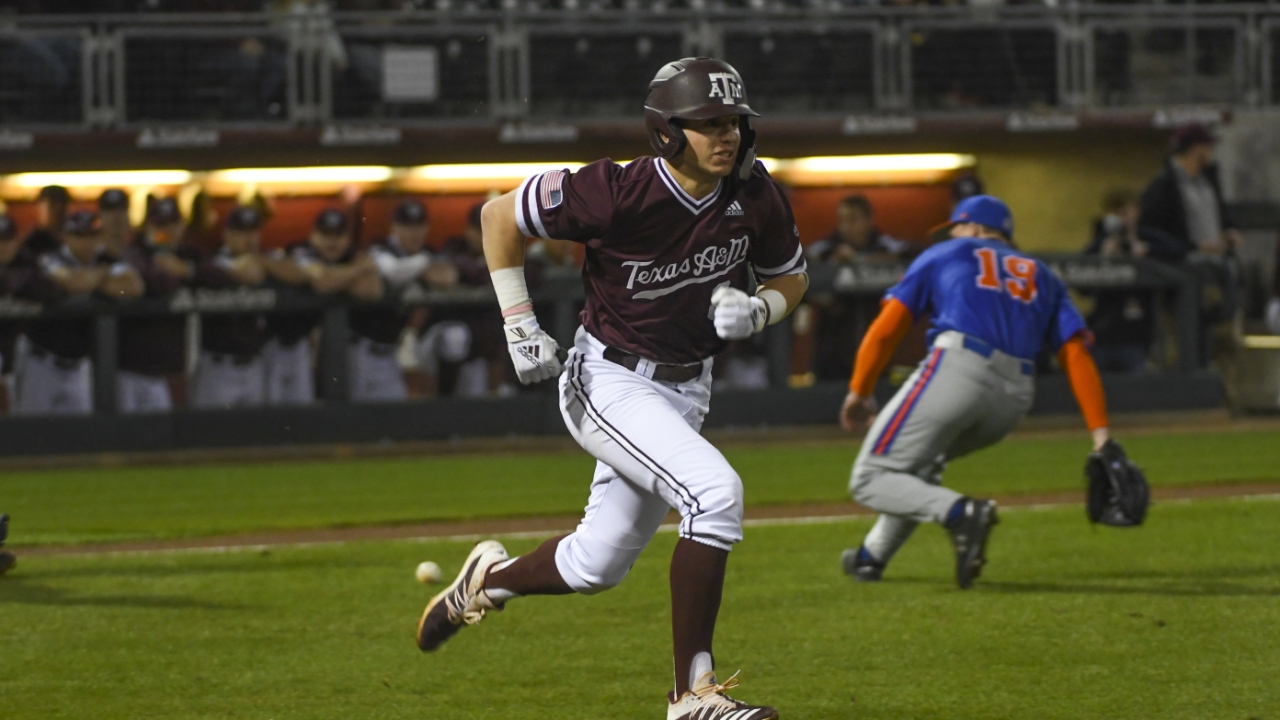 Rob Childress
Ray Alejo
Logan Sartori
Jake Nelson
Dustin Saenz
Texas A&M Baseball
Aggies blank Houston Baptist behind the arm of Dustin Saenz, 4-0
---
Harry Houdini would be proud of Dustin Saenz.
Afterall, Saenz's escape act made for an entertaining Tuesday night.
In a night where the offense was not extremely potent, No. 18 Texas A&M improved to 9-0 behind Saenz, the escapologist, en route to a 4-0 shutout over Houston Baptist. The A&M starter worked in and out of jams to toss four scoreless innings before the Aggie bullpen picked up where Saenz left off to capture A&M's first shutout of 2020.
Early in the contest, the Huskies failed to take advantage of their opportunities to score. In the second inning, HBU loaded the bases with nobody out, but Saenz did his best tight-rope act to get out of the frame unscathed, striking out the next three batters. Saenz would escape another bases-loaded jam in the 3rd. Solid defense aided the escape-artist Saenz as A&M turned a pair of double plays in his four innings of work. In total, the Aggie starter stranded eight Huskies, while punching out six.
"I've been in many tough spots in all my years here, but I think the defense helped a lot," said Saenz. "We got two big double plays there, so I think that mentality back on my side helped too."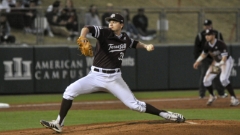 Anna Peterson, TexAgs
Capitalizing on HBU's missed opportunities, A&M opened the scoring in the bottom of the second on Mikey Hoehner and Ty Coleman RBI singles that scored Zach DeLoach and Ray Alejo, respectively. The Aggies would add an insurance run in the third when Logan Sartori stole third base and then advanced home following a throwing error by HBU catcher Todd Jackson on the same play.
Texas A&M would tack on one more run in the sixth when Ray Alejo reached on possibly the shallowest hit double of his career and then advanced on two consecutive passed balls.
"We're always collectively doing what we can to win games, and if we're coming out with wins, then that's all that matters," Alejo said.
Tuesday night provided Aggie fans with their first look at Trevor Werner on the mound. The everyday shortstop entered the ballgame in the eighth inning and dazzled in his collegiate pitching debut, striking out three batters in his lone inning of work. Werner ran his fastball up to 98 mph and mixed in some cutters in the low-90s.
"The game was still in the balance; he was on the attack and threw a ton of strikes," Childress said of Werner's performance. "Stuff was pretty good."
Childress said he expects to use Werner in flex spots as well as at the backend of ballgames when closer Bryce Miller is unavailable.
Following Saenz's departure, Jake Nelson was the first out of the bullpen, throwing two shutout innings in relief while striking out three Huskies. Joseph "Moo" Menefee needed only eight pitches to work a scoreless seventh. Freshman Will Johnston worked a 1-2-3 ninth to slam the door shut.
"I couldn't be more proud of how we pitched and played defense tonight," said Childress.
"I couldn't be more proud of how we pitched and played defense tonight."
With the wind blowing in, the longball was out of the discussion on Tuesday night. Instead, the Aggies exhibited their ability to run the basepaths and apply pressure on opposing pitchers and defenses - the type of play one might expect from a Chad Caillet-run offense. In total, the Aggies stole four bases on the evening, but their speed allowed them to take an extra four bases via passed balls, wild pitches and even a throwing error by the catcher in an attempt to throw out a base stealer.
"For us, we can go out and slug with you like we did on Sunday and trade runs, and we can win a pitching a defensive battle like we did tonight," said A&M head coach Rob Childress. "That's the sign of a great team."
The Aggies will play one more game at Olsen Field this week before heading to the Frisco Classic this weekend. Incarnate Word comes to Aggieland on Wednesday night, and A&M will be looking to avenge a 6-5 loss they suffered to UIW a year ago. Jonathan Childress will be on the mound for the Maroon & White with first pitch is scheduled for 6:32 p.m.
Never miss the latest news from TexAgs!
Join our free email list