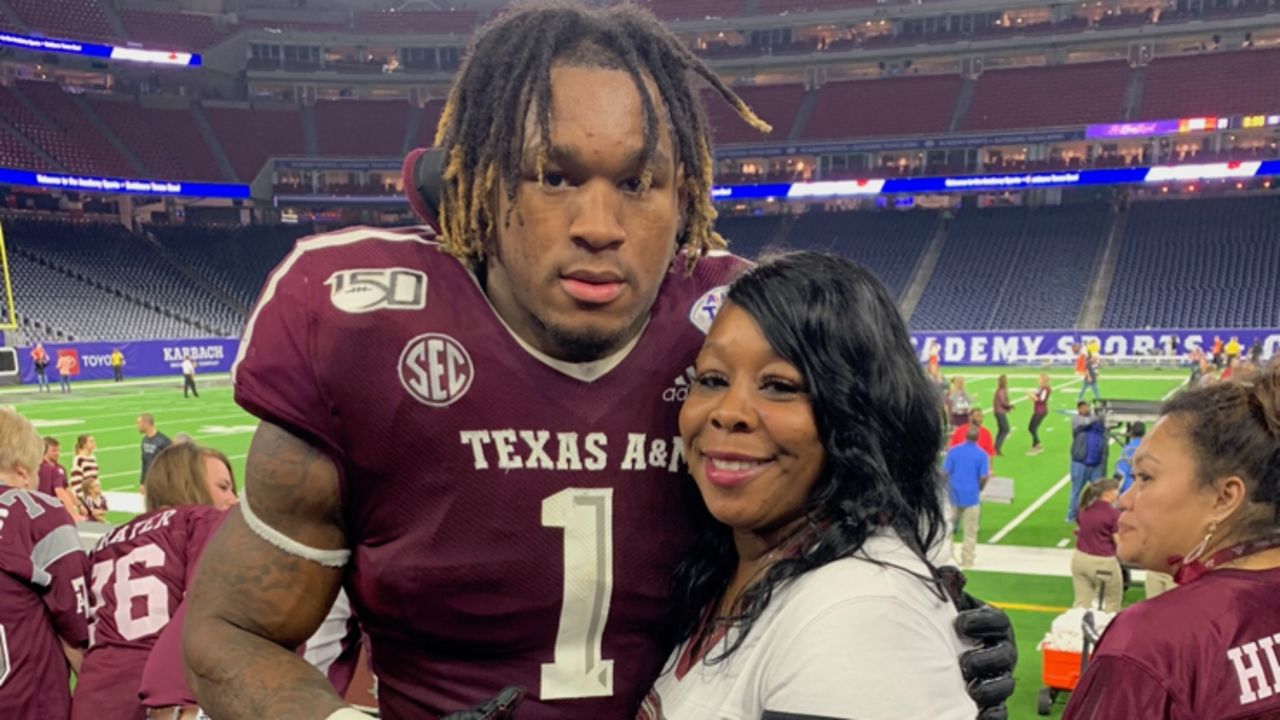 Photo by Michelle Stephens
Texas A&M Football
Mother knows best: Buddy Johnson's survival, success rooted at home
---
We live with the decisions we make. Texas A&M linebacker Buddy Johnson lives because of the decisions he made.
Not that he had much choice. A devoted mother with strong protective instincts certainly can influence a teenager's life-changing decisions. Or in Buddy Johnson's case, life-saving decisions.
Johnson has a promising future largely because his mother, Michelle Stephens, was so uncompromising.
"My mom was hard on me," Johnson recalled earlier this week while relaxing in an easy chair in the lobby of Texas A&M's Bright Complex. "Now, I thank her. Now that I'm older and mature, I understand why she was doing what she was doing."
Stephens lives in Oak Cliff, a South Dallas neighborhood with one of the city's highest crime rates. As an Emergency Medical Technician and ambulance driver, she's seen countless tragedies, many involving teenagers.
She'd already raised two sons — DeVonte and Antoine Stephens, who signed with OU in 2015 and later transferred to Prairie View A&M — without any major problems. She was determined that her youngest boy, Devodrick — whom she called "Buddy" because as a toddler he resembled the Buddy Lee blue jeans character — would not become another tragic statistic.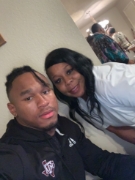 Michelle Stephens
That's why she refused to allow him to go to the movies with several friends on August 31, 2014. Buddy vehemently protested. Mom didn't care. Buddy stayed home.
Later that night, six people riding in a Chevrolet Impala were killed in a crash on Bonnie View Road in Oak Cliff. Three of the victims, Desedric Johnson, 16, Kentron Haskins, 15, and Trey Woodberry, 15, were Johnson's teammates on the Kimball football team.
A Dallas police spokeswoman said the car slid across three lanes before hitting a tree in the median. Speed was a major factor in the accident, but alcohol was not involved.
"Buddy was supposed to be with them," Stephens said. "I told him he couldn't go. He was so mad at me."
"Once that happened, he told me, 'Mom, I'm glad you didn't let me go.' After that, he didn't want to do too much. If he did, I picked him up and I dropped him off."
That was not the only tragedy Buddy Johnson avoided.
"I used to always want to go to the skating rink every Saturday," Buddy recalled. "My mom wouldn't let me go. A while later, the skating rink ended up getting shot up. I could have been there."
Then, there was May 27, 2017, the night thousands of Dallas-area teenagers attended parties to celebrate graduating high school.
Buddy opted not to go to any parties. He'd received a football scholarship to Texas A&M and was getting up early the next morning to move to College Station.
That morning, Johnson learned that his friend LeDajrick "LD" Cox, the prom king at rival Carter High who had received a football scholarship to Navarro College as a receiver, was killed after a graduation party by another teenager in a drive-by shooting.
"I feel like there's a lot of danger going on back in Dallas," Johnson said. "That's why when I go home I kind of stay to myself and with my family, so I don't get carried away in it.
"When I go home I hear about different friends that have passed away. I had a friend pass away a week ago. There's a lot going on. That's why I try to stay away from it."
Obviously, those tragic events had an impact on Johnson. He realized his mother was always looking out for his well-being. He learned to listen to what his parents — and later, coaches — had to say and to heed their advice. He's learned to be careful when making choices.
"Before I make a decision I always think about the outcome of it," Johnson said. "I ask myself, 'Is this something I really want to be doing?' I feel like my decision-making skills are pretty good."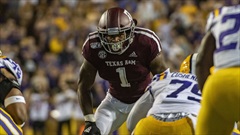 Lia Musgrave, TexAgs
Johnson had to use those skills to decide his football future. He primarily played quarterback at Kimball, but he had a decision to make about potentially switching positions in college.
Tulane and some smaller programs offered the chance to play quarterback. Texas A&M, which had a history of turning high school quarterbacks like Johnny Holland and William Thomas into NFL-caliber linebackers, had to sell him on moving to defense.
Turns out it wasn't too hard to convince him.
"I feel like coaches have been doing this a long time," Johnson said. "I feel like coaches will put you in the best predicament for you. At the end of the day, I was trusting them with my career. I'm glad I did."
Johnson has made consistent progress since arriving at A&M as a 202-pound project. He's now a muscled-up 235-pounder who has developed into one of the best players on the A&M defense.
Last season was Johnson's first as a full-time starter for the Aggies, and he's working to be even better in 2020 when he'll be a key figure for Mike Elko's defense. He's also become the emotional and vocal leader of a unit that was ranked 29th in the nation in total defense and 36th in scoring defense in 2019.
"Buddy keeps growing in that (leadership) role and is doing a really, really good job," Fisher said last season. "His leadership for the team gets better and better each week and his role keeps growing. The guys see the way he's playing, and he's been a big contributing factor for us on defense."
Last season Johnson led the Aggies with 77 tackles and was third on the team with 9.5 tackles for loss. He also returned a fumble 62 yards for a pivotal touchdown in a 24-17 victory over Ole Miss.
Interestingly, his junior season statistics were very similar to the numbers posted by Tyrel Dodson in 2018. Dodson posted 70 tackles and 7 tackles for loss. He also returned an interception 78 yards for a touchdown in a 52-13 victory over North Carolina State in the Gator Bowl.
But while Dodson opted to enter the NFL draft following his junior season, Johnson made the decision to return to A&M for his senior year.
"Coach (Jimbo) Fisher has taken this program so far and I want to be here. I think this team needs me. I'm more about being a team player. It's not what's in it for me."
"Coach (Jimbo) Fisher has taken this program so far and I want to be here," Johnson said. "I think this team needs me. I'm more about being a team player. It's not what's in it for me."
Don't misunderstand. Just like every other player, Johnson aspires to reach the NFL and reap the fame, fortune and adoration that comes with it. Yet, Johnson also wants to win a championship at A&M. And he wants to complete his degree in Sport Management.
So, after discussions with Fisher, Elko and (of course) his mom, Johnson decided to stay at Texas A&M another year.
"He's determined. He's focused. He still wants to do some things in football," Stephens said. "I told him don't rush anything. Take your time. If nothing else, you can walk out of there with a degree."
That's the mark of a devoted and strong mother. Even after her child leaves home, she has an influence on his life-changing decisions.
Never miss the latest news from TexAgs!
Join our free email list