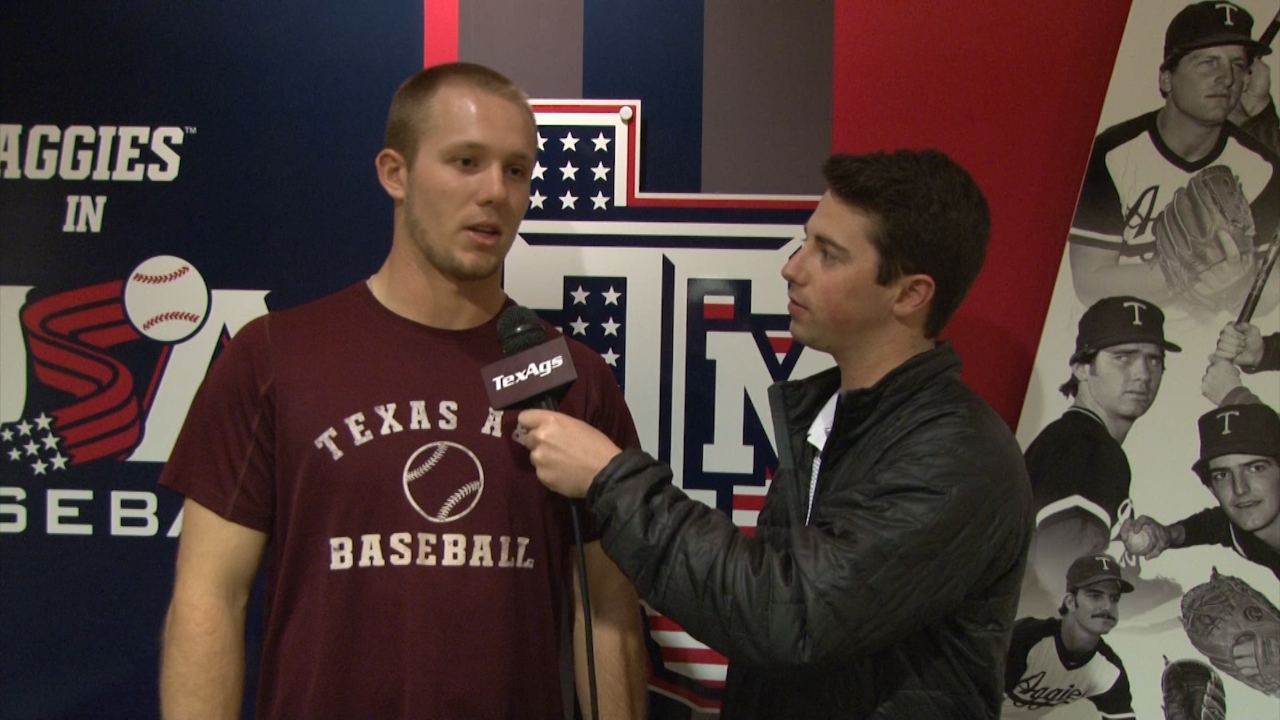 Texas A&M Baseball
Dugout Chat: Junior OF Zach DeLoach is off to a scorching start
---
You're hitting .833 through five games. What has been the biggest key to your success early on?
I think just the preparation. I think being able to get in the cage and get my work in every day and doing something different to try and keep it fresh and not trying to fall into bad habits too. I know throughout the course of the season, making minor adjustments here and there, but I'm making sure that I'm sticking with my plan.
How much has Chad Caillet coming in as the new hitting coach helped you with that preparation for ballgames?
He just brings a positive energy. He brings energy every day to himself. He also just makes sure that we're on top of our game every single day and that we're not taking anything lightly.
How does this hot start compare to your hot start as a freshman?
Very similar in the fact that everything's kind of clicking at one time, but I think this year, knowing what I did my freshman year and once SEC play starts that the pitching is going to get a lot tougher. Just coming from that experience, I know kind of how to prepare myself for that situation when the time comes.
How much does seeing balls get out of the ballpark help your confidence at the plate?
I mean, it's a ton of confidence, especially when you've got guys behind you and in front of you that are swinging the bat really well. It just makes our offense flow so much smoother and gives all of our guys confidence when we're going up to the plate.
In addition to finding barrels, you're also benefitting from some Texas Leaguers. How much does it help your psyche to know that even when you're not barrelling it up, you're still finding those base hits?
Looking back on it, I know I've barrelled a ton of balls up right at guys. I know a lot of guys have this season. We always preach to just keep coming. When things are going good, and you can get those Texas Leaguers that you were alluding to, that's when your swing is feeling good. Obviously, you want to barrel balls up, but you're going to take those little bleeders every now and then.
Being a junior and now in a veteran role, what have you said to the younger guys to help get them going?
Just stay calm. Don't speed the game up. Once you speed the game up, you're screwed. Being able to have a plan every day and going up to the plate prepared. Don't try to think one game is bigger than the other. Just stay consistent and stay on top of what you're doing.
Is it true that when you're in a streak like this that you see the ball as big as a beach ball?
Yeah. I would say that I'm seeing it better than I usually do. I think just being able to have a plan and being in the right mindset has given me the most success.
When you were younger, who is a big leaguer you looked up to and tried to model your game after?
Growing up a Texas Rangers fan, I was always a big fan of Josh Hamilton. Just watching his swing, I mean, he was just such a good player in his prime. I think just watching the work ethic of Mike Trout … he does everything right. Just the way he goes about his business. He's very humble, very respectful, and people respect him for who he is. That's kind of the demeanor and the consistency that I want to have.
What's your favorite baseball movie?
The Sandlot.
Who is your favorite fictional baseball player?
I'm going to go video game and say Pablo Sanchez.
Never miss the latest news from TexAgs!
Join our free email list