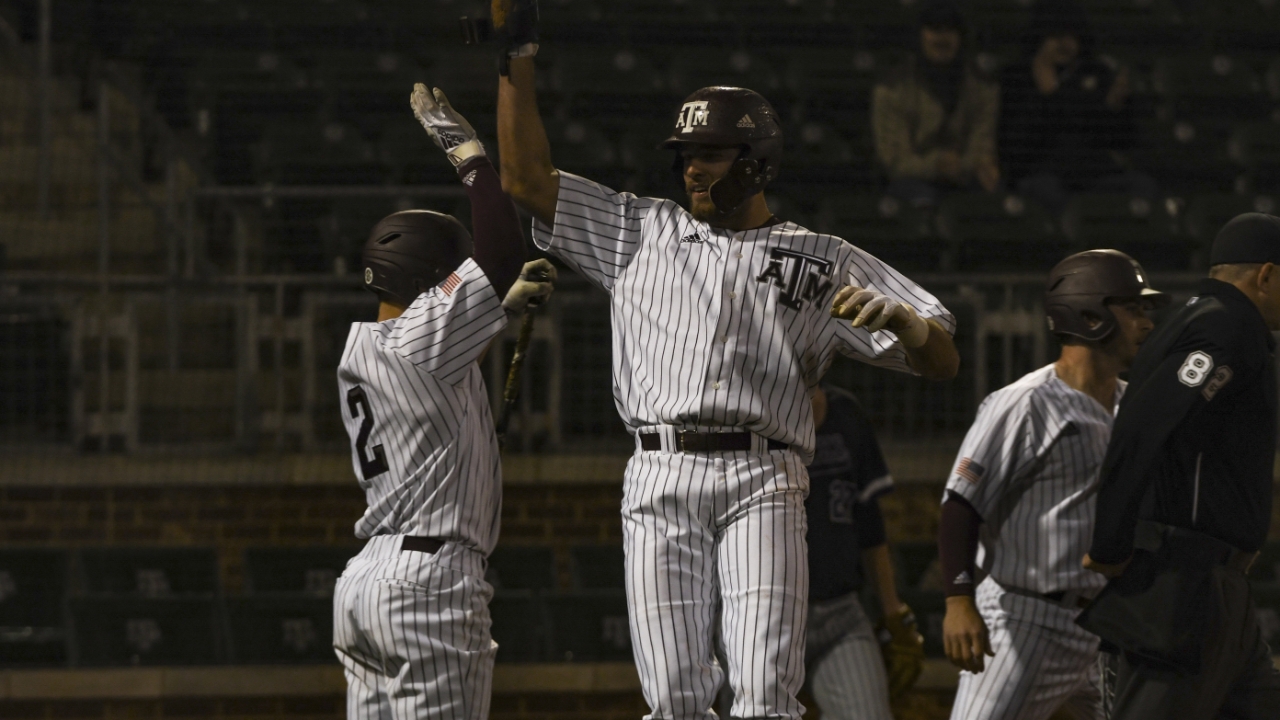 Rob Childress
Bryce Blaum
Dustin Saenz
Mikey Hoehner
Texas A&M Baseball
Aggies remain undefeated on the season, take care of SFA, 13-4
---
Game #4: No. 20 Texas A&M 13, SFA 4
Records: Texas A&M (4-0), SFA (1-3)
WP: Dustin Saenz (1-0)
LP: Reece Easterling (0-1)
Box Score
---
Texas A&M baseball's offensive resurgence continues in their first midweek game of the year.
No. 20 Texas A&M (4-0) defeated Stephen F. Austin (1-3) on Tuesday night as the Aggies slugged their way to a 13-4 win on a chilly, windy and sporadically drizzly night at Olsen Field. A&M took an early 11-0 lead before a less-than-stellar top half of the fifth allowed the Lumberjacks to score four runs. Offensively, Bryce Blaum led the way going 2-for-2 with a pair of doubles, two walks and three runs-batted-in.
Offensively, the Aggies started hot once again - something that has become a recurring theme early in 2020. A&M scored 11 runs in the first four innings of play, nine of which were scored with two outs on seven two-out base hits. Through four games, Texas A&M has made the most of their opportunities with two away.
"(The approach is) the same as it is with one out and no outs," said Texas A&M head coach Rob Childress. "Just be very competitive and do everything you can to pass it to the next guy. Tonight we scored 13 runs, 12 of them are with two outs."
Childress harkened back to the 2nd inning in which Mikey Hoehner worked an eight-pitch walk to keep the inning alive. The Aggies followed that plate appearance with four-consecutive two-out hits, plating five runs.
"From there, we were rolling as an offense, but for Mikey Hoehner to sell out like that and get the team rolling in that big of an at-bat ... it was very huge for us to spark momentum," said Blaum.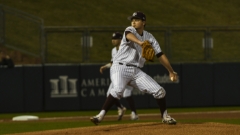 Tarah Cochran, TexAgs
For starting A&M pitcher Dustin Saenz, it was smooth sailing through the first four innings. However, in that fifth frame, Saenz allowed two hits to begin the inning. The Aggies would go on to commit three errors in the inning, including two on one play (one each by Trevor Werner and Blaum) that yielded four runs in the inning, two of which were unearned. Saenz finished his first start of the year after five innings, allowing four runs on six hits while striking out six Lumberjacks and picked up his first win of the season.
"(Saenz) was really good early. There were some long sits over there," Childress said. "I was disappointed we weren't able to get through the fifth cleanly. Some of it was his own doing, some of it was us throwing the ball around a little bit. All in all, he did a nice job."
The huge, early lead once again allowed a lot of guys in the game as Childress emptied his bench, getting nine non-starters into the ballgame, including three pitchers. Johnston shined as the first man out of the bullpen, working two scoreless innings, striking out three and allowing just one hit to the six batters he faced.
"We all call (Johnston) 'Asa 2.0,'" said Hoehner. "That guy's a frickin' rockstar and works his butt off. If he keeps doing what he's doing, he's going to have a good career here."
A&M would tack on two more in the 8th inning without the benefit of a hit. Junior outfielder Rody Barker, who enjoyed a 3-for-5 night with a pair of RBIs, wore a pitch in the face in the 8th that drove in a run. Childress explained that the pitch hit Barker in the nose. Barker was removed from the game due to the injury.
"Rody is one of the best human beings I have ever met in my life," Blaum said. "One of the best teammates. Our prayers go out to him, and hopefully, he's doing okay."
Texas A&M will be back in action on Wednesday night (weather permitting) as the Aggies play host to Prairie View A&M at Olsen Field. First pitch is scheduled for 6:32 p.m. and left-hander Jonathan Childress is expected to make his first start since suffering an elbow injury last March which required Tommy John surgery.
Never miss the latest news from TexAgs!
Join our free email list