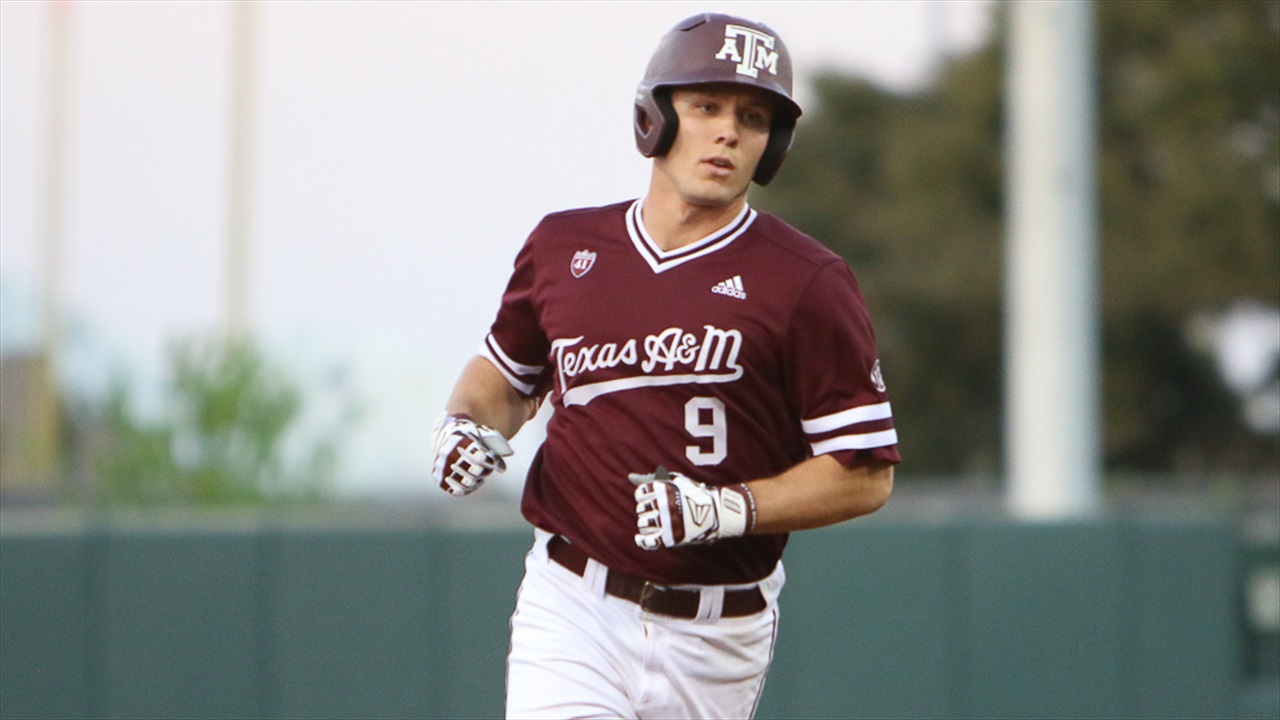 Photo by Mintie Betts, TexAgs
Texas A&M Baseball
1 Day 'til Aggie Baseball: Zach DeLoach ready to rebound in 2020
---
Every day leading up to the start of the 2020 Aggie Baseball season, the TexAgs baseball coverage team will post a story diving into various storylines surrounding the A&M squad. Be on the lookout for daily articles from Gabe Bock, David Sandhop, Ryan Brauninger and Heath Clary between now and Opening Day, February 14th. You can keep up with the full series here: 2020 Aggie Baseball Preview Series.
Click play above to listen to Heath's interview with Zach DeLoach.
---
It's not often that a player who hit .200 the previous year gets preseason All-American accolades the next, but that's exactly where Zach DeLoach finds himself heading into his junior season.
DeLoach struggled for much of his sophomore season in 2019, but when he packed his bags and headed north for the Cape Cod League, he immediately flourished in college baseball's most prestigious summer league. In total, DeLoach hit .368 in 43 summer games with five home runs and eight doubles.
With several months to ruminate on his rough season, DeLoach feels like he understands where things went wrong.
"I was dealing with a lot of mental stuff, not feeling confident in myself," DeLoach said. "I felt confident toward the beginning, and then it faded off and my mind started going in circles. I was trying to make some major adjustments in-season, which was not healthy for me or the team. I think this year I've learned to trust more in my coaches and let them support me and tell me where they see my strengths and weaknesses. Don't just think about the results, but let the results go and focus on the process."
In his first days in the northeast playing for the Falmouth Commodores, DeLoach made a few mechanical adjustments, simplified his load and feels like he's in a much better position to hit every time he steps to the plate.
"I calmed everything down and was able to simplify what I was doing at the plate," he said. "Being able to pick out the right pitches to hit. I've always had good plate discipline, but I haven't always been there mechanically. In the Cape, I found the consistency within my swing to where if I mishit a ball, I was still able to have a chance to get a hit. There were plenty of times this summer where I would either get jammed or hit it off the end, but I was still able to stay through the ball and get a hit."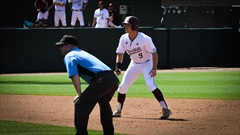 Jackie Ysaquirre, TexAgs
DeLoach made outs in his first five at-bats of the summer but then went 4-for-4 with a double and two RBI on June 23. From there, the hit parade was on. He went 3-for-3 in back-to-back games in early July to raise his average to a preposterous .514, and he recorded three or more hits four more times over the summer.
Texas A&M assistant coach Justin Seely couldn't help but smile as he watched one of his players experience such a turnaround.
"It's rewarding as a coach, not because of the stats, but it's rewarding because you know how the kid feels," said Seely, the Aggies' recruiting coordinator and outfield coach. "He's finally playing like he's capable of playing and people are finally getting to see the player that he's always been. From that standpoint, I was happy. I called him multiple times over the summer, texted him all the time, just reminding him, 'This is who you are, this is who you've always been, this is who we believe you can be.' It was very rewarding to get to see from afar."
DeLoach started in right field in the Cape Cod All-Star Game and led his team on a deep playoff run. That summer breakout coupled with his outstanding freshman year and obvious talent explains why he was named a preseason third-team All-American and second-team All-SEC outfielder.
"It's not just the belief we have in him, it's the belief that the baseball community has in him as well," Seely said. "If you take the two seasons, I think Zach is more of the summer player than the guy that played last spring."
DeLoach returned to College Station in the fall a more confident player and instantly felt comfortable in the new offense being installed by first-year hitting coach Chad Caillet. He stole 10 bases over the summer after combining for three in his first two years. Seely has seen a much more well-rounded player this preseason, which has impressed him even more than his gaudy summer statistics.
"It's not just the belief we have in him, it's the belief that the baseball community has in him as well."
"The one thing that probably gets lost in what he did this summer in the Cape is that he stole bases," Seely explained. "He actually went and ran and attempted stolen bases, and he has come back with a much better feel on the bases. To his credit, he has bunted on his own and when he's been asked to bunt, he's done it very well. He's learned with maturity and experience that he can bring much more to the game than just standing in the box and squaring the baseball up."
The Aggies have not hidden the fact that they will be more aggressive on offense this season, which will include more stolen bases as well as hit-and-runs and other strategies. DeLoach is one of the many players who expect to benefit from this change in philosophy.
"All of the coaches have done a great job of implementing baserunning into our game," DeLoach said. "A lot of people saw on Saturday that we were stealing bases and getting guys going early on, and I think that's going to be a tell-all for how we're going to play in the SEC. I know the SEC is a tough conference, but sometimes a game can be decided by a stolen base and getting that winning run in."
DeLoach will slide over to right field, a position he has yet to play full-time at Texas A&M. However, the transition has been seamless, and he and the coaching staff are confident he will thrive there. More interesting to watch will be how DeLoach performs after months of working hands-on with Caillet, who has made some changes to the Aggies' hitting approach.
"Coach Caillet is a great guy," DeLoach said. "He's done some things that have made us uncomfortable, but we need to get comfortable being uncomfortable. Truthfully, there were some things we struggled with as a team last year.
"He wants me to stick to my game, and he's personalized everyone based on their strengths and weaknesses. He wants me to do damage at the plate, and having the ability to do that at any point in time is something that I've been working on."
With opening day less than 48 hours away, excitement is sky-high around Olsen Field, and DeLoach's summer explosion and preseason success is one of the reasons why.
Never miss the latest news from TexAgs!
Join our free email list