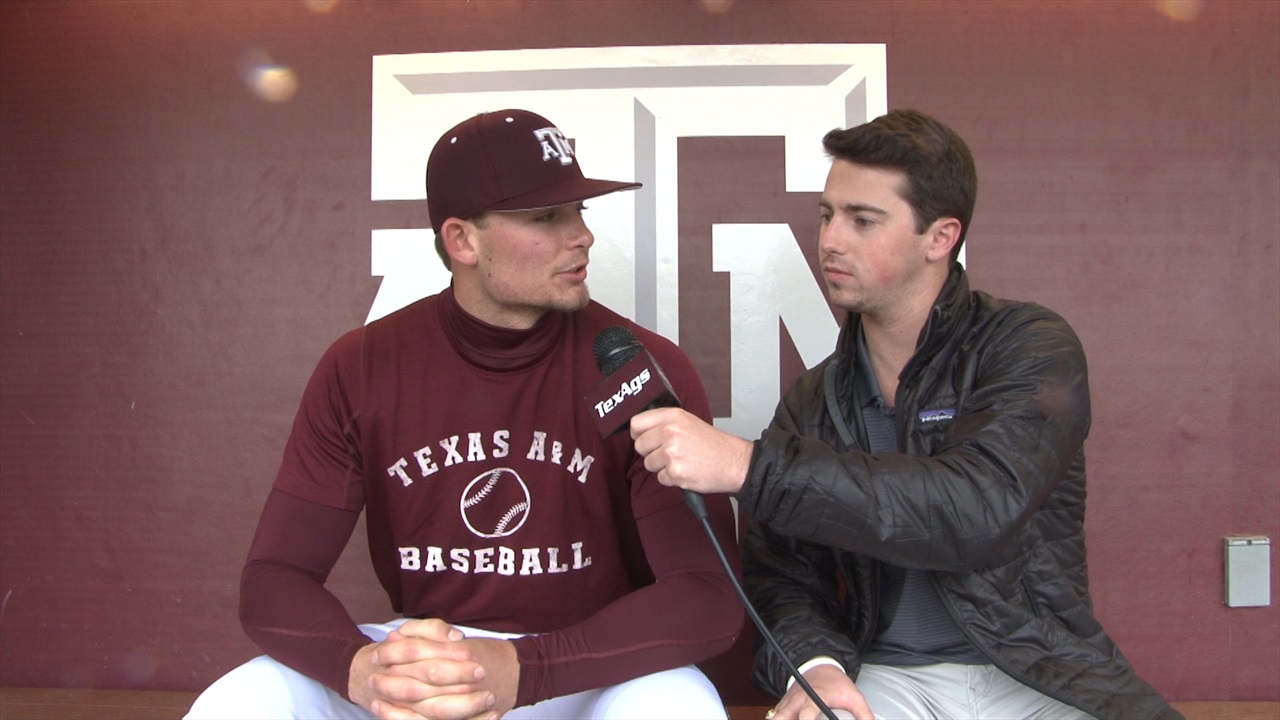 Texas A&M Baseball
Dugout Chat: Asa Lacy honored to be A&M's 2020 Opening Day starter
---
What does it mean to you to be the Opening Day starter for 2020?
It's a huge honor just to be able to go out there and set the tone for the series and really get my team off to a good start.
Have you ever been the Opening Day starter at a different level (high school, travel ball, etc.)?
I think with club ball, I don't really know if there is an Opening Day starter, just the fact that you're playing every single day. Maybe being the number-one when I was really younger, but really, I mean, summer ball, it's a little different.
What are some of your goals for 2020, as a team and individually?
Our team goal is, obviously, to win the last game. We believe in that. We believe in each other. Personally, I like to keep it simple. I'm just trying to go out there and give my team the best possible chance to win. Just be competitive each and every day and just be consistent.
What has it been like working with Mikey Hoehner and how has he helped this pitching staff get even better?
He's been a huge addition, starting last year. We love Mikey behind the plate. He's a grinder. I don't have any fears throwing breaking balls with runners in scoring position, and he's got a great arm behind the plate. We really work good together, mixing up the run game. And then in the locker room, he's a really fun guy to be around and we love Mikey.
This summer, you went and played for Team USA baseball, Mikey took the summer off and worked as a waiter at (Napa Flats). Did you get the chance to have him wait on you?
I tried to. I tried to go in there once, and they were incredibly busy. I know a lot of the guys have gone, and they try to tip him pretty good. He's actually pretty sharp from what I've heard.
Who are some of the newcomers on the pitching staff that A&M fans should keep an eye on?
We've got quite a few. Will Johnson is going to throw a lot for us. Really all of them. Mason Ornelas, Alex Magers, Evan Vanek. They're all extremely talented, and they've made huge strides coming back from the break. We're very happy to have all of them.
Who's the bigger deal at Tivy High School: Asa Lacy or Johnny Manziel?
I would definitely say Johnny. He's still a legend in Kerrville and his picture is up everywhere. There's jerseys, trophies... He did a lot of incredible things in high school. Unfortunately, I've never met him. I don't know him personally, but it's a real honor to come behind him and play at this university.
Johnny was drafted by the Padres as a shortstop in 2014. Do you think you could strike him out?
Ha! We'd have to see about that. He's a competitor and I'm sure he'd love to try that out.
As a kid, did you have a big leaguer that you looked up to and tried to model your game after?
Yeah, for a long time it's been Clayton Kershaw. I always enjoyed pitching more than I enjoyed playing a position, although I did both when I was younger. Just the man that he is off the field and on the field. I mean, he's an incredible competitor and he's fun to watch.
What's your favorite baseball movie?
'The Rookie' with Jim Morris.
How excited are you to get the 2020 season rolling?
We can't wait. We're extremely excited. I know the blood is already getting pumping in the dugout and we're excited for Miami. I know they're going to be a really good challenge for us.
Never miss the latest news from TexAgs!
Join our free email list