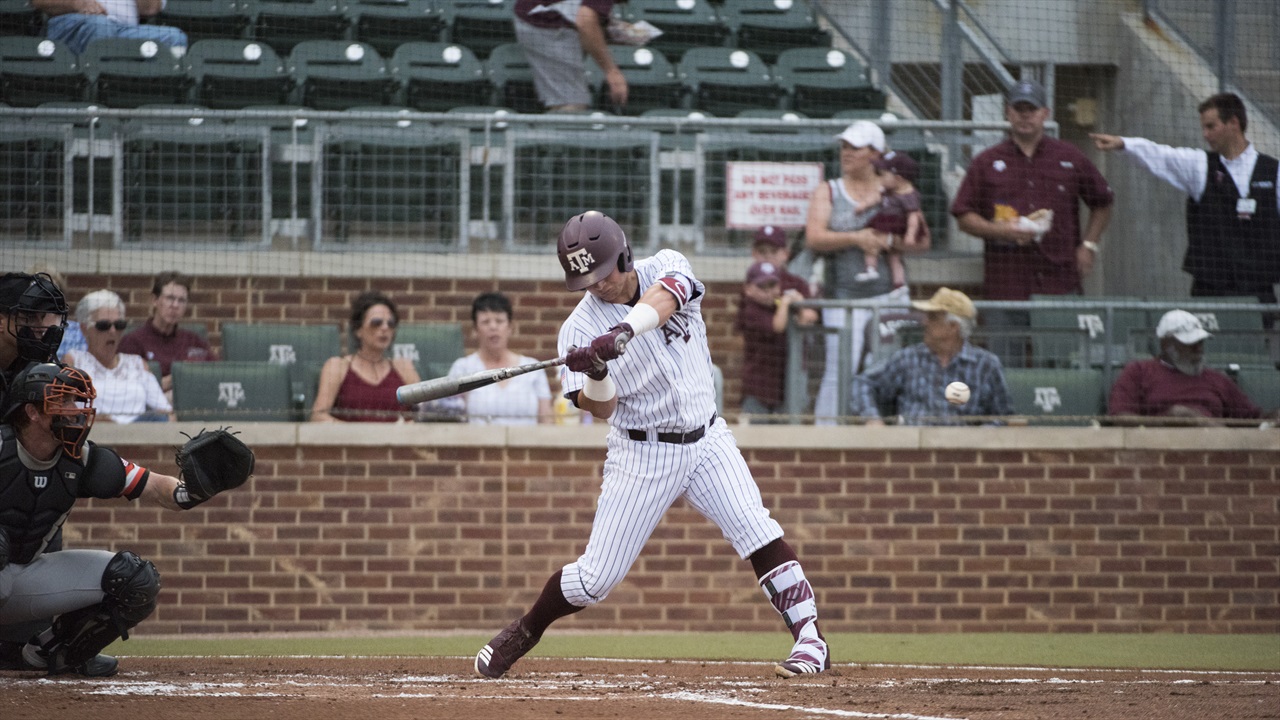 Photo by Brian Okosun
Texas A&M Baseball
6 Days 'til Aggie Baseball: Thoughts from Saturday's Maroon & White scrimmage
---
Every day leading up to the start of the 2020 Aggie Baseball season, the TexAgs baseball coverage team will post a story diving into various storylines surrounding the A&M squad. Be on the lookout for daily articles from Gabe Bock, David Sandhop, Ryan Brauninger and Heath Clary between now and Opening Day, February 14th. You can keep up with the full series here: 2020 Aggie Baseball Preview Series.
---
It was a beautiful day for baseball at Olsen Field as the Aggies hosting the Lead Off Event and raised over $25,000 for Vs. Cancer. After the entire team and staff shaved their heads for the cause, the squad split up basically into 1s vs. 2s and held the annual Maroon & White intra-squad game. The White team (1s) got the best of Maroon in this seven-inning affair, 11-4. It could have been even worse but the bottom of the first was called on "mercy rule" after Team White scored 7 runs in the frame without recording an out. In fact, several innings were cut short based solely on inning pitch count for the pitchers this close to the season. Here are some quick thoughts coming out of the final dress rehearsal in advance of the 2020 season opener on Friday...
1. Have a day, Ray
The Aggies have a new grad transfer center fielder named Ray Alejo. He came to Aggieland known as a great fielding speed merchant with a real knack for stealing bases. But the part of his game that he really flashed last year at UCF (and did so again today) is his ability to drive the baseball. Last season at UCF, Alejo hit 8 home runs – 4 of which came while leading off the game – to go along with his .296 average and 21 stolen bases. After transferring from Ole Miss, the two-time All-AAC outfielder hit .299 and stole 24 bases for the Golden Knights in 2018.
Last season at UCF, Alejo hit 8 home runs to go along with his .296 average and 21 stolen bases.
Hitting in the seven-hole for Team White in this one, Alejo stepped to the plate with the bases loaded and two outs in the first inning and drove a Chris Weber inside fastball on a line to left field, getting it to sneak just over the wall for a grand slam. The fifth-year senior finished the day going 2-for-4 with the granny, a stolen base and a run scored.
Alejo has played well enough in January and February to lock up the every day center field position. On defense, he'll remind you a lot of Nick Choruby or Krey Bratsen, although he's not quite the thrower of Bratsen. But the ability to track balls is there in a big way. There might not be a better defensive center fielder in the SEC this year than Alejo, but he flashed today and showed the last two years that there are quite a few more tools in that belt than just cold speed and defensive ability. A dangerous weapon that will hit in the bottom third of the order to open the season, providing much-needed length to the Seely-Caillet lineup.
2. Solid afternoon for A&M offense
Anyone taking time to read this report knows full well that the critical factor for A&M to take the next step and rise above being just a pretty darn good program is the hitting. After a paltry .251 / .333 / .362 showing as a team in '19, the Aggies elevated Justin Seely into an "offensive coordinator" role and brought in Chad Caillet from Southern Miss to add more juice to the offensive approach, as well as get back to the up-tempo, pressure look that A&M displayed in the early years under Rob Childress.
I know we're all in "wait-and-see" mode with the Aggie bats, but today was a very nice showing... especially for that starting group, which tagged projected Sunday starter Chris Weber for 10 runs in essentially 3.1 innings of work (considering the first inning was called with no outs and a 7 spot on the board). Facing starters Weber and Chandler Jozwiak, the two teams combined to score 15 runs on 15 hits, including two homers and seven extra-base hits. Hunter Coleman and Alejo provided Team White with the long balls and freshman Logan Britt added a two-run triple.
The two sides combined to strike out just nine times in 64 plate appearances and the first-team (White) K'd only four times in 36 trips to the plate. I also logged barrel counts because that was a major issue last season. We saw way too many lazily hit balls - slow-rollers on the infield or pop flies - especially in critical spots. Again, it's a one-game sample size but A&M squared up a ton of balls throughout the game. By my count, the Aggies put 37 balls in play and found 26 barrels. Meaning that 70.3-percent of the balls in play were hit hard and on a line or were driven deep in the air if not on a direct line.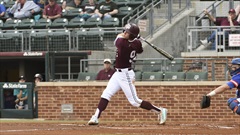 Elisa Schmitt, TexAgs
Leading the way for the Aggies, Alejo had his 2-for-4 day with the grand slam, 4 RBI and a stolen base. Hunter Coleman went 2-for-4 with a home run, 3 RBI and 2 runs scored. Rody Barker, having moved up to the White team to replace Cam Blake at game time, enjoyed a solid 2-for-4 afternoon from the two-hole. Zach DeLoach, coming off leading all of Cap Cod in batting average last summer, went 2-for-4 with a double and a run scored, reaching base in three of four plate appearances. Freshman two-way player Trevor Werner, projected to start at shortstop and work late innings on the mound, went 2-for-4 with a triple, a stolen base and a run scored. Team Maroon was paced by Britt, who went 2-for-3 and reached base in all four plate appearances, including a two-run triple in the second. Britt is a very toolsy and projectable speed merchant with ability to drive the ball and features a Naquin-like laser arm in the outfield. He'll enter this season as the fourth outfielder but will get early-season chances to "write his name in the lineup."
3. So about that lineup?
Yes, I get that this is a very offensive-based report but I feel like the pitching is so well-established and most of what caught my eye had to do with the offense. I went to the yard quite curious what the lineup would look like for this dress rehearsal, knowing that it would likely be first team vs. second team. Cam Blake was in the lineup hitting third and playing left field for Team White but was a late scratch and didn't play in the game. So here's a little taste of what it could look like next week, based on the intended lineup that we saw today prior to Blake getting scratched...
Blaum - 2B (R)
Sartori - 3B (R)
Blake - LF (L)
Frizzell - DH (L)
H. Coleman - 1B (R)
DeLoach - RF (L)
Alejo - CF (R)
Hoehner - C (R)
Werner - (R)
The depth chart is looking a little something like this:
C - Hoehner / H. Coleman / Barker / Ashy
1B - H. Coleman / Watson / Schmidt
2B - Blaum / T. Coleman
3B - Sartori / Bost
SS - Werner / Lopez
LF - Blake / Barker / Schmidt
CF - Alejo / Britt
RF - DeLoach / Corbett
DH - Frizzell / Watson / Schmidt
I like that Seely and Caillet are way less concerned with keeping an even lefty-righty combination in the lineup and more focused on creating a lineup that puts the right guys in the right spots up and down the order to make it work at an optimal level. It will take them a while early in the season to settle on who the best 9-to-11 guys are and where it all fits together but I'm somewhat optimistic that the pieces are there for a nice uptick in production in '20.
That'll do it from Olsen Field. Heath Clary will have your Sunday report and Hop has Monday's daily countdown content piece.
Never miss the latest news from TexAgs!
Join our free email list