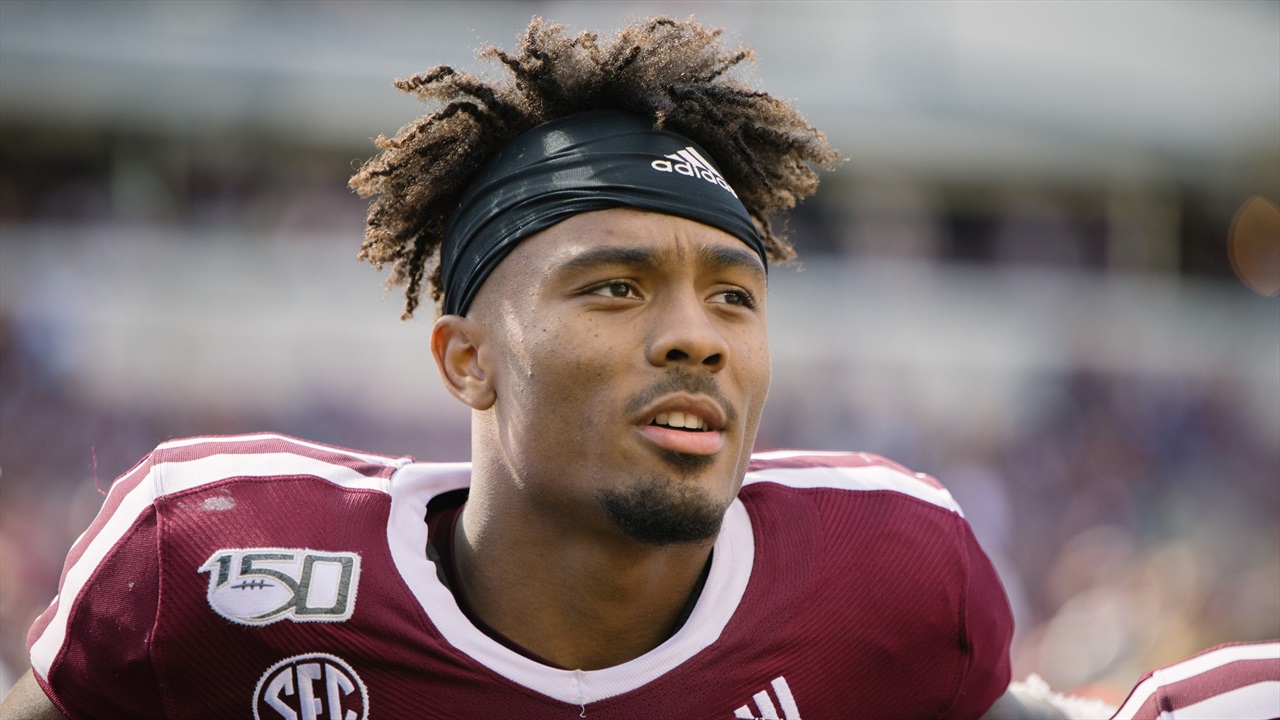 Photo by Rey Romo, TexAgs
Texas A&M Football
Jhamon Ausbon's business decision: why he's back for one last year at A&M
---
Except for his athletic physique, his probable future in the National Football League and his place on Texas A&M's career receiving lists, Jhamon Ausbon is just like you.
Ausbon, A&M's senior-to-be receiver, wants to be financially successful. He's working toward his college education to attain that success. He's eagerly looking forward to getting his Aggie ring in April.
And, like you, he wants his college football team to win championships. That's primarily why he's still attending Texas A&M.
Last season, Ausbon caught more passes (66) for more yardage (872) than any A&M receiver. Yet, it was he opting to return for his senior season while Quartney Davis and Kendrick Rogers declared for the NFL draft.
"The biggest thing I can do is win. I never want to end on a bad note at anything. So I think (returning was) a no-brainer in that aspect of it."
A big reason why Ausbon came back to A&M was to enhance his 2021 draft status. A bigger reason, he said, is to try to win a championship.
"The biggest thing I can do is win," Ausbon said in an interview at the Bright Complex earlier this week. "I never want to end on a bad note at anything. So I think (returning was) a no-brainer in that aspect of it.
"Coming back and having this opportunity for my senior year to finish it out, having a big senior class, we have an advantage in the SEC. I want to take advantage of that and use it well."
You know how you pore over rosters, schedules, recruiting class rankings and NFL draft early-entry lists to project how successful the Aggies could be?
Well, Ausbon admitted he does that, too. He's very aware A&M returns eight offensive starters, nine defensive starters and faces a less challenging schedule in 2020.
"I think we have enough seniors," he said. "I came in with all these guys. We've seen all we can see. This is our last year. The energy in here is a little different. I think people are tired of not getting the job done.
"We want to do so much for this university. This opportunity, having this schedule, us being all seniors and have (played together) three years in a row, we have a bigger and better chance of doing it big."
Ausbon has done his part. He wants to do even more. He catches 200 passes from the jugs machine every day. Then, he works with Kellen Mond.
Ausbon is working on routes. He's working on weights. He's working on getting quicker. He's doing all this so he can work over defensive backs.
Last season, Ausbon led A&M with six receptions that covered at least 30 yards. He aims to raise that total by catching more deep passes and/or turning short passes into big gains.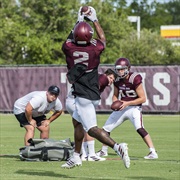 Lia Musgrave, TexAgs
"I think I can do it," he said. "I think it's just a matter of getting better at it and practicing at it. I don't want to leave college knowing I could have gotten better at something and using that last year to benefit me."
That's another reason he returned. Ausbon will complete his degree in business next year. Returning for the 2020 season was a business decision.
He has the self-awareness to know he's not the blazing speedster that NFL teams draft in the first round. But he also knows a lot of receivers learn to use intelligence and nuances to have long NFL careers.
Ausbon compares his style of play to Minnesota Vikings receiver Adam Thielen, a two-time Pro Bowl selection who has accumulated more than 4,300 receiving yards and 25 touchdowns in six seasons.
"He's not as big as me, but we play the same," Ausbon said of Thielen. "He has consistent, strong hands and knows how to use his body to get open. He's a very smart player.
"Even though he's not the fastest guy in the world, not the strongest or jumps the highest, he gets open, and he makes plays. That shows technique and understanding of the game. It's the epitome of how far technique can take you."
His technique and skills figure to take Ausbon far. But he saw no need to rush the journey. He pointed out that former A&M stars Johnny Manziel, Trayveon Williams and Christian Kirk advised him to stay in school.
"We've had conversations," Ausbon said. "All I heard was don't rush the experience. They wish they could have it back."
In truth, he really didn't need the advice. Ausbon said there's one simple reason he's in no rush to leave A&M.
"I love it too much," he said.
Never miss the latest news from TexAgs!
Join our free email list
PRESENTED BY