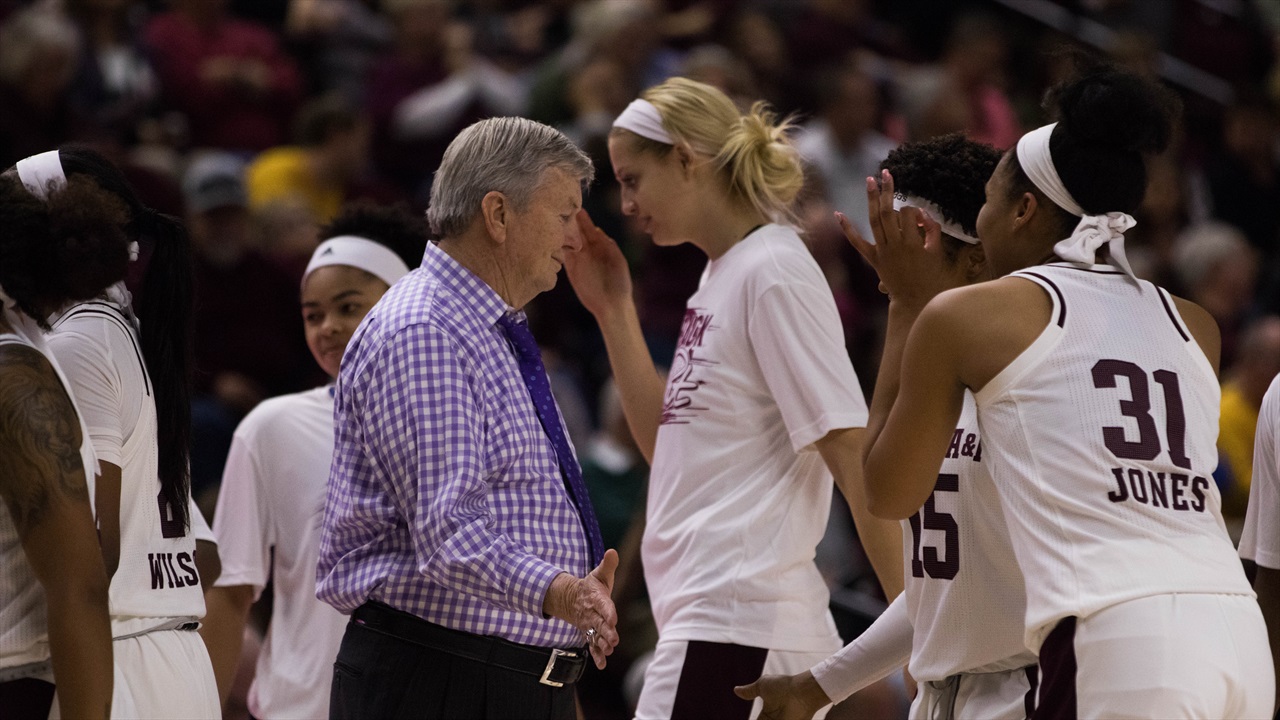 Photo by Angelina Alcantar, TexAgs
Texas A&M Women's Basketball
Blair wins 400th at Texas A&M as No. 15 Aggies take care of Missouri, 72-53
---
The No. 15 ranked Texas A&M Aggies (17-3, 5-2) defeated the Missouri Tigers (5-15, 2-5) on Sunday afternoon, 72-53. With four out of five starters (Kayla Wells, Shambria Washington, N'dea Jones and Ciera Johnson) finishing the game in double figures, this victory was an undeniable team effort.
Chennedy Carter's absence has given her teammates an opportunity to dig deeper. Senior Shambria Washington led the Aggies in assists with seven, and her performance paved a way for the team to dominate by spreading the ball around. Kayla Wells, N'dea Jones and McKinzie Green each contributed four assists. Exceptional ball movement was the story of the game with 22 of 26 Texas A&M's field goals being executed with an assist.
"We shared the basketball, we made unselfish plays," said Washington. "We're a team, all of us are on scholarship so whoever is playing that night, we try and go find them and we just try to get the perfect play, well not the perfect play, but good-to-great shots is what Coach Blair always preaches."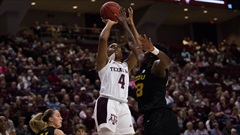 Angelina Alcantar, TexAgs
N'dea Jones has been lights out this season and is the only SEC player to record a double-double for each conference game this year. Against Mizzou, Jones hit her eighth consecutive double-double, posting ten points and 13 rebounds.
This momentous victory solidified Aggie head coach Gary Blair's 400th win coaching at Texas A&M University. Coach Blair expressed his gratitude for the players he has coached and the staff he has worked alongside throughout his years at A&M.
"I was just lucky to be asked here 17 years ago," said Blair. "I know how to build a staff, I know how to build a program, and I know how to recruit the right student-athletes that will fit into the culture of A&M. That's my strength. We hire good, we recruit good, and we win. There's no set formula for 400 wins. Think of how many players I've had along the way; that's the special part."
Gary Blair addressed the elephant in the room and stated that Chennedy Carter was still on the mend and will not know until Thursday if she can play.
"Everything is always a game-time decision with a sprained ankle," says Coach Blair.
The Aggies return to Reed Arena on Thursday, January 30th to play Georgia at 7:00 p.m.
MESSAGE FROM OUR SPONSOR
Special thanks to 12th Man Technology for their sponsorship of all women's basketball content produced throughout the season at TexAgs.com! For the eighth consecutive year, all WBB content will be available to you for free!
Never miss the latest news from TexAgs!
Join our free email list
PRESENTED BY