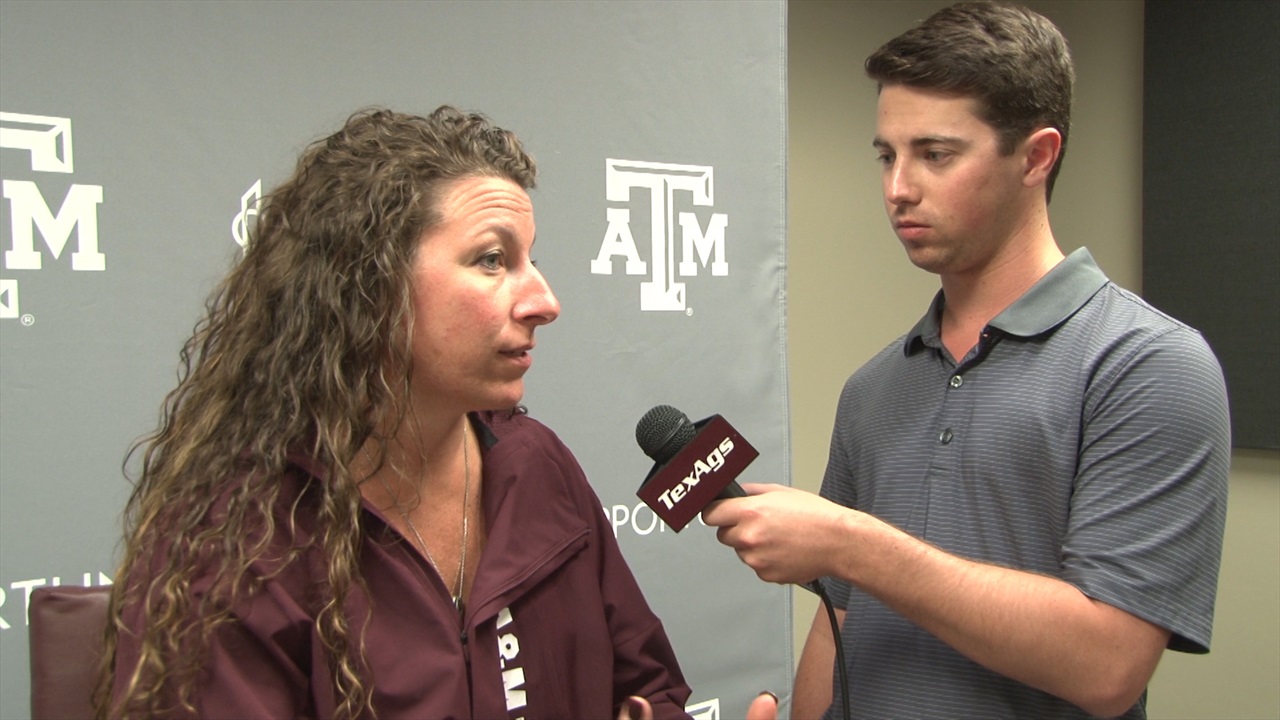 Texas A&M Volleyball
Volleyball coach Laura "Bird" Kuhn previews upcoming home tournament
---
How was the scenery in Malibu?
It was gorgeous. We would come out of the gym and we would walk to the stairs, it was just the ocean. Every player, we all commented on the air. It was just so crisp and nice. People we like, "oh, it's hot." No. It was beautiful. The scenery was pretty nice.
Your play on the court was pretty nice as well. You disposed of California Baptist and Fairfield 3-0, and then you dropped your only set of the weekend to Pepperdine on Saturday but won that match 3-1. How important was it for you guys to have such a dominant weekend so early in the season?
Coming off the first weekend, it was strong competition at Louisville, so I think we really focused on who we are and what we needed to do on our side, executing offensively and just adapting and executing game plans to stop certain attackers or just the teams we were facing. It was huge to see the response and the change from the first weekend to the second weekend. That's what you want to continue as the season goes on, so it was good for us to go out there and show who we are.
You mention that trip to Louisville the first weekend and then you take a trip to the West Coast. How important is it from a teambuilding standpoint to take these weekend tournament trips so early on in the season?
Those are two big trips, I would say. Especially early in your season, back to back. I think the reward is way greater, especially [because] we have six freshmen. Them being together and our team getting to bond is and just do, like Santa Monica yesterday, just getting them a day off to spend time together. That kind of stuff will pay off in dividends for teams. I think it's a great way for them to bond and be a team. Now, coming into being home this weekend, I feel as if we have grown. You can see that the team chemistry and the dynamics of the way everyone is generally so excited for each other. Our bench shows that, but it's all of them. That is reflective of the bonding they do when we're on the road.
You mentioned it: you're coming home this weekend. It'll be your first time to play in Reed Arena this season. How excited are you and your team to be playing in front of a home crowd, finally?
They couldn't wait to get back here. The energy that we see on a daily basis from them, that's what I'm most excited to see them in their home element, and now, getting to show who we are to our fans. We've seen [our fans] because we did out ticket delivery, but that'll be even a new dynamic because a lot of them will know our players and feel more comfortable interacting with them. Coming home is always fun. I'm really looking forward to it just like they are.
Texas A&M Invitational this weekend. You open up on Thursday against Texas State, then you play two matches on Friday. How does that doubleheader present some new challenges for you guys?
It's a challenge because of the load. For a majority of our players. Camille, our setter, she never comes out. Hollann, six rotations, she typically doesn't (come out). It's really managing that load and making sure they get that recovery and rest in between matches. It's a good grind going into the SEC, because then you appreciate the breakdown and recovery from just one match. That conditions them in some way. Overall, it will be good for them.
Overall, with the tournament field, what kind of challenges do the teams you're going to face present?
The offensive systems are going to be different. Texas State runs a fast offense and they switch up defense, so us being on our toes and adjusting to who we're stopping, executing offensively when we have to change up what we're doing. But then, the other two teams, they'll bring other elements. It could be a physicality thing. It could be they bring a higher offense or a different defense. It's just training them to adapt quicker and that response time. That's what you get out of tournaments because you play three, sometimes completely different, teams in a matter of two days
Never miss the latest news from TexAgs!
Join our free email list