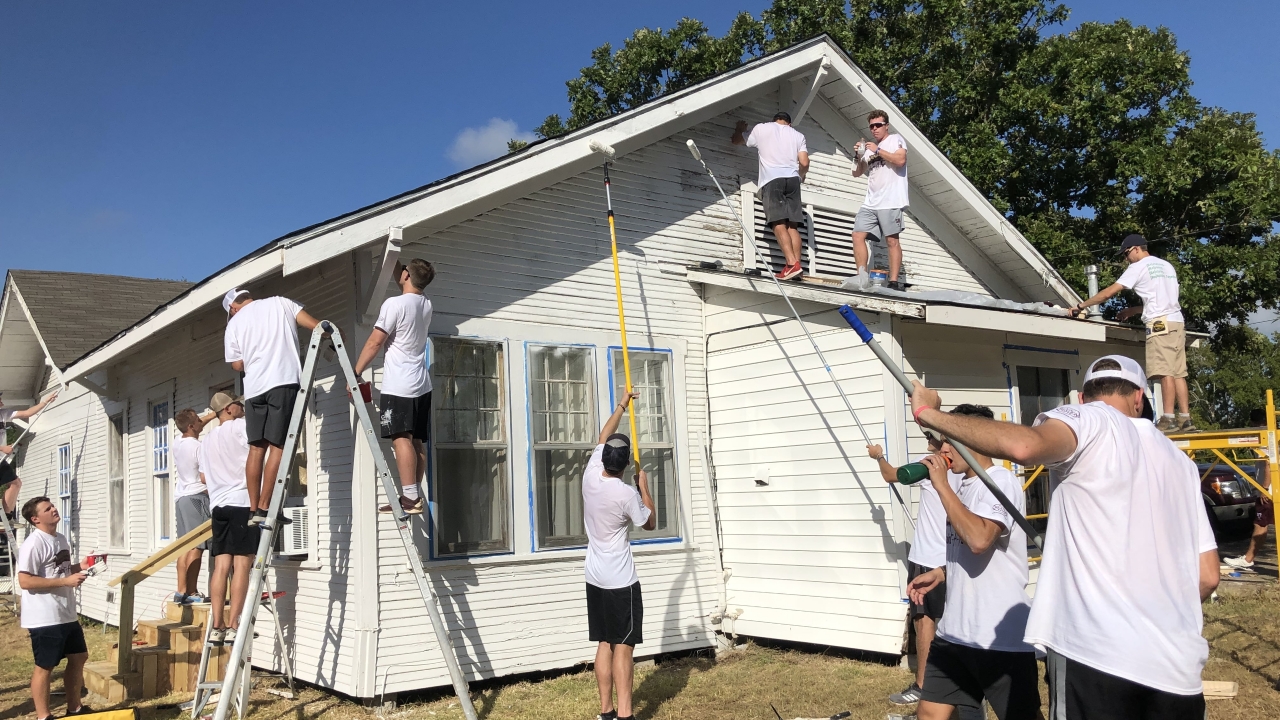 Photo by Richard Zane
Texas A&M Baseball
Aggie baseball team gives back with 14th annual Paint-A-Thon
---
In the baseball world, "painting" means a pitcher is spotting his stuff with pinpoint accuracy and is almost unhittable.
This weekend, Aggie baseball did the normal, old-fashioned type of painting. The one with brushes and rollers.
Texas A&M baseball held its 14th annual Paint-A-Thon on Saturday as a way to give back to the Bryan-College Station community. The Aggie work crew of about 65 players and coaches helped Bryan's Cordia Hanks by painting the exterior of the house and handling some landscaping duties.
"To have everybody out here making an impact, whether it's grabbing a paintbrush, a scraper or putting a lawnmower in your hands, it's fun to watch these guys work together," said head coach Rob Childress.
The Hanks family has lived in the house since 1977, and they were very thankful the Aggies came out to assist them in restoring their big white house close to its original condition.
"I thought that was real stand up of them," said Evelyn Ross, Hanks' daughter. "We're very grateful that they are doing it. It just shows a lot of character on their behalf."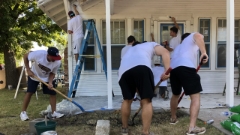 Richard Zane
Most Texas A&M teams participate in The Big Event, which takes place each spring. But for the baseball team, their season always has a scheduling conflict. Rob Childress makes sure they do their part when they can.
"This is kind of our 'Small Event,'" Childress said. "This is one way we can kind of join in."
The Aggies have painted 14 houses since Childress became the head coach in 2006. A paint-covered Asa Lacy was participating in his third Paint-A-Thon since he arrived in Aggieland, but he admits he is no stranger to painting houses.
"My mom flips houses for a living," said Lacy. "I work for her occasional summers. Most of the time, it's carpentry work or landscaping, but she's a really good painter and she's taught me a lot."
All of the equipment used is made possible through donations and fundraising done by the Dugout Club, Texas A&M baseball's booster club. The program then goes through a few different organizations to find the right family to help out, something that Childress admits is not always easy. But the Aggies found the job they were looking for this year.
"It was just the perfect house and a perfect fit," Childress said. "[Ms. Hanks has] a kind, considerate, sweet heart. For us to come out and spend half a day trying to lift her spirits is the least we can do."
Childress' purpose is to make an impact. He said that his coaching staff is always talking with players about impacting the program, the university and the community. When asked about all the people his teams have helped in his 14 years, Childress said he is very proud.
"When you say that, it kind of takes your breath away that you were able to do that many homes over the last few years and try to make an impact in somebody else's life."
Never miss the latest news from TexAgs!
Join our free email list