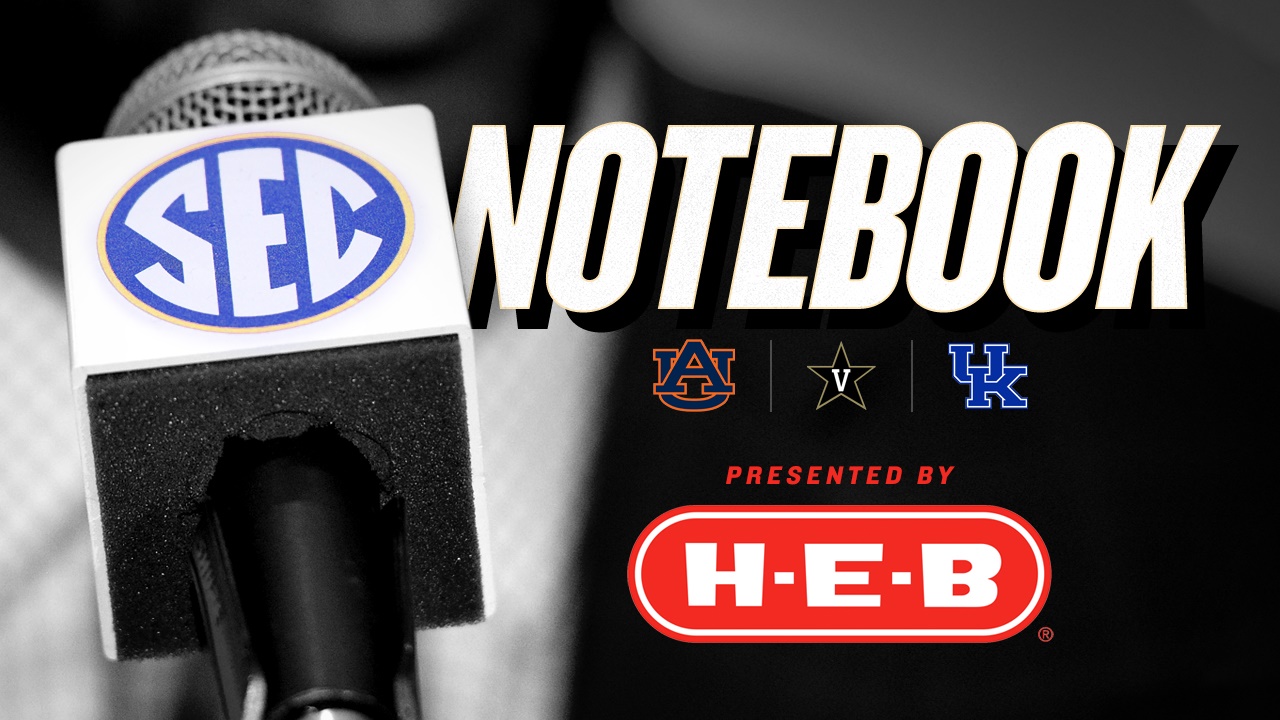 Texas A&M Football
SECMD19 Notebook: Malzahn unfazed, UK strong inside, Vaughn anchors Vandy
---
Auburn's Gus Malzahn is the only Southeastern Conference football coach who has beaten Alabama's Nick Saban.
Malzahn has won an SEC championship. He's reached the national championship game. He's also the SEC coach whose job is most in jeopardy for the upcoming season.
Malzahn is 53-27 in six seasons as head coach on The Plains. That averages out to 8.8 wins a year. That's good, but not good enough at Auburn, which expects to challenge Alabama for SEC West Division supremacy.
Consequently, there are rumors that the $26 million needed to buy out Malzahn's contract has already been raised and he could be ousted if the Tigers duplicate their 8-5 finish of 2018. Malzahn is under intense pressure. But he also knows that's what he signed up for.
"I got a job that expects to win championships, and I expect to win championships," Malzahn said on Thursday at SEC Media Days. "I knew that when I signed up for that. In the years that we win championships, it's good. The years we don't, it's hot seat this, hot seat that. And I think out of the six years, four have been this same rodeo. And it's just part of the job description."
Malzahn seemed confident that he can retain his job. The Auburn defense projects to be stout. The offensive line is solid. There is great speed at receiver. The running backs are OK.
"I got a job that expects to win championships, and I expect to win championships... It's just part of the job description."
However, major questions center around the quarterback position, where a freshman will start. Redshirt freshman Joey Gatewood and true freshman Bo Nix will vie throughout August camp to win the starting job.
Still, Malzahn remains encouraged.
"I'm very excited about this year," he said. "You ask how you deal with (the pressure) … that's just part of being at a place that expects to win championships.
"Some places [get] eight wins … they celebrate. That's just not part of Auburn. We expect to win championships and we've done that. And we're going to have more championships in the future here, too."
Center of attention
Kentucky is coming off its first 10-win football season in four decades and coach Mark Stoops expects more success to come.
That will require some extensive rebuilding to a defense that last season allowed the second-lowest point total in the Southeastern Conference.
The Wildcats are now without All-American linebacker Josh Allen, who was a first-round draft choice of the Jacksonville Jaguars. They also lost defensive backs Lonnie Johnson and Mike Edwards, who were also selected in the NFL draft.
However, Stoops remains confident because standout middle linebacker Kash Daniel, nose guard Quinton Bohanna and safety Davonte Robinson are still in the center of the defense.
"If you're going to build a defense, it's extremely important to be good through the middle of your defense up," Stoops said. "If you look at our interior defensive line, the three interior guys were as deep and as talented and as physical as I've been since I've been at Kentucky. That's a good place to start. We feel like we have six, seven, eight guys at the interior three that can play.
"You go to the middle linebacker position, Kash comes back for the senior year leading that group, but we feel like we have four talented players there. And then you go to the safeties through the nickel of the defense, and those guys have some experience and are very good players."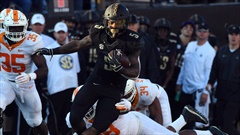 Christopher Hanewinckel-USA TODAY Sports
Home town guy
Aggies will remember Texas A&M's Trayveon Williams led the Southeastern Conference in rushing last season. Most would probably know Kentucky's Benny Snell was second.
But who was third?
That would be Vanderbilt's Ke'Shawn Vaughn, who is the SEC's top returning rusher after gaining 1,244 yards last season. He averaged a whopping 7.9 yards per carry.
"He's a three-dimensional running back who can run, block and catch," Vanderbilt coach Derek Mason said. "I mean, he can do it all."
Vaughn has indeed covered a lot of groups — and not just on the field.
A native of Nashville, he signed with Illinois out of high school. He rushed for 1,024 yards and nine touchdowns in his first two seasons at Illinois.
After his sophomore season, Vaughn opted to transfer back to his hometown school. He sat out the 2017 season and then made up for lost time. Last season he exceeded 100 rushing yards four times, including a 243-yard outburst against Baylor in the Texas Bowl.
"Ke'Shawn proved when he stepped on the field a year ago that he's one of the best backs in the country," Mason said.
H-E-B Curbside & Home Delivery make shopping easy! Shop online, schedule a time for pickup or delivery, and get groceries loaded into your car or delivered to your door! Now through 10/1, get free next day curbside pickup and home delivery.
Never miss the latest news from TexAgs!
Join our free email list
PRESENTED BY