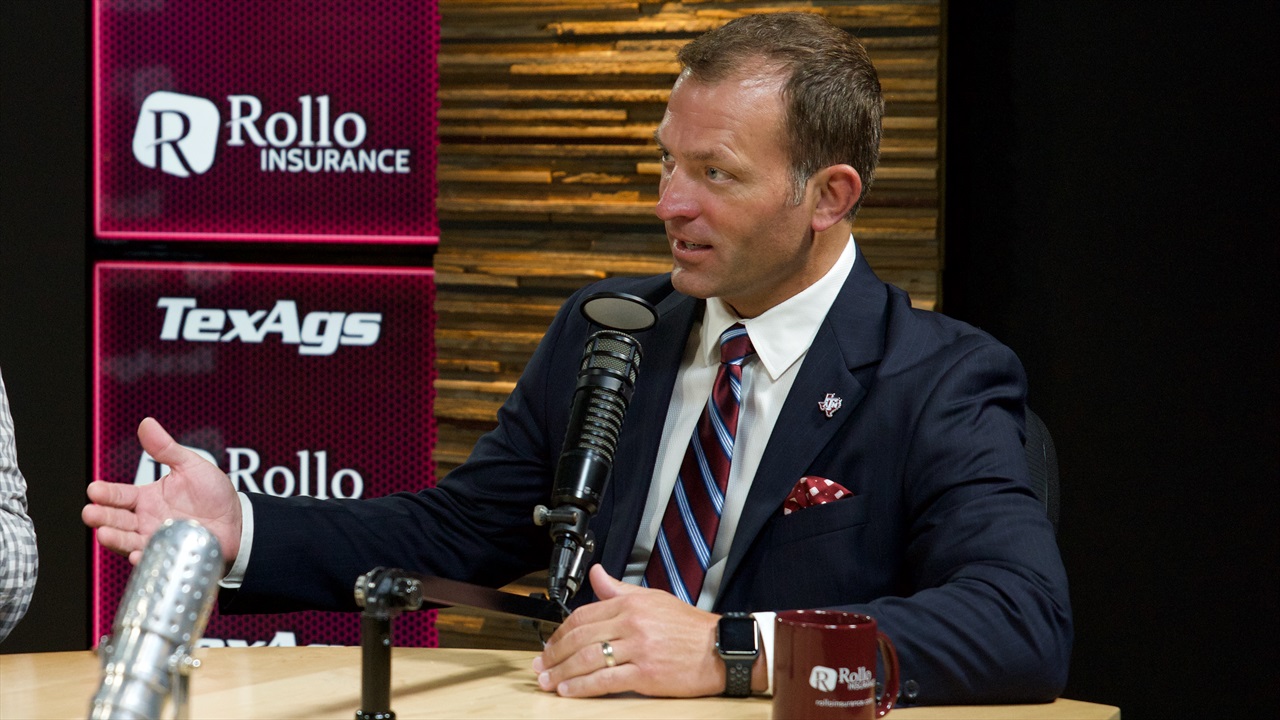 Photo by Lia Musgrave, TexAgs
Texas A&M Football
New Athletic Director Ross Bjork excited for new challenges in Aggieland
---
Key notes from Ross Bjork interview
They said it was a milestone for Billy being in before eleven o'clock. This must be a big show.

It's been a whirlwind, but exciting. The kindness and hospitality and everyone opening their arms and welcoming us to Aggieland has been great. My boys follow sports and had the Aggie helmets on yesterday in the studio. My son, he loves Johnny Manziel. He was excited about this opportunity when I first told him. He asked if he might get the chance to meet Johnny Manziel. I told him we can meet the "good" Johnny Manziel because before, at Ole Miss, he was the bad guy. But it's been about family and it's been good. Yesterday was a great start.

Just to look people and the coaches in the eyes and say, "Let's work together. Let's build programs, compete and win championships." Our coaches are the most impactful people on our student athletes. I don't know many of the coaches or staff here yet. But in college athletics, coaches talk to their coaching counterparts and pass along information. It helps build good credibility before you ever get to campus.

I know Pat Henry is a legend. I know Gary Blair. He wears a crisp shirt and tie. I've watched him coach games before. Obviously, Jimbo. I've always been very impressed with Buzz. I watched a video of him speaking to a group this morning. The other coaches, you watch them from afar and know they're successful. I don't know many of them yet but I'm excited to work with them.

Being a product of the enterprise of college athletics, I've wanted to be an athletic director since I was a sophomore in college. At Emporia State, I went in and met with our AD at the time, Bill Quayle, and asked, "What do you do?" He lined it out and I found that I wanted his job some day. I would email football SIDs and ask for for media guides. I would study the career path of the ADs. I followed guys and figured out that I had the skillset to do this job. We went to Miami and found again I had the skillset. I then interviewed six times for AD jobs and never got them. It was the grace of God that I didn't get one of those jobs. I probably never would have gotten to where I am today if I had gotten and taken a job from one of those six. The right one eventually came along at Western Kentucky. I knew the president and he targeted me. I became the youngest athletic director in the FBS in 2010. I would've loved to be the AD at Emporia State, but being in big time college athletics gives me a chance to impact so many.

I think anytime you're in the locker room and on the player side, you know what all goes into it. It gives you perspective as to why are you here. I have a job because of student athletes. That's at our core. I will defend my student athletes. You can come at me on whatever you want, but do not come at me about my student athletes.

I played for a hard-nose guy and that full-steam approach taught me how to attack things. I attack things like a fullback. Simple and head on. I played for a very tough coach. My perspective was if I can get through that, I can get through anything. That's what I take with me every single day when I wake up. That's how I like to attack things as an athletic director: simple and head on. That's how we went about the NCAA investigation at Ole Miss and that's how we will attack everything at A&M.

In the modern day world, the coach that I had would not survive. He was way too tough and not enough love. Today, it has to be about tough love but coaches also have to show players "why." That's how you get them to understand and perform their best. There's a lot more going on now than there was when I was playing. You have to understand the balance. You have to have coaches who understand that balance, have an identity and know what they want.

We're a top five program. In some areas, we're not there yet. We're setting standards high because we should. We're in Texas and have all these resources. We need to take advantage of them. I don't even know what our ceiling is yet. We're already ahead of most of our peers. We have to embrace the SEC as well. We can say, "Come play for the best and against the best." We are also aiming at the Directors' Cup. This year, A&M only won one SEC championship. It's how do we get to four, five or six each year? We're going to figure out just exactly what Texas A&M's ceiling is and do our best to reach it year in and year out.

There has been a lot of turnover in the SEC athletic director room recently. I was the fourth-longest tenured SEC AD. Hopefully I can keep that seven year tenure going even though I've switched schools now. Having that experience lends itself to having respect from the other ADs in the conference. People have already said, "Hey Ross, you're going to a very important place for the SEC." They understand the power of this university with its marketshare, being in Texas, the western-most school and having the following is big for the conference. They like that there is still that built-in relationship here with me now that I'm here. Everyone understands just how important Texas A&M is to the SEC as a whole.

The SEC alcohol policy change will probably be one of the first things we work on. We need to find out how does it fit this university? We will go through the president's office as well. It's "do we?" and then "how do we?" But this place has so many wonderful things already in place. I'm going to listen and learn as to what we need next. We will probably let the current construction finish up before we start on something new.

Coach Blair has already asked me if I could get a Steak and Shake inside Reed Arena like they have at The Pavilion at Ole Miss. We will try and work on that.

One of the things I did at Ole Miss, we would meet with every freshman that came in. It was like a bridge program. At the end, I would always give out my cellphone number. I actually got a text from Bryce Blaum the night the news broke that I was going to be coming to A&M, welcoming me to Aggieland. I hope I can continue that kind of program here. Such a cool text to get from Bryce and what a great hit he had this weekend.

I think the schedule philosophy is, "Where do you sit?" At Ole Miss, we liked variety and rotation. We didn't see much change. We played Vanderbilt every year and we liked that from competitive standpoint. But the variety is good from a fan experience. Here it's more about the competitive balance. I do think the eight games is better than nine. Playing the one big non-conference game and the eight SEC games seems about right. Then do we sprinkle in another mid-major competitive game? All of the other leagues say that we're doing it right by playing eight games. I'll still learn more. I'll talk with Jimbo. We know we have to drive home ticket sales and the big games with Clemson and Notre Dame will do that.
Never miss the latest news from TexAgs!
Join our free email list