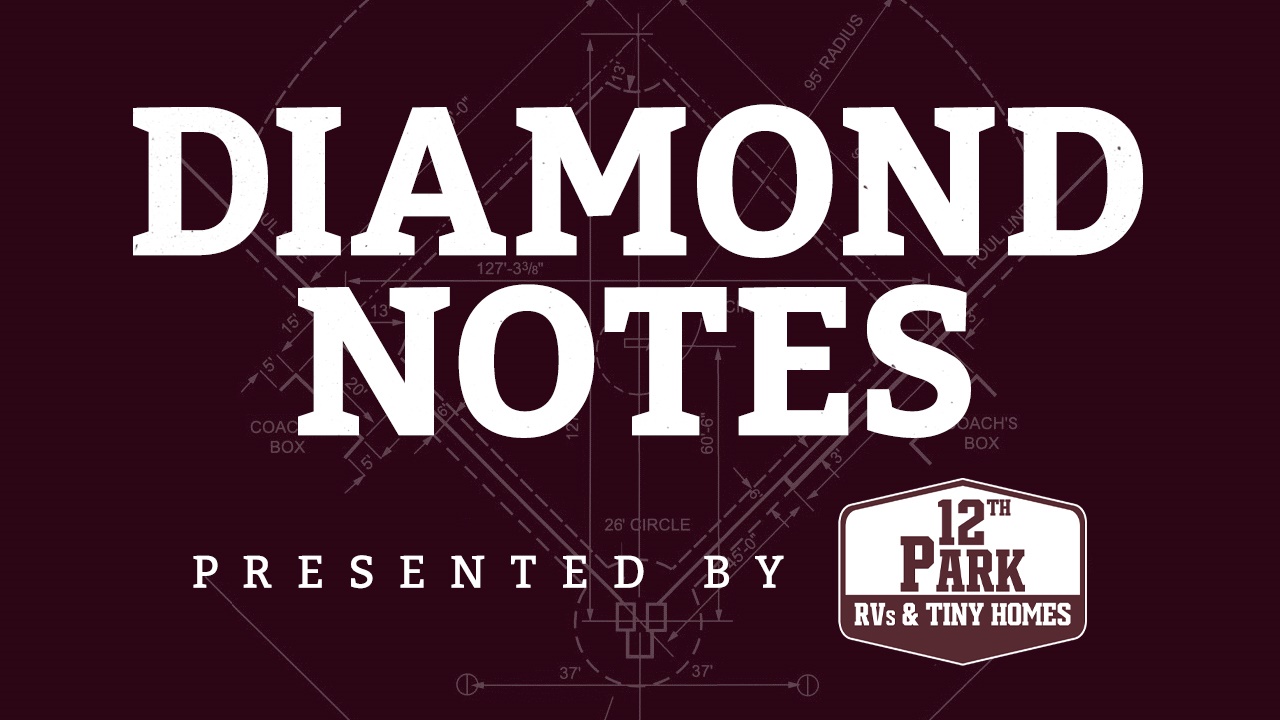 Texas A&M Baseball
Diamond Notes: Aggies boost regional hosting resume with series win over Arkansas
---
*Note: Click on player button above for Gabe's radio conversation with Ryan Brauninger reacting to the weekend and A&M's series win over Arkansas.

What a weekend for the Aggie baseball team. After dropping game one of the series to No. 4 Arkansas in a game that featured five home runs by the Razorbacks hitters, the Aggie pitching staff went out and shoved it down the collective throat of the defending national runner-up, allowing just three runs over the final two games (both A&M wins) en route to an all-important series win on the final weekend of the regular season. It's the kind of win that appears to have jolted A&M right back into strong consideration for one of 16 regional host spots for the NCAA Tournament, which will be unveiled one week from today. Truly a lot to talk about in this week's edition of Diamond Notes as the Aggies head to Hoover today and will open up SEC Tournament play Tuesday morning at 9:30 against Florida. Here are this week's notes, stats, thoughts and observations following the series win over Arkansas and heading into the SEC Tournament in Hoover...
I posted about the hosting bubble on Saturday after the Aggies pulled out the series win at Arkansas – an incredible series win that we'll discuss in-depth in a bit – but let's dive deeper and throw even more numbers at the subject of the hosting bubble. I believe that there were 12 teams that already had a regional hosting bid locked up prior to the final week of the regular season and about 10 teams fighting for four spots. Here's a list of the 12 teams that are signed, sealed and delivered as regional hosts...
Vanderbilt
Mississippi State
Arkansas
Georgia
Louisville
Georgia Tech
Texas Tech
Oklahoma State
UCLA
Stanford
Oregon State
East Carolina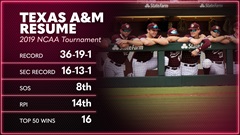 TexAgs
That leaves 10 teams fighting for the final four slots. Included below are essentially side-by-side comparisons for each of those 10 teams, including each program's RPI, strength of schedule, non-conference strength of schedule, record vs. the top 50, number of losses outside the top 100 (bad losses), signature wins (top 25 RPI wins) and results this weekend, along with my predictions on whether each team is "in" or "out" as a regional host as of today...
Texas A&M (36-19-1; 16-13-1 SEC)
RPI: #14
SOS: #8
Non-conference SOS: #64
Record vs. top 50: 16-15-1 (32 games vs. top 50)
Losses outside top 100: 2
Signature wins: Vanderbilt, Auburn, Arkansas
Last weekend's results: 2-1 vs. Arkansas
Prediction: IN

LSU (34-22; 17-13 SEC)
RPI: #21
SOS: #7
Nonconference SOS: #67
Record vs. top 50: 19-14 (33 games vs. top 50)
Losses outside top 100: 4
Signature wins: Mississippi State, Texas A&M, Florida, Auburn
Last weekend's results: 21 vs. Auburn
Prediction: IN

NC State (41-15; 18-12 ACC)
RPI: #18
SOS: #50
Nonconference SOS: #179
Record vs. top 50: 11-7 (18 games vs. top 50)
Losses outside top 100: 0
Signature wins: Miami, North Carolina
Last weekend's results: 21 at NC State
Prediction: IN

UC Santa Barbara (44-7; 18-3 Big West)
RPI: #13
SOS: #160
Nonconference SOS: #105
Record vs. top 50: 0-0 (0 games vs. top 50)
Losses outside top 100: 5
Signature wins: None
Last weekend's results: 30 at Hawaii
Prediction: IN

Ole Miss (33-23; 16-14 SEC)
RPI: #31
SOS: #12
Nonconference SOS: #140
Record vs. top 50: 16-18 (34 games vs. top 50)
Losses outside top 100: 2
Signature wins: Arkansas, Florida, Texas A&M, LSU
Last weekend's results: 12 at Tennessee
Prediction: OUT

Missouri (34-21-1; 13-16-1 SEC)
RPI: #26
SOS: #25
Nonconference SOS: #201
Record vs. top 50: 10-16-1 (27 games vs. top 50)
Losses outside top 100: 5
Signature wins: LSU, Tennessee
Last weekend's results: 03 vs. Florida
Prediction: OUT

Auburn (32-23; 14-16 SEC)
RPI: #19
SOS: #1
Nonconference SOS: #80
Record vs. top 50: 14-19 (33 games vs. top 50)
Losses outside top 100: 2
Signature wins: Tennessee
Last weekend's results: 12 at LSU
Prediction: OUT

Miami (38-17; 18-12 ACC)
RPI: #17
SOS: #28
Nonconference SOS: #128
Record vs. top 50: 14-14 (28 games vs. top 50)
Losses outside top 100: 2
Signature wins: Georgia Tech
Last weekend's results: 21 vs. Duke
Prediction: OUT

North Carolina (38-17; 17-13 ACC)
RPI: #20
SOS: #36
Nonconference SOS: #66
Record vs. top 50: 9-10 (19 games vs. top 50)
Losses outside top 100: 2
Signature wins: Miami
Last weekend's results: 12 vs. NC State
Prediction: OUT

Baylor (33-15; 14-8 Big 12)
RPI: #27
SOS: #44
Nonconference SOS: #110
Record vs. top 50: 10-8 (18 games vs. top 50)
Losses outside top 100: 2
Signature wins: Dallas Baptist, West Virginia
Last weekend's results: 02 at Oklahoma State
Prediction: OUT

I think the Aggies are in. And if Asa Lacy takes the ball on Tuesday morning and beats Florida, the Aggies will leave no doubt that they'll be playing at home on opening weekend of the NCAA Tournament.
I said three weeks ago entering the Mississippi State series and coming out of getting swept at Ole Miss that it would take five more league wins to move A&M back on the positive side of the hosting bubble. The Aggies then went out and took one game versus MSU, two games at Alabama and two games vs. Arkansas. That, combined with the bubble getting softer and softer in the last week, has put A&M back on the inside of the hosting conversation. I think the Aggies are in. And if Asa Lacy takes the ball on Tuesday morning and beats Florida (RPI #25; SOS #3), the Aggies will leave no doubt that they'll be playing at home on opening weekend of the NCAA Tournament.
This could change a bit next week during conference tournament play, but I think LSU is firmly in and A&M is pretty safe right now, in my estimation. Miami, UNC and NC State all feature very similar resumes and the battle for one or two slots – depending on what UCSB next week vs. Cal Poly (the Big West doesn't have a conference tournament) – will continue into next week's ACC Tournament. After looking into it deeper, I've changed my tune from Saturday's post, and as of right now, I have NC State in over Miami. The Wolfpack swept Miami on the road and are coming off of a series win at North Carolina to close the regular season. NC State also has a winning record vs. the top 50 (neither UNC or The U can say that) and not one loss outside the top 100 (only Mississippi State, Louisville and Kentucky, interestingly enough, can say that).
The oddball in the entire hosting conversation is UCSB. The RPI is dazzling at #13. They're red hot right now, having won 13 straight games and 26 of their last 28. But they haven't played a single game against a top 50 RPI team. The best team the Gauchos have scheduled out of conference is Pepperdine (RPI #59), and they swept the Waves in four games. They have five losses to teams outside the top 100 – that's more than A&M, NC State and Miami combined. If you ask me what I would do, I would have A&M, LSU, Miami and NC State in and UCSB out simply because their resume doesn't hold up. They also don't have an adequate home stadium capable of hosting a regional and are putting in a bid in association with Las Vegas to host their regional in Sin City, which is about 360 miles and a five-and-a-half hour drive from Santa Barbara. But I think there is a draw to have a regional in Vegas and that factor will ultimately win out if UCSB doesn't struggle on the final weekend before Selection Monday.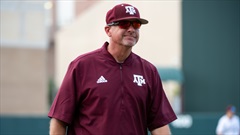 Angelina Alcantar, TexAgs
It's good that we're talking about A&M being right in the mix for a host spot despite the issues we've seen from them most of the year with the bats. There are quite a few schools with similar issues that aren't even on the bubble to get into the Field of 64 and are firmly out of the Tournament altogether, namely TCU, Texas, South Carolina and Cal State-Fullerton. It's hard to make the NCAA Tournament for 13 straight years. And while we all want to see A&M's program elevated beyond where it is and become a team that consistently makes runs in Omaha, it's also good to stop for a minute and credit Rob Childress and this staff for once again battling against by far the toughest conference in college baseball (11 of the top 12 teams in the strength of schedule rankings are SEC teams) and being right in the mix to host a regional vs. wondering if they're even dancing in June.
Let's look back on the Arkansas series. What a signature win for the Aggies when they needed it most. The story was the pitching staff, and you really can't say enough about the job the A&M arms did against one of the most dynamic and explosive offenses in the entire country. Arkansas has incredible lefty-righty balance and a bunch of dudes in the lineup that can put the ball out of the yard. And they did a lot of that this weekend. But that's about all they did well, and credit the Aggie pitchers and Rob Childress as a pitch caller for keeping the Hog hitters off-balance for most of the series. Consider this ... the A&M pitching staff held Arkansas to just three runs in the final 18 innings of the weekend and produced 44 strikeouts with just five walks without Asa Lacy, an All-American candidate and A&M's most over-powering pitcher who was unavailable due to his suspension for getting ejected at Alabama for arguing with the home plate umpire. An incredibly remarkable weekend on the bump for the maroon and white, and everyone got into the act. Here's a pitcher-by-pitcher breakdown from the Arkansas series...
Starters:
LHP Chris Weber - 5 IP; 6 H; 5 R (5 ER); 0 BB; 10 K
LHP John Doxakis - 5.2 IP; 6 H; 2 R (2 ER); 2 BB; 8 K
RHP Christian Roa - 6 IP; 5 H; 1 R (1 ER); 1 BB; 7 K
Relievers:
LHP Moo Menefee - 4 IP; 1 H; 0 R; 0 BB; 7 K (2 outings)
LHP Chandler Jozwiak - 2.1 IP; 3 H; 1 R (1 ER); 1 BB; 3 K
RHP Kasey Kalich - 0.2 IP; 0 H; 0 R; 0 BB; 2 K
RHP Bryce Miller - 1.2 IP; 1 H; 0 R; 1 BB; 2 K
RHP Jake Nelson - 1.2 IP; 1 H; 1 R (1 ER); 0 BB; 5 K
Bullpen Totals: 10.1 IP; 6 H; 2 R (2 ER); 2 BB; 19 K
Just incredible numbers on the whole and especially from the five bullpen guys. Moo Menefee is going to have a chance to be one of the best pitchers to ever come through Texas A&M in the Rob Childress era. That's saying something because there are more than a half-dozen of those guys currently pitching in the Big Leagues. Menefee is as talented as every last one of them, hands-down. Keep in mind, the big fella is still just 14 months removed from Tommy John surgery. He's a Friday night guy with a closer's mentality that wants to bury you on every pitch. The dynamite Arky lefty bats had no business being in the box against Moo. They looked silly and completely lost against him. What a piece to have coming out of the bullpen or starting deep in a Regional or even the SEC Tournament if it gets to that point.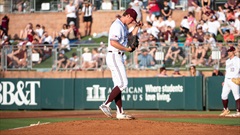 Mintie Betts, TexAgs
Dox is Dox. What a leader and bulldog he's been. That certainly continued this week. Weber threw much better than his numbers and would figure to get the call to start on Wednesday if the Aggies win game one of the SEC Tournament Tuesday morning against Florida. Odds favor Lacy starting game one. And then there's Christian Roa. The sophomore is back to 100-percent full strength after missing close to a month with a tender arm. He tossed 58 strikes in 86 pitches to get the win on Saturday and was masterful in keeping a lineup down that has been dominant against right-handed pitching all season. Roa gives you nothing free and you have to grind out at bats and work hard for every single morsel that you can managed to scrounge up against him. It's not easy to get crooked numbers against Roa, and that makes him about as effective of a number three guy as you're going to find in the postseason.
As for the A&M lineup, it certainly didn't get off to the best start against ace right-hander Isaiah Campbell and the top of the Razorbacks bullpen, but there were some bright spots even in the series-opening defeat and the results continued to improve as the weekend unfolded. A&M produced 11 hits in game one but just two of them went for extra bases. But in that loss, Braden Shewmake (2-for-4) and Bryce Blaum (3-for-5) combined for five hits and three runs scored. Cam Blake and Hunter Coleman, back after about a seven-week hiatus with a broken left arm, each had two hits. The tone set by Shewmake and Blaum carried over into Friday's game two with back-to-back home runs to open the contest. Shewmake came back with a two-run double off the right field wall in the second inning to give the Aggies an early 4-0 lead and chase Hogs freshman starter Patrick Wicklander off the mound in the process. Just like that, the Aggies were in business with the bats and cruised to a 6-2 win in the middle game. In the rubber match, A&M got two-hit games from a completely different group of hitters than the guys that got it done in the first two games. Mikey Hoehner, Logan Foster and Jonathan Ducoff each contributed two hits, and Ty Coleman drove in a pair of runs en route to a convincing 6-1 win to claim the series and improve the final regular season record to 36-19-1 and 16-13-1 in the SEC.
The offense gives you a little more encouragement coming out of the weekend than they did heading into it, but it's certainly not what you would call "hooked up" at this point. There is still a real need for vast improvement in middle-order production and the Aggies are still struggling to produce extra-base hits outside of Shewmake. The A&M leadoff man had three XBH against Arkansas, but the rest of the A&M lineup combined for just four. Here are the offensive series totals for each player in the lineup that started at least one game against Arkansas:
Shewmake: 4-for-11 (.364); 2 doubles; 1 home run; 4 RBI; 3 runs
Blaum: 5-for-13 (.385); 1 home run; 2 RBI; 2 runs
DeLoach: 2-for-11 (.182); 1 RBI; 1 run
H. Coleman: 2-for-11 (.182); 1 double; 1 run
Hoehner: 2-for-9 (.222); 1 run
Blake: 3-for-9 (.333); 2 RBI
Foster: 4-for-11 (.364); 1 double; 1 RBI; 2 runs
Ducoff: 3-for-6 (.500); 1 double; 1 RBI; 4 runs
T. Coleman: 1-for-8 (.125); 2 RBI; 1 run
Frizzell: 0-for-2 (.000)
Wingate: 1-for-4 (.250)
Condel: 0-for-1 (.000)
Watson: 0-for-2 (.000)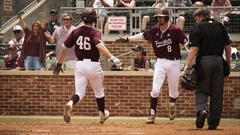 Jackie Ysaquirre, TexAgs
You love what you're getting at the top of the order from Shewmake and Blaum. And it was great to see Logan Foster bounce back with a base hit in all three games and a .364 weekend after going 2-for-30 in his previous nine SEC games heading into the Arkansas series. Hopefully that is a sign of his reemergence. And then there's Ducoff, who has sat on the end of the bench for most of the last month and has barely played. I called for the fifth-year right-handed power bat and exceptional athlete to get some action in my postgame report on Thursday night and he was in the starting lineup on both Friday and Saturday, and he delivered to the tune of a .500 weekend with four runs scored. That certainly was enough to earn more action this week in Hoover.
The Aggies have to get more out of DeLoach and Hoehner, hitting in front of and behind Hunter Coleman. It was great to see Coleman get back in the every day lineup. His timing looked great on Thursday, but he didn't have a hit in the last two games. You can't ask him to have it all working right away after missing as much time as he did. All you can do is keep running him out there and giving him as great of a chance to put it back together before the regional as you can. But DeLoach, Coleman and Hoehner combined to hit .194 against the Hogs in the middle of the lineup. That has to get better, and in a hurry.
What would your lineup look like this week? Here's what I would do:
Shewmake - SS (L)
Blaum - 2B (R)
DeLoach - CF (L)
H. Coleman - 1B (R)
Hoehner - C (R)
Blake - DH (L)
Foster - RF (R)
Ducoff - LF (R)
T. Coleman - 3B (R)
The Aggies have played five games since 2015 at 9:30 a.m. in the SEC Tournament and are 4-1 in those games.
Here's hoping for a long and fun week watching the Aggies in Hoover at the SEC Tournament. A&M will once again open up tournament play at 9:30 a.m. on Tuesday, facing Florida in a #6 vs. #11 game. The Aggies have a lot of recent familiarity playing in these early morning games in Hoover. The Aggies have played five games since 2015 at 9:30 a.m. in the SEC Tournament, including two early-morning contests in 2016 and two in '18, and are 4-1 in those games. That should bode well for the Aggies and projected Tuesday starter Asa Lacy, who tossed six shutout innings with eight strikeouts in a day two victory over Georgia last season.
We'll have live and postgame coverage of every game that the Aggies play this week in the SEC Tournament right here at TexAgs.com and on Twitter @TexAgs.
Never miss the latest news from TexAgs!
Join our free email list