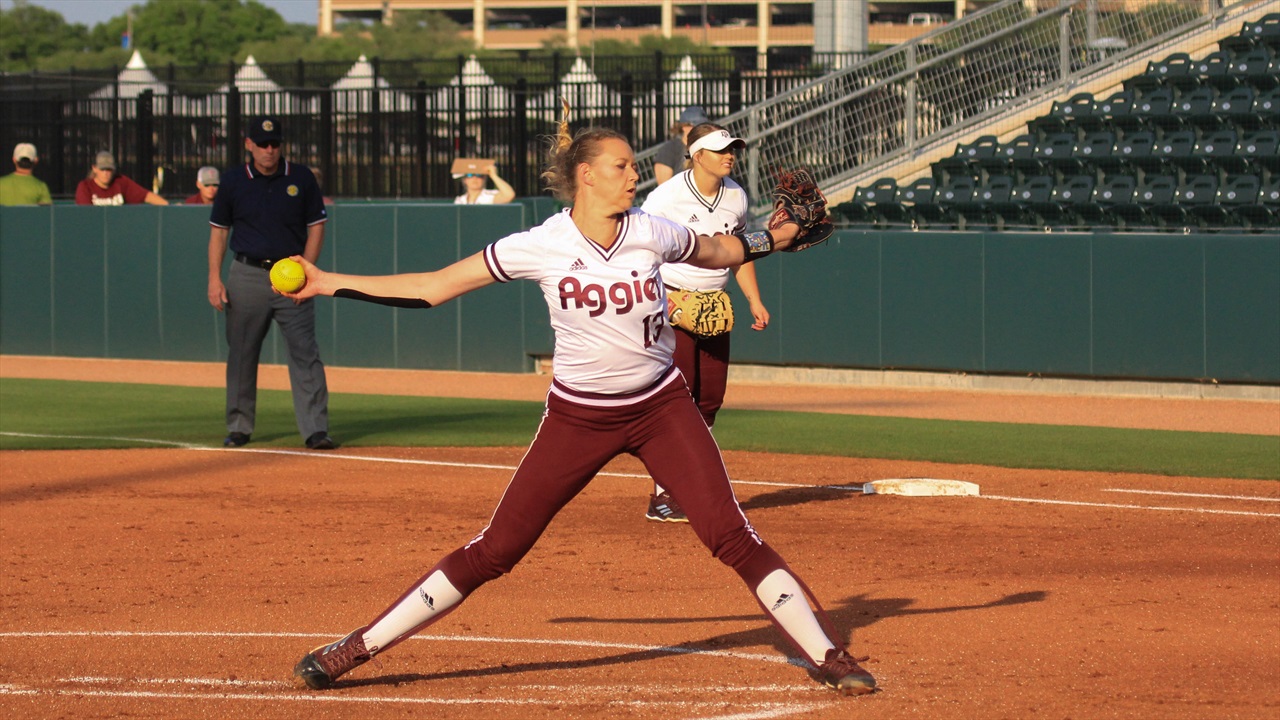 Photo by Angelina Alcantar, TexAgs
Texas A&M Softball
Aggies drop opener of Austin softball regional to Houston, 3-1
---
Squandered opportunities, a big passed ball and one swing of the bat handed Texas A&M softball a loss in the opening game of the NCAA Regional tournament in Austin on Friday afternoon.
Through the first four frames, A&M's Kendall Potts and Houston's Savannah Heebner took turns putting zeros on the scoreboard. Nobody could plate a run until Houston's Arielle James hit a two-out, three-run home run to left field in the bottom of the fifth, capitalizing on an opportunity created by an A&M miscue.
Prior to that, both clubs had missed multiple chances to score the game's first run. The Aggies had the bases loaded in the fourth with just one out and were unable scratch out a run. Houston had two runners reach with just one away, but they could not come up with the big swing of the bat necessary to break the scoreless tie.
The Aggies had another opportunity in the fifth inning, but after an error and a double with one out in the frame, Savannah Heebner slammed the door on the Aggies. To that point in the ballgame, the Aggies had stranded five runners on in scoring position.
The breakthrough came for the Cougars in the bottom of the fifth. With one out, Potts struck out Brooke Vannoy, but a passed ball credited to A&M's Haley Lee allowed Vannoy to reach. Two batters later, after a single by AAC Player of the Year Sarah Barker and a strikeout, Arielle James stepped up to the plate with two outs. On a 3-1 pitch, James deposited a ball over the left field wall to give Houston the 3-0 lead.
All of the runs scored off of Potts were unearned thanks to the strikeout and passed ball. Houston would not score again.
In the sixth, A&M tried to answer back. The Aggies had the bases loaded with two outs as Kelbi Fortenberry dug in. She reached on an error by the first baseman Kelli Montgomery, allowing the Aggies to score their only run of the game, also unearned. But that would be it offensively for A&M.
Houston's Savannah Heebner pitched in and out of danger all game long, ultimately surviving one more jam than Potts. Heebner finished with a complete game victory, striking out seven Aggies. Houston committed three errors in the field, but the Aggie offense could not take full advantage of Houston's poor defensive play.
The Aggies will play ninth-ranked Texas in an elimination game on Saturday at 3:30 p.m.
Never miss the latest news from TexAgs!
Join our free email list