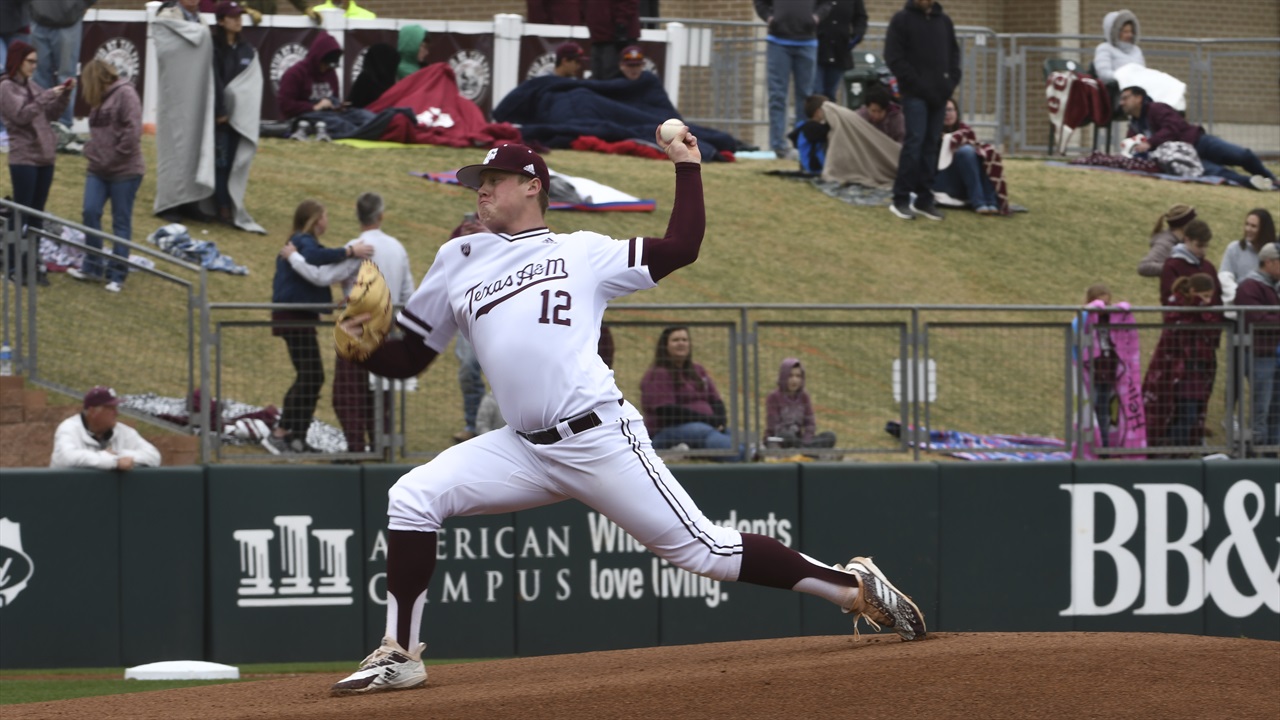 Photo by Elisa Schmitt, TexAgs
Texas A&M Baseball
Series Preview: No. 17 Texas A&M vs. Alabama
---
Who: University of Alabama (28-21, 6-18 SEC)
Where: Sewell-Thomas Stadium – Tuscaloosa, Alabama
When:
Friday 6:00 p.m. CT (SEC+)
Saturday 2:00 p.m. CT (SEC+)
Sunday 2:00 p.m. CT (SEC Network)
Pitching matchups
Thursday: John Doxakis (LHP, 5-3, 1.99) vs. Wil Freeman (RHP, 2-2, 4.94)
Friday: Asa Lacy (LHP, 7-3, 2.01) vs. Brock Love (RHP, 4-4, 4.74)
Saturday: TBA vs. TBA
Scouting Alabama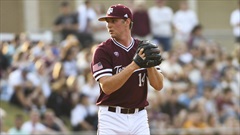 Tarah Cochran, TexAgs
Alabama has struggled in SEC play with a 6-18 conference record. When you look at the season statistics, you can see why they are near the bottom of the standings. It starts with some bloated numbers on the mound. Alabama has a team ERA of 4.12 with a 1.31 WHIP and an opposing batting average of .250. Texas A&M boasts a team ERA of 3.09 with a 1.20 WHIP and an opposing batting average of .220. The Crimson Tide staff has struck out 104 fewer batters (525 vs. 421) than the Aggies' pitchers while walking approximately the same number of batters (159 vs. 158). Wil Freeman is being pushed into the Friday night role, and his 4.94 ERA doesn't look intimidating on paper. Saturday starter Brock Love has been in the game two starter role most of the season and has seen his ups and downs with a 4.74 ERA. However, he did toss almost six innings of two-hit, no run baseball last month for a big win over Top 10 Arkansas. Last week against Auburn, he secured the victory, pitching 5.1 innings and giving up five hits and two runs. He can be good, but he's also inconsistent. Alabama has a couple of solid 3.00-3.50 ERA arms in the bullpen, but no dominant set-up man or closer. Jeremy Randolph leads the team with eight saves, and he has a WHIP near 1.00 and opposing batters are hitting just .185. But his ERA of 3.71 doesn't put him in the top tier of SEC closers. On paper, the Aggies have a clear and significant advantage on the mound.
At the plate, Alabama is hitting at a lukewarm .266 as a team. Granted, that is higher than Texas A&M's last place .254, but Texas A&M's pitching staff has faced much higher and more dangerous numbers in previous SEC weekends. Despite a lower average, slugging percentage (.399 vs. .363), home runs (41 vs. 31), and on-base percentage (.379 vs. .335), the Aggies have actually scored more runs (285) compared to the Crimson Tide (280). The numbers look solid compared to the Aggie offense, but they pale in comparison to Mississippi State, Vanderbilt, or Arkansas. Morgan McCullough is the lone starter hitting above .300 (.313). The rest of the lineup hits between .251 and .297. The most dangerous run producer in the lineup is Tyler Gentry with a .297 average and a team leading 11 home runs, and he tops the Crimson Tide with 37 RBI. The difference in the offensive lineup compared to Texas A&M is that Alabama's lineup is consistently hitting in the .270-.290 range. So while there aren't many dangerous bats to avoid at all costs, there's not a lot of free outs at the end of the lineup. A&M pitchers will need to be dialed in at all time – they can't relax at the bottom of the order because Alabama is solid from top-to-bottom. I wouldn't call Alabama's offense a juggernaut by any stretch, but there is more pop and average than in the A&M lineup, that's for sure.
Texas A&M storylines to watch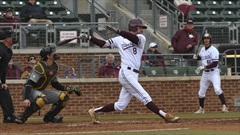 Elisa Schmitt, TexAgs
We can always talk about the team's performance at the plate as a big storyline. It's been the biggest storyline all year. But what makes this weekend particularly important is that Alabama has no elite starting pitchers. They plan to start a right-hander with a 2-2 record and a 4.94 ERA, and in game two, they will roll out another righty with a 4-4 slate and a 4.74 ERA. If there's ever an opposing starting staff that this team should hit, it's Alabama. The odds greatly favor the Aggies in these first two games with John Doxakis and Asa Lacy carrying ERA's a full 2.7 runs lower than their counterparts on the mound. The offense doesn't need an explosion of runs, but the offense should expect to generate 5-6 runs a game, and as long as Doxakis and Lacy are finding the strike zone and not issuing many free passes early in the game, that should be enough run support.
The other big storyline to watch for Texas A&M is the choice of Sunday starter and how he will perform. For now, the staff has not decided on a game three starting pitcher. Will they give Christian Roa another chance to settle down and pitch well, or do they go to freshman lefty Chris Weber who has been increasingly effective as the season has progressed? And regardless of who walks out on the mound to start the game, the key will be getting a quality start and trying to establish a consistent resource in this role, because in the postseason, the game three starter is usually pitching to advance to the next round of the NCAA Tournament. It's time for a trusted game three starter to emerge.
Finally, the Aggie bullpen has scuffled in recent weeks. What used to be one of the best bullpens in the NCAA just 2-3 weeks ago is suddenly struggling. Both Bryce Miller and Kasey Kalich have endured rough outings in the past two weeks, which has seen their ERA's jump almost a full point each. Chandler Jozwiak from the left side has been mostly ineffective in the past month and his ERA has ballooned to 5.12. For this team to compete for a trophy in the SEC Tournament and do some damage in the NCAA postseason, guys like Miller, Kalich, and Moo Menefee must be effective out of the bullpen. With the quality of pitching Texas A&M will face early in regional play, both the starting pitching and the relievers must be performing at the high levels seen in February and March.
What's at stake this weekend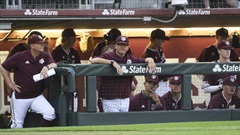 Elisa Schmitt, TexAgs
Well, it's crunch time in the SEC race. The Aggies are 1-5 in its last six conference games – and going backward. But the team has a chance to get back on track with a road series against the SEC West's last place Alabama Crimson Tide. With a national seed now off the table, the realistic goal for this team is to earn a regional host spot and a Top 16 seed. The problem is that Texas A&M currently has the seventh highest RPI in the SEC. It's been three years since the SEC earned seven host spots in the NCAA Tournament. In each of the past two years, the SEC has secured just four regional hosting spots. So, while A&M's RPI sits at No. 17 and well within earshot of a top 16 seed, standing in the SEC could be a factor. Of course, the Aggies could end all speculation by winning five of its next six games against Alabama and Arkansas. That should put Texas A&M well within the top 16 in RPI and place the team in the top 5-6 in the SEC, and that should be safe to host. To go 5-1 essentially means the Aggies need to sweep Alabama this weekend. A case could be made that A&M hosts finishing 4-2 and winning a couple of games in the SEC Tournament, but the easiest path to host is win all three games against the 6-18 Crimson Tide and then protect home turf the last weekend of the regular season against Arkansas. For the sake of playing in the postseason at home, a weekend sweep is the goal.
Never miss the latest news from TexAgs!
Join our free email list
PRESENTED BY