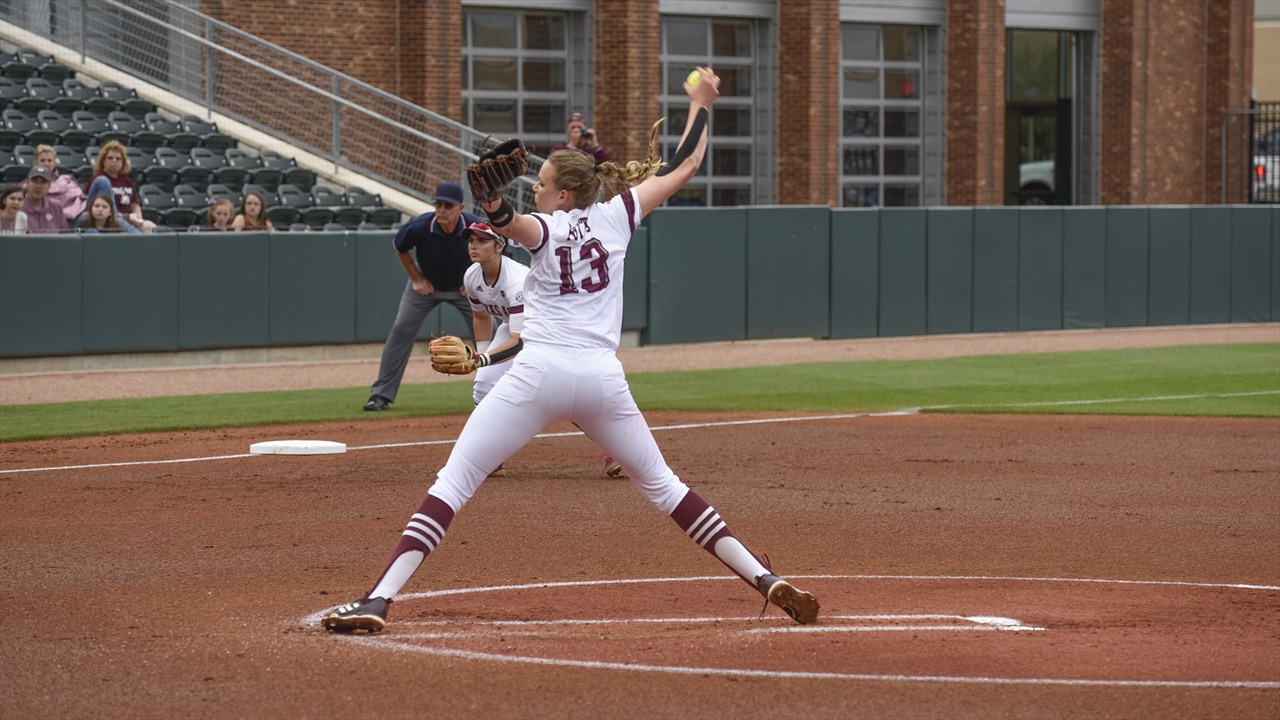 Photo by Elisabeth Schmitt, TexAgs
Texas A&M Softball
Potts pitches complete game gem as Aggies take down No. 18 Arkansas, 3-1
---
Texas A&M softball hosted the No. 18 ranked Arkansas Razorbacks at Davis Diamond Saturday night. The Aggies were able to take the first game of the series, upsetting Arkansas 3-1.
The game was scoreless through the first five and a half innings. Although some of that can be attributed to solid pitching on both sides, both teams stranded runners on multiple occasions. It was a struggle all night to score runs.
However, that changed once the Aggie's offense came alive in the bottom of the fifth inning. With two outs and runners on first and second, freshman Kayla Garcia hit an RBI single that allowed junior Blake-Ann Fritsch to score from second base. It was the first run of the game for either team.
The scoring didn't end there for Texas A&M. The Aggies managed to plate two more runs before the inning was over. The runs came courtesy of a wild pitch that allowed Kelbi Fortenberry to score from third and an error on a throw to first base that enabled Garcia to score an unearned run.
"I think tonight we came with the fire in our belly and we were ready to go."
"I think tonight we came with the fire in our belly and we were ready to go," Garcia said. "I think I just kind of slowed the game down for myself, just had to make sure I made contact."
Garcia finished the game going 1-3 at the plate with one RBI and also contributed some excellent plays from her second base position on defense.
Texas A&M took a three-run lead after five innings and never looked back. Arkansas was able to plate a run in the top of the sixth, but it would prove to be irrelevant. Despite not being able to add any insurance runs to their lead in the bottom of the sixth, Texas A&M junior pitcher Kendall Potts retired three straight Arkansas batters to end the game in the top of the seventh.
Potts was excellent in Texas A&M's upset victory. Her pitching coupled with some brilliant defensive plays is what propelled the Aggies to this much needed SEC win.
"I think we just had fun" Potts said. "There's times where we play good games [and] we just kind of tighten up a little bit, [tonight] we just left it loose."
Potts pitched the entirety of this game, accounting for five strike outs and earning her eleventh win of the season. Head coach Jo Evans was very pleased with her team's performance against a ranked conference opponent.
"We've talked a lot about being more aggressive in the way we play the game [and] having a little more swagger out there on the field… I thought our team did that," Evans said. "I was proud of the way we played the game. We expect to come out and win and we did."
Texas A&M will be back at Davis Diamond tomorrow for the second game of their series against Arkansas. The game is scheduled to begin at 7 p.m. and will be broadcasted live on the SEC Network.
Never miss the latest news from TexAgs!
Join our free email list