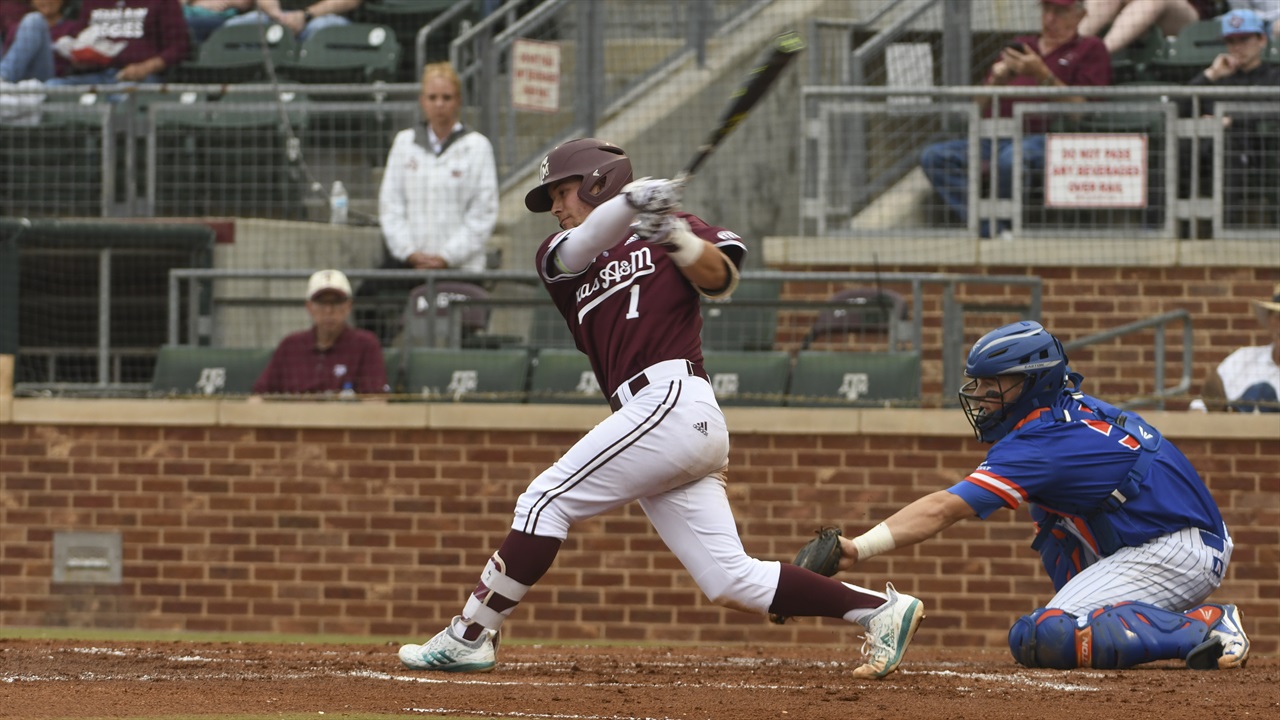 Rob Childress
Ty Coleman
Zach DeLoach
Brett Brown
Texas A&M Baseball
Dynamic offensive performance leads Aggies to 10-5 victory over UT Arlington
---
Game #43: No. 6 Texas A&M 10, UT Arlington 5
Records: Texas A&M (30-12-1, 11-6-1), Auburn (28-14, 14-4)
WP: Chandler Jozwiak (4-4)
LP: Ka'ikepono Anderson (6-4)
Box Score
---
The No. 6 Texas A&M Aggies returned home to Olsen Field after a series win in Columbia to square off against the Mavericks of UT-Arlington, winning 10-5.
The last two Tuesday night games did not go as the Aggies had planned, losing to Texas State and the University of Houston. The same could be said about the Ags' last two matchups against UT Arlington, losing 3-2 in 2017 and then again in a heartbreaking 5-1, 18-inning loss in 2018. But tonight told a different story for the Aggies.
UT Arlington drew the first blood on a Zac Cook sacrifice fly to bring in UTA center fielder Phillip Childs in the top of the 3rd inning. But it didn't take long for the Ags to answer back with DeLoach putting a ball past the right field fence in the bottom half of the inning, tying the game at 1.
"I wasn't trying to hit a home run," Zach DeLoach said. "I'm glad that it did and I think it gives us confidence going into this weekend at Ole Miss."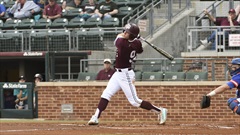 Elisa Schmitt, TexAgs
But DeLoach's homer was only the beginning of the Aggies double digit run performance. The very next inning, Ty Coleman hit a 2 out, 3 run homer to cushion the lead. Coleman credited his success at the plate after the game to confidence in his swing, and he tributes his success to Coach Bolt telling him to "take pride in his at bats" every time he steps into the box.
The Aggies put on an offensive clinic this evening by scoring their runs in several different ways, with one run coming from the small ball in the 5th and then two more coming in the 8th, all capped off from a 3 run Braden Shewmake home run over the left field wall.
Amidst the excitement of scoring 10 runs, freshman Brett Brown was able to knock in his first career hit with a solid hit ground ball that went past both the shortstop and third baseman.
"Brett Brown has as good of batting practice as anybody out there," Rob Childress said after the game. "He's a guy that had a great fall, hitting over .300, and then was hurt in January. [He's] coming back to the guy we saw at the beginning of the year."
A dynamic offense combined with a solid start from Chris Weber helped the Aggies secure their first Tuesday win in three weeks. The Aggies return to action on Thursday in Oxford, Mississippi to take on the Ole Miss Rebels in a three game series.
Never miss the latest news from TexAgs!
Join our free email list