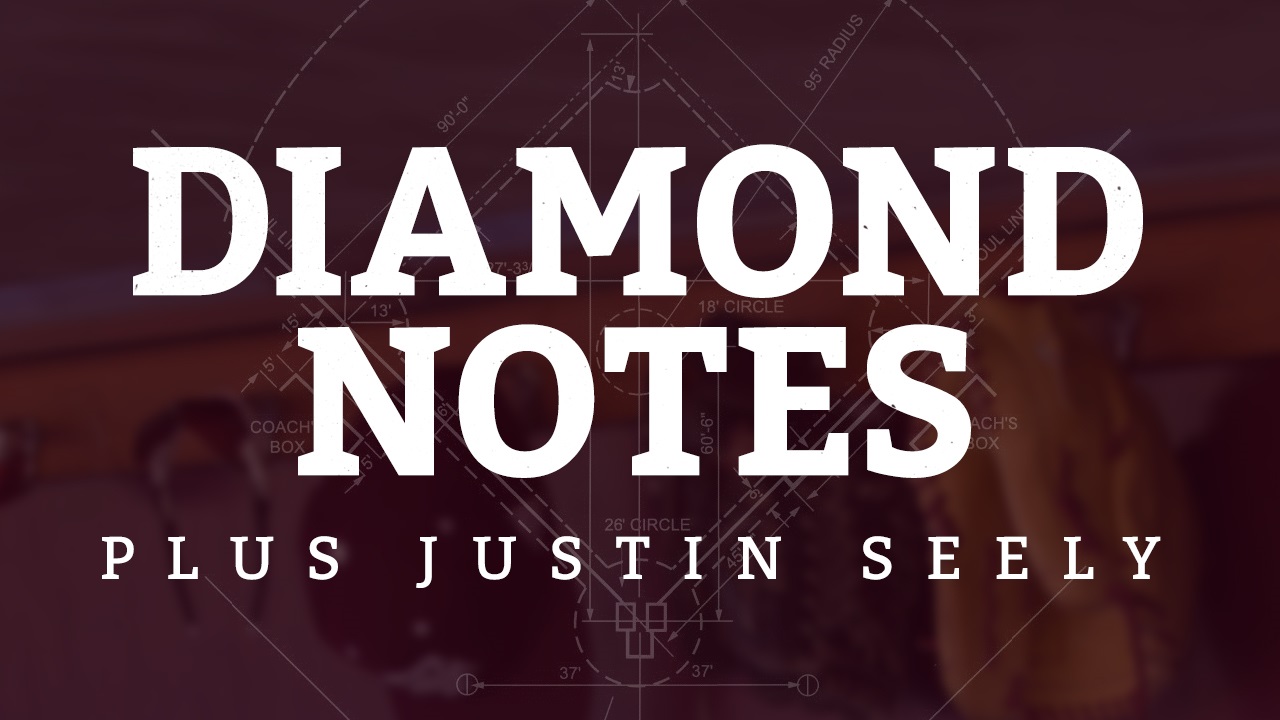 Texas A&M Baseball
Diamond Notes: 19th ranked Aggies coming alive at the plate
---
Texas A&M Baseball notched its third consecutive 4-1 week, and for possibly the first time all season, the Aggies did it with their bats and not solely their pitching. The A&M lineup churned out 56 hits – including double-digit hits in four of the five games – and averaged over eight runs per contest as they won lopsided games over A&M-Corpus and Abilene Christian during the week, and then went 2-1 against Gonzaga over the weekend.
Coming off an impressive 3-0 showing in last weekend's Shriner College Classic, the No. 19 Aggies did not slow down. Here are some Monday thoughts, stats, and observations from the past week's performance.
Hitter of the Week
2B Bryce Blaum | 7-for-18 (.389); 1 HR; 7 runs scored
Blaum was able to build on last week's brilliance in the Shriner College Classic. He notched three straight multi-hit games this week and sparked the Aggies' 14-run Saturday explosion against Gonzaga with his third leadoff home run of the season. He continues to get on base at a high clip, and his four home runs lead the team as well. Blaum's power-speed combo fits perfectly atop the A&M lineup; expect him to be a prolific hitter for the rest of the season.
Pitcher of the Week
Asa Lacy | 6 IP; 3 H; 1 R; 0 ER; 2 BB; 7 K
After pitching extraordinarily well in his first three starts but being overshadowed by John Doxakis, Lacy finally captures the coveted TexAgs Pitcher of the Week award. With his fourth dominant outing in as many tries, Lacy lowered his ERA to a microscopic 0.38. The sophomore lefty from Kerrville has not given up an earned run in 20 innings, and the Aggies are 4-0 in games he started.
Lacy's peripheral numbers are just as impressive, if not more so. His 0.75 WHIP means he is allowing far less than one baserunner per inning, he is striking out significantly more than one per inning (37 Ks in 24 IP), and opposing hitters are hitting a measly .118 against Lacy. He touched 97 mph on the scoreboard radar gun, and for the duration of the game he put the fastball where he wanted it and also mixed in a few more sliders than usual. Strictly a fastball-changeup guy last year, the development of his slider and curveball has allowed him to get better and better.
Who Else is Hot?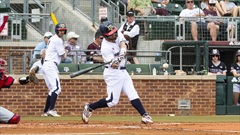 Tarah Cochran, TexAgs
RF Logan Foster – The junior from Lincoln, Nebraska got off to a slow start this season but heated up a little bit in Houston last weekend. He continued his upward trajectory this week, going 7-for-19 (.368) with two doubles, five runs scored, and three RBI. He hit the ball hard all four trips in the midweek game against Abilene Christian, and he would have been 4-for-4 in that game if not for a diving catch in right field that robbed him of a hit in his last at-bat. Foster will get most of his at-bats in the No. 2 spot in the order behind Blaum and in front of Braden Shewmake, which is a very favorable place to hit and could allow him to rack up some impressive numbers if he continues swinging the bat well.
SS Braden Shewmake – There were several at-bats from the weekend that Shewmake would love to have back, but he still put together a remarkable week. His 6-for-19 doesn't jump off the page, but he made sure to do damage when he did get hits, driving in a whopping nine runs. He also hit two doubles, scored three runs and made a run-saving play in the field on Sunday, and he has proven so far this season that even when he is not locked in at the plate, he can still be a major contributor for this Aggie Baseball team.
INF Ty Coleman – The freshman infielder from Midland logged time at second and third base this week, but he was most impressive at the plate, where he went 7-for-14 (.500) with a grand slam, four runs scored, and six RBI. He got a hit in all four of the games in which he played, including two hits in every contest against Gonzaga. Coleman, Hunter's younger brother, seems to have locked down the hot corner with his excellent play both in the field and at the plate and will likely get the bulk of at-bats there at the beginning of SEC play.
RHP Bryce Miller – Miller continues to be one of the Rob Childress' favorite arms out of the bullpen. He tossed 3.1 more scoreless innings this week in three appearances. Miller has the ability to compete for the Sunday spot in the starting rotation, but Childress loves using him as a reliever with the potential to impact two games in a weekend series. Miller will end the season leading the Aggies in appearances, bridging the gap between the Aggie starters and closer Kasey Kalich, who collected his fifth save of the season in Sunday's win.
Who's Coming On?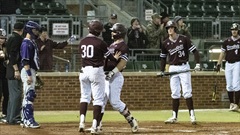 Tarah Cochran, TexAgs
1B Hunter Coleman – Coleman was the Aggies' opening day first baseman, but injured his knee in the third game of the season and has been in and out of the lineup since then. He looks fully healthy now, and his bat is heating up. He went 3-for-13 at the plate this week, but two of those hits were home runs and he also hit several other line drives that were caught. He added three RBI, four runs scored, and three walks. Coleman has had a much better approach at the plate, chasing fewer pitches out of the zone and making pitchers pay when they let pitches catch too much of the plate. Hunter is beginning to look like the hitter who was white-hot at the end of the fall – as good as he's been in his A&M career – and a power-hitting right-handed hitter in the cleanup spot who can protect Shewmake will make the Aggie offense considerably more dynamic.
Other Thoughts:
• With Jonathan Childress out for the year, I think we got a good look at what we can expect on Sundays from here on out. Christian Roa was incredibly aggressive, pounding the zone for 4.1 innings of one-run ball, and three relievers came in behind him and pitched the final 4.2 innings, allowing zero runs en route to earning the win.
If Doxakis and Lacy pitch deep into the game in their starts – which they will almost always do – the Aggies will be able to mix and match relievers on Sundays after Roa and experience no dropoff when they go to the bullpen. Roa can pitch for as long as he's effective, and Childress has Chandler Jozwiak and Moo Menefee to pitch the middle innings, and then Miller and Kalich behind them. That's an incredible quartet of arms, and Jozwiak could start in Roa's place if Childress thinks he matches up better with the opposing lineup. Even though Jonathan Childress flashed greatness in his three starts, the Ags will be just fine on Sundays.
• Moo Menefee notched another scoreless outing on Sunday, this one lasting 1.1 innings. He was used as a situational lefty to get one out in both the TCU and Houston wins, but he has the stuff to be more than a one-out guy. Childress has indicated he wants to begin using Menfee a little bit more as he gets farther and farther removed from Tommy John surgery, and he is proving he can handle a larger workload.
• How good has the pitching staff been? Well, the numbers are downright incredible. Here are the combined stats of the Aggies' top eight pitchers right now – Doxakis, Lacy, Miller, Kasich, Jozwiak, Roa, Menefee and Dustin Saenz:
ERA: 1.55
K:BB ratio: 5.17:1
Hits allowed/inning: .62
Opponent batting average: .178
Rob Childress says his two main goals for his pitchers are to give up less than one hit per inning and maintain better than a 3:1 strikeout-to-walk ratio. Right now, the staff is blowing those benchmarks out of the water. Eight pitchers of that caliber are more than enough depth to navigate through a three-game weekend series, and it will be interesting to see if the Aggies can continue to pitch at a high level in SEC play.
• Offensively, it was the Aggies' best week of the season, and it wasn't even close. Nearly every player in the lineup had a good week, including some guys who haven't gotten many opportunities of late. Jonathan Ducoff hit a mammoth home run on Saturday, Will Frizzell went 3-for-5 on the week in mostly a pinch-hitting role, and Allonte Wingate recorded all three RBI in Sunday's 3-1 win. With Blaum leading the way, Foster and Shewmake continuing to trend toward their ceiling, and talented guys like Hunter Coleman getting into a groove, this offense should be at least competitive the rest of the way. They will have their ups and downs in productivity, but they should be in it against everyone they play.
• The Aggies travel to Dallas to take on Dallas Baptist in their final tune-up before No. 1 Vanderbilt comes to Olsen Field for a three-game series. After a superb showing at Minute Maid Park, I thought the Aggies got even better this week. Doxakis is not going to struggle like he did Friday night many times this season, and with dominant showings from he and Lacy and the whole staff ready to go on Sunday's, the Aggies have the pitching to win a lot of conference games this year. And with the offense showing legit signs of life now, Friday can't come fast enough!
---
Key Notes from Justin Seely:
I thought the week was the most complete we had played. Dox wasn't as dominate but we expect him to bounce back. Saturday we came out ready to go and got after it. Sunday, Christian [Roa] got us off to a good start and got it to the bullpen and they did what they needed to do.

[Blaum] is competitive and aggressive. He doesn't try to do too much. He is really really strong and quick twitch. We recruited him really hard out of high school and weren't able to get him, but he's come back and it's worked out for all parties involved.

He's [Allonte Wingate] a version of Marwin Gonzalez for us. He can play anywhere we need him and he just knows baseball. We were really excited to get him into the game on Sunday and then see him cash in. He had great at bats leading up to both of his big hits. We're going to put out the lineup that gives us the best chance to win. We are going to put [Wingate] in the games that we think he will affect the most.

We have enough good arms where we can piece it together. Whoever starts gives us a chance to win. I feel great because we have a great option, whoever we roll out there on Sunday.

I think we have two of them. With Bryce Miller and Kasey Kalich. We even have Joe Menefee that we can run out there as a three headed monster. We've just got a bunch of guys that can make a difference in the game, to the point where we don't have to stretch Kasey out.

DBU has a very good program. They're always very offensive. They are going to have great velocity on the mound. It's going to be a great test on the road as we get ready for Vandy this weekend.

Vandy is going to throw the ball at the plate and have great athletes. They will steal bases and press until they are getting thrown out. They are going to have a physical team in the lineup and they're going to come in looking to make a statement in the league like we are.
Never miss the latest news from TexAgs!
Join our free email list