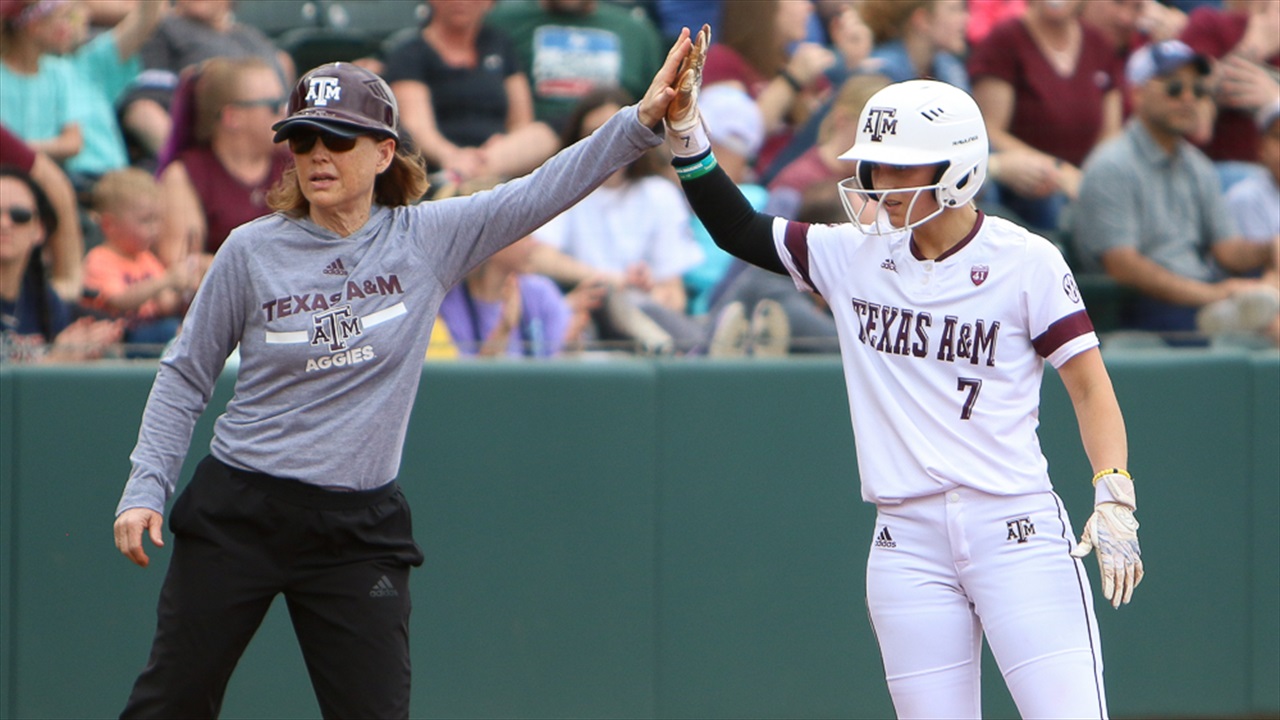 Photo by Mintie Betts, TexAgs
Texas A&M Softball
Fifth inning surge pushes Aggies past No.10 LSU, 6-5, to avoid sweep in opening SEC series
---
Kendall Potts was dominant on the mound as the Aggies secured a 6-5 win over No. 10 LSU at Davis Diamond on Sunday afternoon.
The Tigers got off to a hot start in the top of the first, scoring two runs via a double to center field by LSU second baseman Shelbi Sunseri. The Aggie defense didn't do itself any favors in the frame, as a fielding error helped the Tigers.
In the bottom of the first inning, A&M lengthened their time at the plate. Starting pitcher McBride tied the game 2-2 with a ground ball to right field bringing in Kelbi Fortenberry and Riley Sartain.
Sartain's energy was alive in the third inning with two routine outs at second base. With two outs and one run scored, Aggie softball coach Jo Evans substituted McBride for Kendall Potts.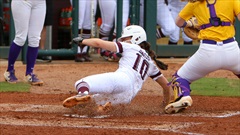 Mintie Betts, TexAgs
Potts pitched her first full inning in the fourth and hit Amanda Sanchez. With runners at first and third, Potts made the necessary adjustments and increased her pitching velocity. Sunseri strikes a hit past Potts and Aggie shortstop Ashlynn Walls secured the out at second base. At the plate, A&M added a third scoreless inning and closed with three consecutive outs.
The Aggies turned the game around in the fifth inning after Potts prevented the Tigers from scoring. Sartain smacked a double to the corner of left field and brought in runs from Kelbi Fortenberry and Morgan Smith. Aggie first baseman Baylee Klinger hit a two-run homer over the left field wall. The Aggies left the inning with four runs, giving them a 6-5 edge over the Tigers.
"Those first two at bats gave me a lot of confidence going into that third at bat," said Riley Sartain. "I knew that in that moment making something happen whether it was a deep fly ball to move somebody or in that being a good situation with two RBIs."
"It was a big win because we have to be able to see what it looks like to come from behind a top ten team in the country."
Sartain dominated on defense in the sixth with routine outs at first base off a third base ground ball from LSU Savannah Stewart and a bunt from Aliyah Andrews. Aggie second baseman Kelly Martinez secured the final out on a jump catch. Both teams left the inning scoreless.
After the win coach Jo Evans spoke about how important it was for the A&M to comeback after last night's shutout loss.
"It was a big win because we have to be able to see what it looks like to fight and see what it looks like to come from behind a top ten team in the country in the SEC," Evans said.
The A&M softball team returns to Davis Diamond on Thursday at 6 p.m. with a matchup against Sam Houston State.
Never miss the latest news from TexAgs!
Join our free email list