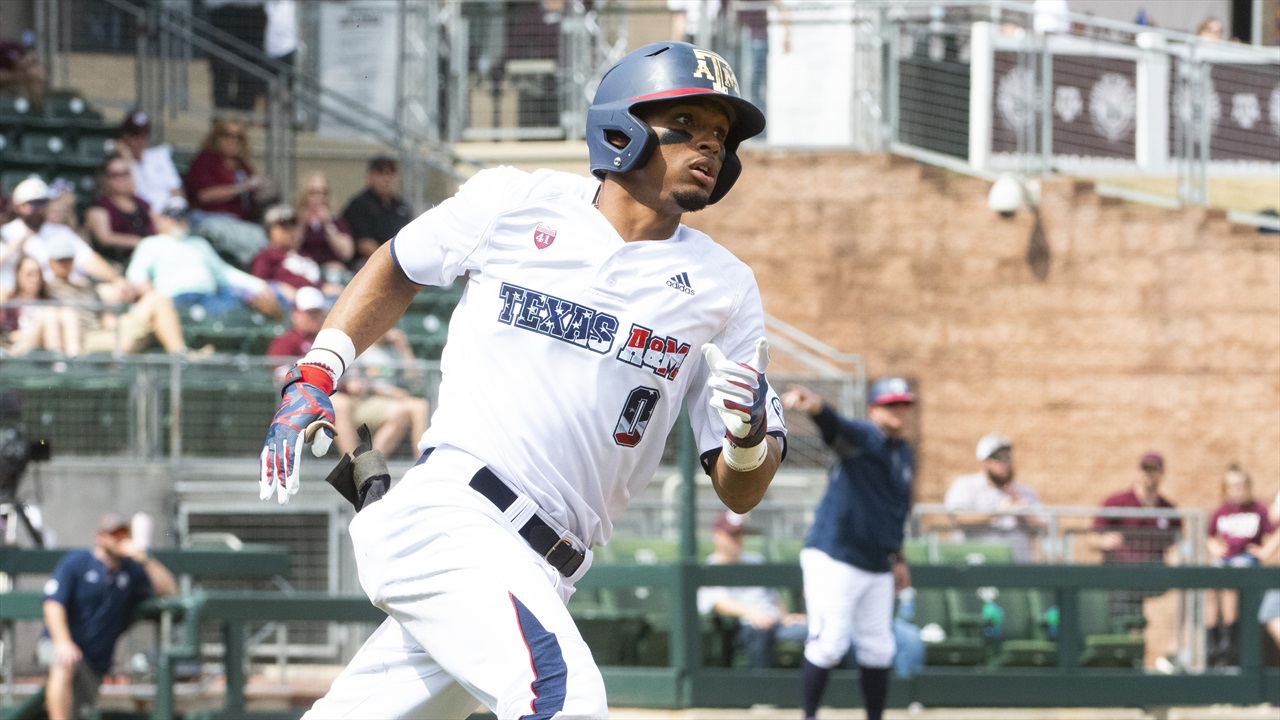 Rob Childress
Allonte Wingate
Christian Roa
Ty Coleman
Texas A&M Baseball
'Swiss Army Knife' Wingate's three-RBI game clinches series win for Aggies, 3-1
---
Game #18: No. 20 Texas A&M 3, Gonzaga 1
Records: Texas A&M (15-3, 0-0), Gonzaga (5-8, 0-0)
WP: Joseph Menefee (1-0)
LP: Justin Blatner (1-1)
SV: Kasey Kalich (5)
Box Score
---
Gonzaga was able to outhit the Aggies, but they didn't outscore them as No. 20 Texas A&M picked up another series win with a 3-1 victory over the Bulldogs on Sunday afternoon behind another strong defensive showing and a three-RBI day from Allonte Wingate.
Christian Roa got the nod on the mound, starting in place of the injured Jonathan Childress. Roa came out of the gates aggressive, attacking the strike zone and sitting down the first three Bulldogs in order to start off the game.
But Gonzaga would strike quickly in the second. Bulldog clean-up hitter Ryan Sullivan got a slider that he liked and took advantage of it, lining a solo shot over the left field wall to give Gonzaga an early 1-0 lead. Two other Bulldog hitters would get base hits in the second, but Roa pitched around the jam to get out of the inning with just the lone run given up.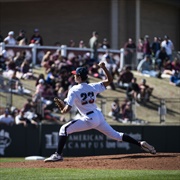 TexAgs
The Aggies wouldn't be behind for long though. In the bottom of the second, Mikey Hoehner worked a long plate appearance into a walk, and Ty Coleman followed with a line drive single to left. A two out balk advanced both Aggie base runners into scoring position for Allonte Wingate, who took advantage with a softly hit single to right to give A&M a 2-1 lead through the second inning.
Wingate's two-RBI second inning would be just a portion of the production the senior provided. He played a crucial role in the team's defense as well, sliding from left-field to second base midway through the game and giving Rob Childress the option to move players around throughout the game.
"He's like a Swiss Army knife," Childress said regarding Wingate. "Obviously he was important today… He did a wonderful job."
Wingate relishes being able to provide that role for this team.
"I've heard [that comparison] a couple of times, and I love it," Wingate said. "Anywhere I can get on the field, I want to help this team as much as I possibly can."
Christian Roa had little issue with the Gonzaga lineup until he was replaced in the top of the fifth by lefty Joseph "Moo" Menefee after a leadoff single put a runner on first and a sacrifice bunt moved him to second. With a runner in scoring position for Gonzaga, Menefee came on and worked consecutive ground outs to Braden Shewmake at short, the second of which took a beautiful play to save a run to get the Aggies out of the fifth unscathed. Roa went 4.1 innings and gave up one run on five hits.
"My job was to go out there and give my team a chance to win," Roa said of his mindset when he starts.
"I'm taking it inning by inning, pitch by pitch, and just trying to do my best to let my defense work… Those guys did an unbelievable job behind me."
"I'm taking it inning by inning, pitch by pitch, and just trying to do my best to let my defense work… Those guys did an unbelievable job behind me."
The game would move quickly from there, with both teams failing to threaten until the seventh inning, when A&M second baseman Ty Coleman was bunted over to second after a leadoff single. Allonte Wingate brought him home with his second hit and third RBI of the game, another single to right.
Menefee and Bryce Miller combined to throw three innings and gave up two hits and a walk between them. With the support of the strong defensive effort behind them, the relievers had little issue maintaining the slim Aggie lead.
Kasey Kalich came on in relief of in the eighth inning following a four-pitch walk issued by Bryce Miller, and the reliever gave up a quick single to put runners on first and second with just one out. Kalich was able to respond by forcing a pop fly to shallow right off the bat of Gonzaga clean-up hitter Ryan Sullivan, and a subsequent lineout to center got A&M out of the eighth. Kalich sat the Bulldogs down in order in the ninth to earn a five-out save and secure the win for the Aggies.
Despite the series win over Gonzaga, Allonte Wingate was quick to say the team still has room to grow ahead of the first SEC series of the year next weekend against Vanderbilt.
"I think this team isn't quite ready yet, but I think we're getting there," the senior said postgame. "We're headed in the right direction… We'll get back to it and get ready for Vandy."
The Aggies will be back in action on Tuesday night when they head to Dallas to take on the Dallas Baptist Patriots. It'll be A&M's last opportunity to prepare for SEC play before Vanderbilt comes to College Station next weekend. First pitch is set for 6:32 p.m.
Never miss the latest news from TexAgs!
Join our free email list