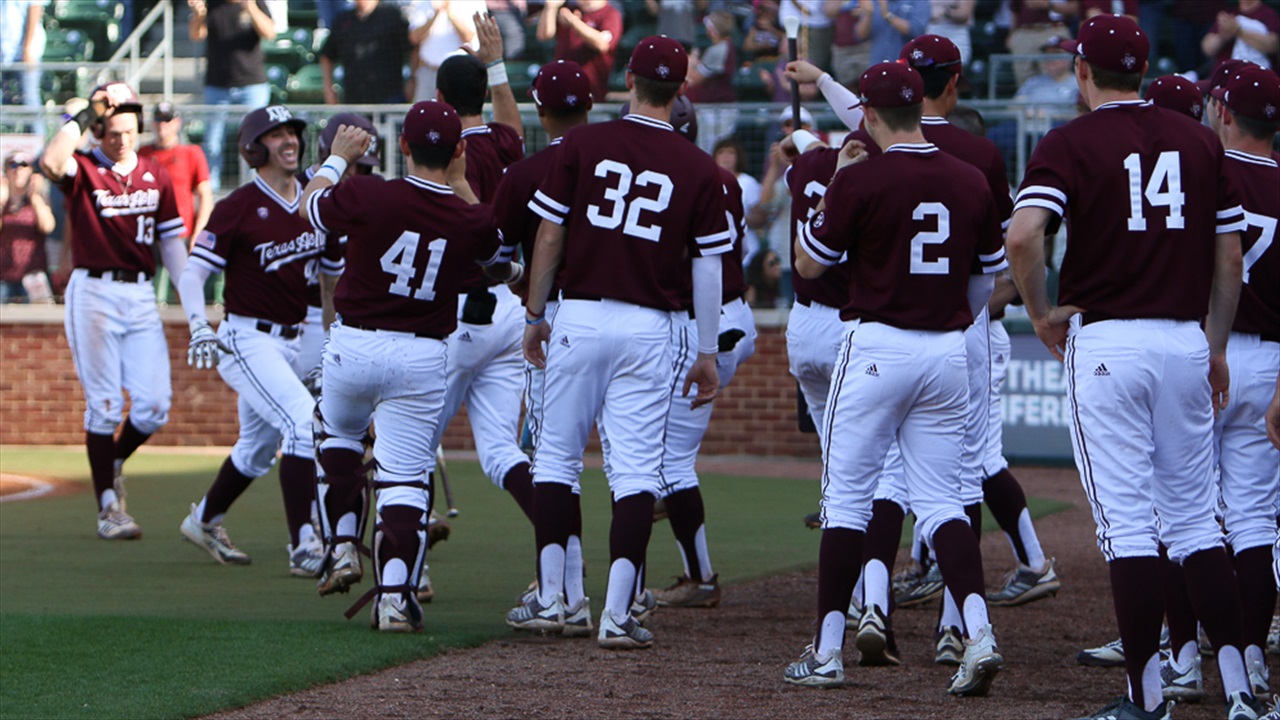 Rob Childress
Jonathan Ducoff
Asa Lacy
Ty Coleman
Texas A&M Baseball
Aggies even up the series as bats come alive in win over Gonzaga, 14-2
---
Game #17: No. 20 Texas A&M 14, Gonzaga 2
Records: Texas A&M (14-3, 0-0), Gonzaga (5-7, 0-0)
WP: Asa Lacy (4-0)
LP: Mac Lardner (0-3)
Box Score
---
Asa Lacy pitched another quality performance on Saturday afternoon despite having some early command issues, leading the Aggies to a 14-2 win over Gonzaga after last night's loss. The lefty went 6 innings, struck out 7 and gave up just 3 hits and 1 unearned run.
"I'm really proud of our team and the way we responded [to the loss]," head coach Rob Childress said of the team's bounce-back win. "We've done a great job of that all year long."
Lacy got quick run support from his team with Bryce Blaum leading off the Aggie offense in the bottom of the first with a monstrous home run to left field that easily cleared the wall. A walk issued to Hunter Coleman combined with singles by Braden Shewmake and Hunter Coleman saw the Aggies score again to open up a 2-0 lead after the first inning.
"We got off to a great start with the leadoff home run and putting up a crooked number," starter Asa Lacy said. "Just to go out there and give our team a chance to win was huge."
"We got off to a great start with the leadoff home run and putting up a crooked number."
The Bulldogs would score in the top of the third inning. An error by shortstop Braden Shewmake followed by a softly hit single over the head of Chandler Morris at third base gave Gonzaga base runners. Then, a balk moved both runners into scoring position with just one out with Bulldog center fielder Guthrie Morrison at the plate. Morrison took advantage and lined a single to left to score a run for Gonzaga. Lacy stopped the bleeding with a strikeout and a ground out to end the third inning threat.
With the Aggie lead cut in half, the team was able to respond with a 7-run onslaught in the bottom of the fourth. Singles from Hunter Coleman and Mikey Hoehner set up a Ty Coleman RBI single to center field. Then, left-fielder Jonathan Ducoff promptly cleared the bases with a 3-run shot to left field. Subsequent hits by Ty Condel and Bryce Blaum set up a Braden Shewmake double to score the rest of the Aggies' fourth inning runs.
"It felt great," Ducoff said regarding his first round-tripper as an Aggie. "I got an elevated fastball and was able to hit it well, but great showing from our whole offense today."
After 7 insurance runs were added, Asa Lacy returned to the hill with renewed confidence and sat the Bulldog offense down in order for the next 5 outs. Gonzaga right-fielder Troy Johnston flared a single to right in the top of the sixth, but Lacy responded by striking out pinch-hitter Brett Morris to finish his afternoon on the mound after 102 pitches.
Dustin Saenz came on in relief in the top of the 7th for the Aggies. The reliever gave up a lead off single to second-baseman Mason Marenco and ultimately an RBI double to Bulldog lead-off hitter Ernie Yake to score Gonzaga's second and final run.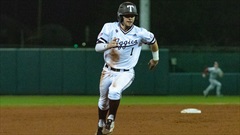 Jackie Ysaquirre, TexAgs
The Aggies would rack up five more runs in the bottom of the eighth – the first of which came off a sacrifice fly from Braden Shewmake. The Ags then worked the bases back loaded for Ty Coleman, who lined a shot over the left field wall for a grand slam.
"Back when I was in Little League," said Ty Coleman when asked when his last grand slam was. "Capitalizing on opportunities [with runners on base] was huge for us."
Saenz would finish out the final frame for the Aggies, ultimately giving up one unearned run on four hits through three innings of work on the mound.
The Aggies racked up 15 hits and 3 home runs in their win over Gonzaga, with multi-hit games coming from five different players. With the series now evened up at one game apiece, the Aggies will have a chance to win the series with a victory tomorrow afternoon. First pitch is scheduled for noon.
Never miss the latest news from TexAgs!
Join our free email list