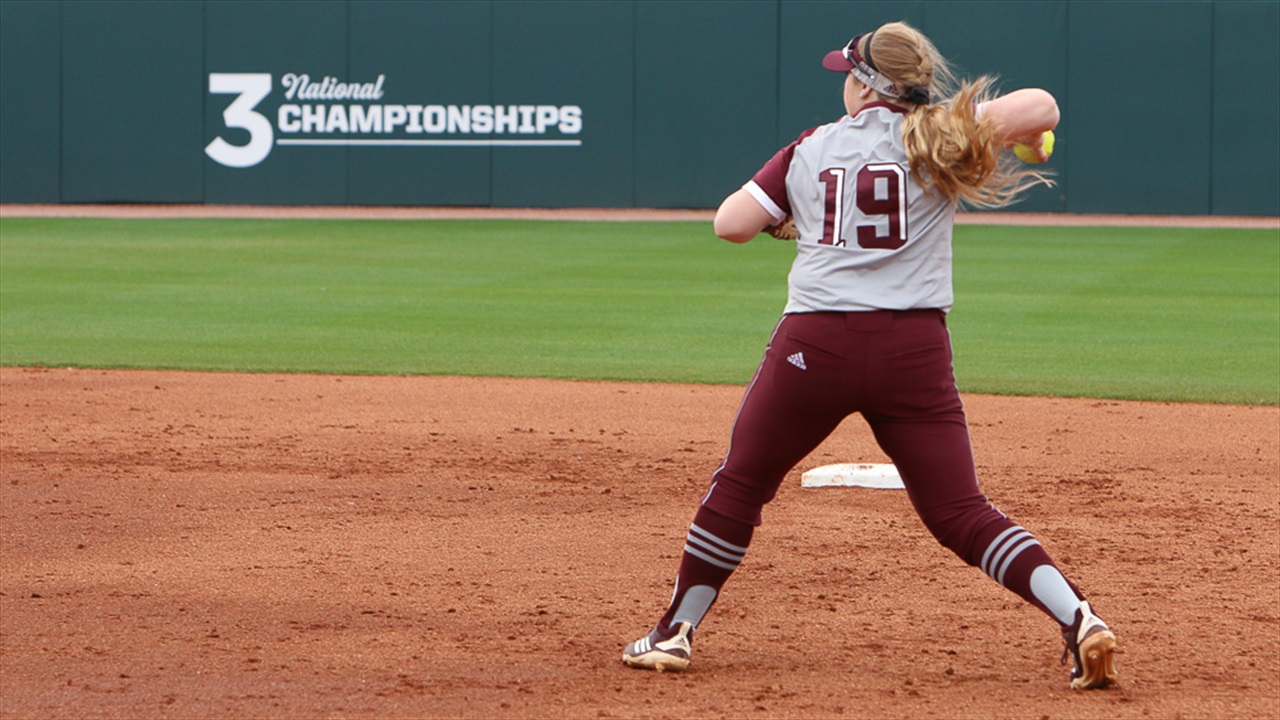 Photo by Mintie Betts
Texas A&M Softball
Aggies make quick work of Prairie View A&M, take down Lady Panthers 8-0
---
The No. 22 A&M softball team (5-1) made their return to Davis Diamond Wednesday afternoon with a dominant 8-0 victory over the Prairie View A&M Lady Panthers. This trip marked the Aggies' first game following their four-win weekend in the Aggie Classic.
A solo home run by Morgan Smith in the first started the scoring off for the Aggies. A triple by Kelbi Fortenberry, along with a sacrifice by Dani Elder helped keep the run production going, as the Aggies took an early 2-0 lead in the first inning.
Smith got the second inning going with another huge hit for a triple and would score her second run of the game as Baylee Klingler would single her home. Klingler would score a run of her own to round out the scoring for the Aggies in the second inning.
The bottom of the third would see the Aggies plate another four runs, as Ashlynn Walls would triple in the third to bring home Gabby Moreno and Elder. Smith would bring home yet another run on a sacrifice fly, and Smith would draw a walk to bring home another run while the bases were loaded. The Aggies would finish the inning with a commanding 8-0 lead.
"I was almost surprised that I didn't feel any fatigue. I was trying to go right at the hitters."
Kendall Potts (1-1) got the start in the circle and earned her first win of the season. The junior pitcher found her way out of an early bases-loaded jam in the second inning. She went on to finish the day with five scoreless innings only allowing three hits while facing 22 batters. With runners at the corners and one out, Potts managed to get the final two outs to seal the victory for the Aggies.
"I actually felt pretty good at the end [of the game], I was almost surprised that I didn't feel any fatigue," Potts said. "I was trying to go right at the hitters."
"I thought [Potts] threw well, she's getting her speed back up, and she got more comfortable as the game went on. Overall, I think it was a good outing for her, and a good start," A&M head coach Jo Evans said.
When asked about Smith's performance on the day Evans added: "to see her get up there and get a home run the first at-bat, wasn't what I was expecting, but it's nice to see her have some power like that."
The Aggies will look to keep their winning streak going this upcoming weekend, as they host another tournament at Davis Diamond. The Texas A&M Invitational Tournament will pit the Aggies against Liberty University on Friday starting at 3 p.m., with game two against McNeese State slated to start at 5:15 p.m. Both games will be streamed on SEC Network+.
Never miss the latest news from TexAgs!
Join our free email list