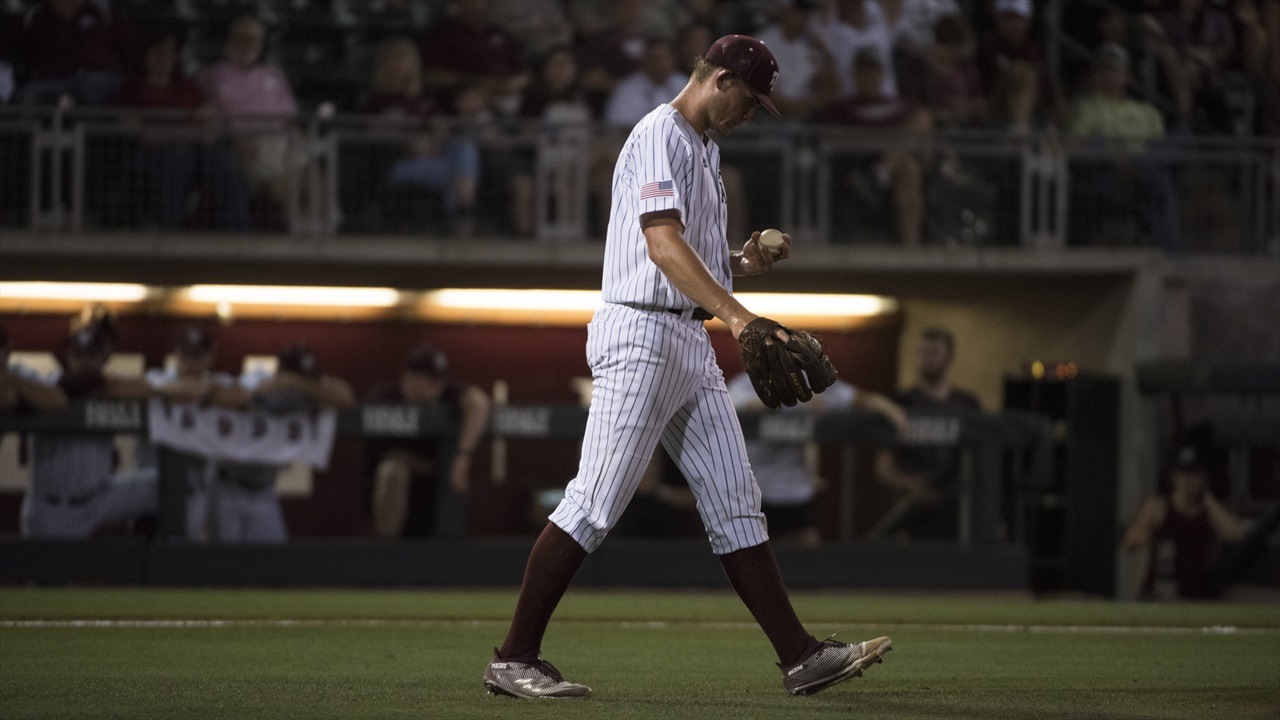 Photo by Brian Okosun
Texas A&M Baseball
5 Days 'til Aggie Baseball: Doxakis and Lacy have potential to be lethal
---
Every day leading up to the start of the 2019 Aggie Baseball season, the TexAgs baseball coverage team will post a story diving into various storylines surrounding the A&M squad. Be on the lookout for daily articles from Gabe Bock, David Sandhop, Ryan Brauninger and Heath Clary between now and Opening Day, February 15th against Fordham. You can keep up with the full series here: 2019 Aggie Baseball Preview Series.
---
The Texas Aggie baseball season is only five days away, and many fans are still wondering what to expect from the men of Olsen this spring. Is there enough power and run production in the middle of the batting order? How strong will the defense be up the middle? How are the outfield arms? Is there enough depth in the bullpen? Do the Aggies have a legitimate closer? All valid and significant questions going into a fresh campaign. But what is the biggest factor for elite success in college baseball – elite pitching, elite hitting or elite fielding?
If you look back at previous College World Series Champions, most squads have elite aspects of all three phases, but one factor does stick out more than others: a high-level 1-2 punch at the top of the starting rotation. The numbers are convincing.
2018 national champion Oregon State's top two starters, first-team All-American Luke Heimlich and Bryce Fehmel, combined for a 26-4 season record and a sub-3.00 ERA. The 2017 national champion Florida Gators rode the backs of starters Brady Singer and Alex Faedo to a combined 18-7 record and an approximate ERA of 2.70. Surprise – 2016 CWS winner Coastal Carolina leaned heavily on all-American hurler Andrew Beckwith and teammate Alex Cunningham, who together racked up an impressive 25-5 won-loss record. All-American Carson Fulmer and Walker Buehler had a dominant 2014 season, combining for a 19-4 record and a sub-2.50 ERA to lead Vanderbilt to the national championship.
While those numbers are convincing, a closer look at the stats show there's an even stronger predictor of elite success: season strikeout totals and total innings pitched from the top pitching duo of each team. Oregon State's 1-2 punch of Heimlich and Fehmel in 2018 combined to strike out a whopping 267 batters in 243 innings pitched. Florida's Singer and Faedo struck out 286 opposing batters in 250 innings of work in their 2017 championship season. Vanderbilt's Fulmer and Buehler together logged 216 innings pitched and 259 strikeouts in their national championship season. For comparison, Texas A&M's top two starters (Doxakis/Kilkenny) in 2018 combined to throw 190 innings and struck out 184. Solid totals, but not the elite numbers produced by elite teams.
Looking at these stats historically at Texas A&M, some of the same patterns emerge. You have to go back to 2011 to find a starting pitching duo that pitched more than 200 innings. That would be heralded all-Americans Michael Wacha and Ross Stripling, who combined to strike out 236 opposing hitters. Both innings pitched and strikeouts are program highs over the past eight seasons at Texas A&M, and it's no coincidence that Wacha and Stripling are still pitching in the big leagues. Oh, and that 2011 squad made it to the College World Series. The only other Aggie squad that advanced to the College World Series in this most recent era was the 2017 team, and the combined strikeout total for top weekend starters Brigham Hill and Stephen Kolek was 206, the second highest punch-out total over the past eight seasons. Coincidence? Maybe, maybe not. The strikeout allows pitchers to escape a jam untouched, and it cuts down on the number of defensive chances (and the potential number of errors).
So let's apply these statistics to the 2019 season. We've heard recently from pundits and coaches that the starting 1-2 punch of junior John Doxakis and sophomore Asa Lacy could be the best since Wacha and Stripling in 2011. Both hurlers were very good for the Aggies in 2018, and they drew a lot of buzz from MLB scouts with spectacular summer campaigns. If the duo indeed lives up to expectations, then the 2019 season looks much brighter than pundits are predicting. So, is it accurate for insiders to anoint Doxakis and Lacy the best pitching combination since that CWS season eight years ago? Let's look at their 2018 numbers.
Doxakis became the Friday night starter in 2018 and finished the season with a 2.70 ERA in 93 innings pitched and 92 strikeouts. That's roughly nine strikeouts every nine innings, which is a very good number. As a freshman, Asa Lacy spent most of the 2018 season coming out of the bullpen, but he found his way to the starting rotation in the last month of the season. In 39 innings of work, Lacy racked up an impressive 48 strikeouts (11 K's per 9 IP) and a 2.75 ERA. Now, normalize those stats to what is expected in 2019 as full-time starting pitchers on Friday and Saturday, and you have 225 innings pitched and 248 strikeouts with an ERA below 3.00. Those numbers compare favorably to those pitchers on national championship teams at Oregon State, Florida, Coastal Carolina, and Vanderbilt.
That's not to say Texas A&M will be playing for a national championship in 2019. There are many other factors that contribute to a special team that eventually holds up the title trophy at Omaha. But it does show that this team has the potential to be very good in 2019. The critical factor will be the production of John Doxakis and Asa Lacy on Fridays and Saturdays. If both can avoid injury, pitch to their expectations and rack up more than 200 innings pitched, this Texas A&M team will definitely outpace expectations and will make noise in the SEC race. And with two rounds of regionals in postseason play where a team can ride the arms of two stud starting pitchers, things could get very interesting for this Aggie team if Doxakis and Lacy deliver on their potential.
Never miss the latest news from TexAgs!
Join our free email list