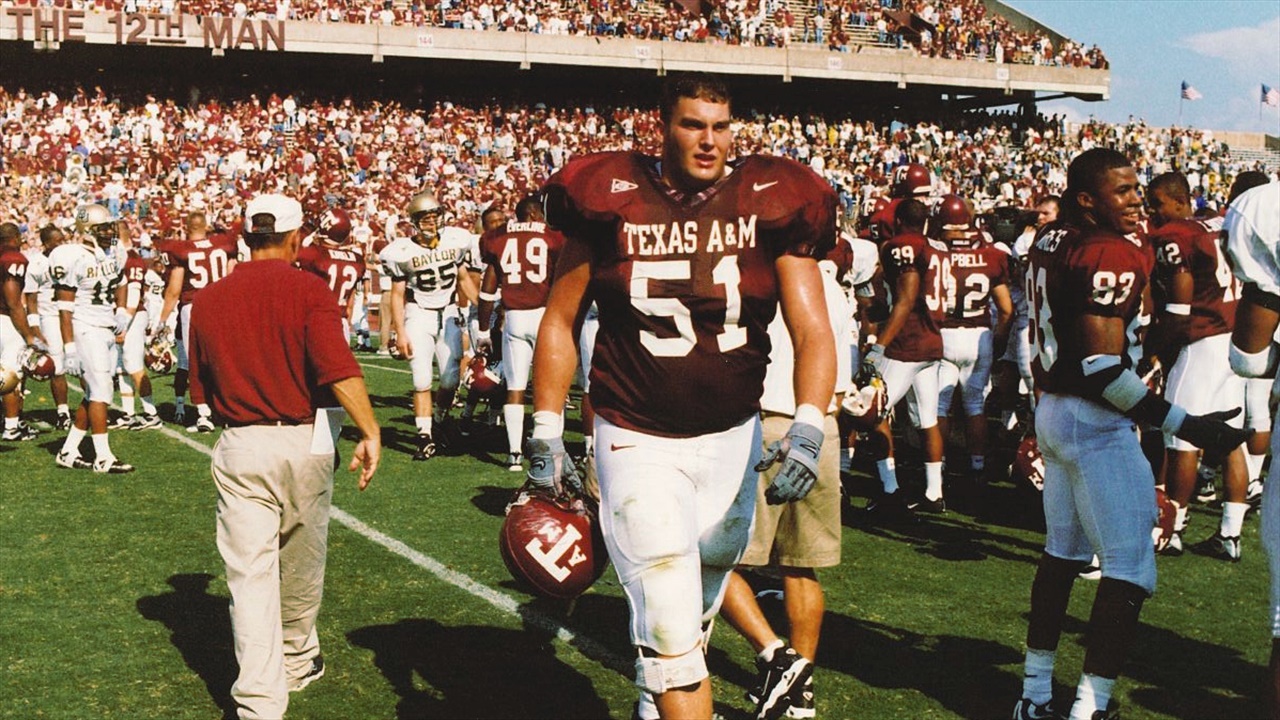 McKinney remembers
Taylor's Bonfire Story
Texas A&M Football
Slocum, teammates remember Taylor Whitley as a "bright-eyed" leader
---
Two days ago former Texas A&M football coach R.C. Slocum's memory was jogged as he drove through a tiny town in the Texas Panhandle. He was returning from a California vacation with his wife Nell and related stories to her as they drove through Sudan, Texas. He told her about Taylor. Whitley, one of his former Aggie players who was an all-conference offensive lineman in 2002. Whitley, 38, shockingly passed away on Wednesday. He is survived by wife, Shannon, and two daughters.
After graduating as valedictorian of his high school class in Sudan, Whitley played at A&M from 1999-2002, starting 34 of his 45 games. After his senior season, he was drafted in the third round by the Miami Dolphins. During a four-year NFL career, Whitley played for the Dolphins, Denver Broncos and Washington Redskins.
"I told Nell I had a good player from (Sudan)," Slocum said Thursday morning. "I talked about him and how (former assistant coach) Bill Johnson and I recruited him.
"Before I got home yesterday, I got a message from Cathy (Capps) that he passed away. That's so crazy. I was just talking about him yesterday."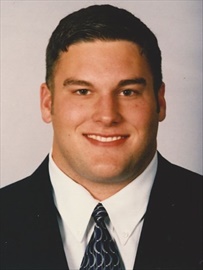 Texas A&M Athletics
Slocum recalled how he saw Whitley competing in the shot put at the state track meet and was impressed by his size and athleticism.
"He was just a big athletic guy," Slocum said. "We went ahead and offered him. We got on him early. Tech and Texas and a lot of people made a run at him. He ended up coming here and did a great job."
Slocum also recalled how Johnson, now a defensive line coach with the NFL's Los Angeles Rams, had to fly into Muleshoe, Texas because it was the closest airport to Sudan.
Mostly, he recalled that Whitley was a hard-working guy who was respected and beloved by teammates.
"He was bright-eyed person," Slocum said. "He never caused problems or issues. He was a good student and good player … just a bottom line guy.
"He was a great Aggie. He loved A&M. His teammates are in shock. He was one of those guys everybody liked. He was really respected."
One of those shocked teammates was Seth McKinney, who played alongside Whitley and A&M and with the Dolphins.
"I was shocked to hear (the news). He was a great guy; the world needs more guys like Taylor. He was a great father, teammate and husband," McKinney said Thursday on TexAgs radio.
"Make no mistake about it, he was a leader from Day One," McKinney continued. "I think he started as a sophomore and you could tell how good of a player he was going to be. It was fun playing with guys like that, and to be honest I wish I could've played with more guys like him.
"I can't speak highly enough of Taylor. He had a great life and I hope that everyone around him felt the same way about him."
Slocum certainly did.
"He had character and the innate ability to play at this level," Slocum said. "He wasn't overwhelmed moving from Sudan to Texas A&M.
"It's just shocking for a guy that young, bright and full of life and with a beautiful family (passed). It's crazy."
Never miss the latest news from TexAgs!
Join our free email list