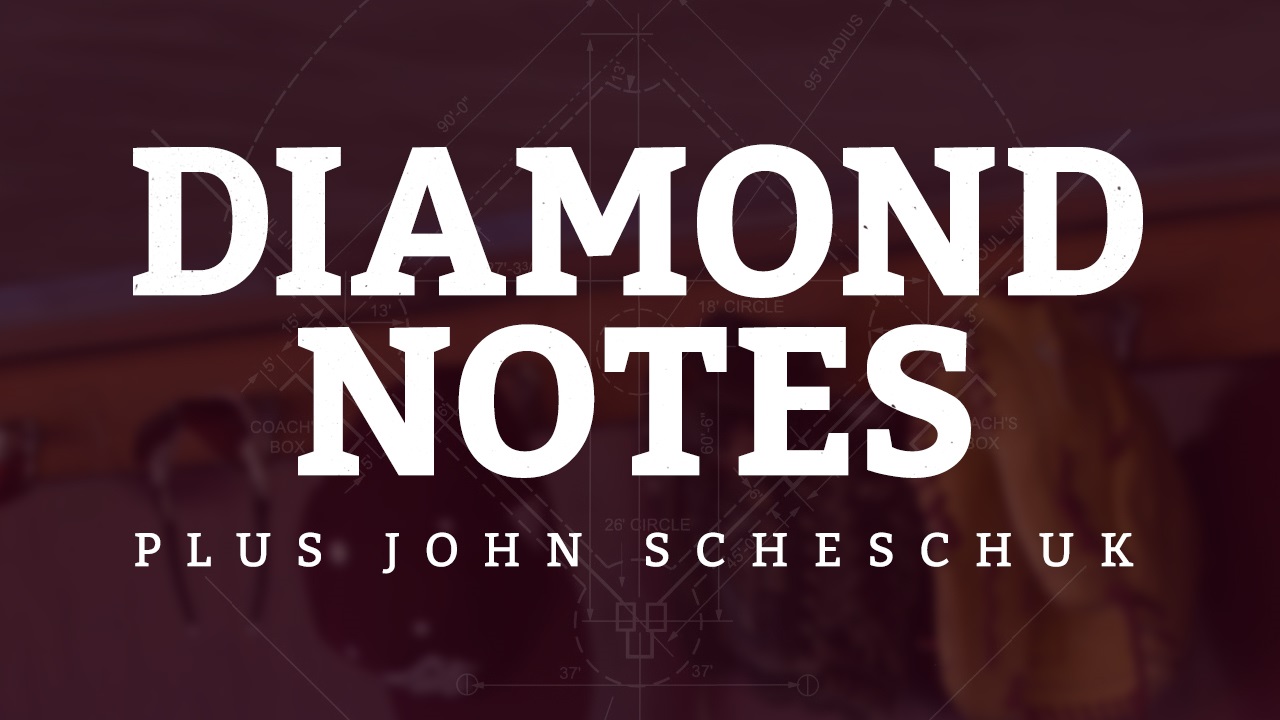 John Scheschuk Q&A
Will Bolt Q&A
Diamond Talk
Texas A&M Baseball
Diamond Notes: Texas A&M getting hot at right time heading into Austin Regional
---
The Aggies are back in the NCAA Tournament for the 12th consecutive season. A&M (RPI #15) heads to the State Capitol to participate in the Austin Regional this weekend. The Aggies are the #3-seed and will take on 2-seeded Indiana (RPI #29) Friday at 4:00 p.m. at Disch-Falk Field. Host Texas (RPI #22) plays 4-seeded Texas Southern (RPI #215) in the night game on Friday. All eyes are on a possible Saturday night matchup between the Aggies and Longhorns if both take care of business in game one.
A&M enters Regional play on a hot streak, going 3-1 at the SEC Tournament last week in Hoover and beating Vanderbilt (2-seed), Georgia (top-8 national seed) and Auburn (2-seed) before dropping a 2-1 decision to Ole Miss (top-8 national seed) in semifinal action on Saturday.
Some Monday afternoon Aggie baseball scatter-shooting following the bracket unveiling...
* It's great to see A&M back in the NCAA Tournament. There were times this year that many of us were left to wonder if 2018 would be the year that the streak came to an end. Only 64 college teams in the country are still playing ball. Ask TCU how difficult it is to keep the streak alive. Two years ago, when the Horned Frogs went all "Luken Baker" on the Aggies at Olsen Field, there wasn't one of us who support and love the team in maroon that would have predicted that TCU would struggle mightily and miss the NCAA Tournament altogether so soon after that dominant performance. It certainly looked at that time like the Horned Frogs were set up to be THE overpowering program in the state for many years to come. And you look up this year and TCU couldn't keep from drowning in a relatively mediocre Big 12 this season. So while a lot of people see reaching the NCAAs as the bare minimum expectation and almost a "given" around here, nothing in college baseball is given. And while this program should be reaching Omaha and making runs in the CWS more often than it has, getting to the Field of 64 for 12 straight seasons is nothing to sneeze at and should also be appreciated for what it is.
Congrats. NOW ... go make another run.
* Side note but here's the only prediction that I am guaranteed of getting right: A&M, for the first time in four years, will not see its season come to an end at the hands of TCU. I'll take it.
Here's the only prediction that I am guaranteed of getting right: A&M, for the first time in four years, will not see its season come to an end at the hands of TCU. I'll take it.
* While almost all of the national baseball people projected A&M to Lubbock on the eve of Monday's selection show, I maintained that my gut was leaning Austin. Texas AD Chris Del Conte is on the selection committee and there was quite a bit of scuttle out there that he did not want to see A&M in the Longhorns' Regional. I was never buying that. I felt that, either...
A. That just wasn't true and Del Conte, a good businessman, knew full well how big of a deal it would be to welcome the Aggies to Disch-Falk Field. The tickets would sell out in a hurry, the TV appeal would be there and it would be a national draw to have the Aggies and the Longhorns in that Regional together.
OR...
B. Del Conte might have very well wanted the Aggies to go elsewhere, but even if he did, why would he automatically get his way on this? I wasn't convinced that even if Del Conte tried to shy away from hosting the Aggies, he would get his way on this one. He got very fortunate that Texas even got a Regional host bid to begin with. Just because he is on the committee does not mean that he gets to handpick his opponents. It just doesn't work that way. And the national appeal for a potential A&M-Texas matchup was too good to pass up.
* It's one thing that A&M went to Hoover and solidified its spot in the NCAAs. It's another thing that the Aggies went East and got hot again, and head into the "Dance" playing its best baseball of the season. They went into the SEC Tournament playing, quick frankly, lousy baseball. So many mental mistakes on the mound, behind the plate, on the dirt and in the outfield. It was sloppy. It was careless. It was uninspired. And honestly, even the staunchest supporter of the program had to wonder if this team had it in them to get right and fight its way off the bubble and into the NCAA Tournament. But somewhere in-between Olsen Field and the Hoover Met, A&M got red hot and hit its full stride. A&M really played incredible baseball in all phases of the game and now heads to Austin playing winning baseball and primed to make some real noise in Regional action this weekend.
* There's no doubt that the story in Hoover for A&M centered around pitching and defense. Some numbers behind what we saw last week from the Aggies on the mound and in the field...
.197 ... opponents' batting average against A&M pitching in four SEC Tournament games.
43/5 ... strikeout-to-walk ratio of A&M pitching on the week.
25/0 ... strikeout-to-walk ratio of A&M pitching in the last two games, facing Auburn and Ole Miss.
4 ... total earned runs allowed.
0 ... total earned runs allowed by the A&M bullpen (Cason Sherrod and Nolan Hoffman) in 10.2 innings of work.
6 ... total hits allowed by Hoffman and Sherrod in 10.2 innings out of the pen.
1 ... total errors by A&M defense in Hoover.
* On the mound in Hoover, we saw Kaylor Chafin lead things off with a dazzling six-inning effort on Tuesday vs. Vandy, allowing a run on six hits with five strikeouts and no walks. Then fellow lefty Asa Lacy overpowered Georgia for six scoreless frames, allowing just three hits and three walks, fanning eight. In each of those games, A&M saw a three-inning save and a dominant performance from Hoffman and Sherrod, respectively. Then, the magical effort from lefty John Doxakis, working a perfect game into the fifth and a no-hitter into the eighth, striking out 10 without issuing a free pass. And Mitchell Kilkenny was very good against a white-hot Rebels team on Saturday, giving up two runs on eight hits in six innings of work, walking nobody and striking out seven.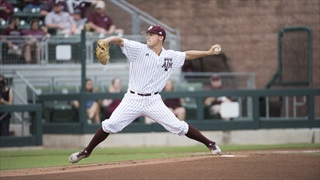 Brian Okosun
* Kudos to the A&M fielders for playing airtight defense for 36 innings. When you consider the beating that the field took with all of the rain and with all of that baseball on one playing surface in such a short amount of time - and you also think about the fact that A&M was in two in-game weather delays and another game where the start time was delayed three hours due to heavy rain in the area - it makes it even that much more impressive what the Aggies were able to do with the gloves in Hoover. To make one error in those conditions over a four-game stretch - especially after playing so poorly in the field throughout most of May to that point - is pretty mind-boggling. Hopefully, this is a good sign of what lies ahead.
* While A&M left a lot to be desired offensively in Saturday's loss to Ole Miss, I came away feeling pretty good about where the lineup is heading into June. Sure, the Aggies failed to deliver with enough big hits in critical spots on Saturday ... something that has reared its ugly head at times in 2018. A&M went 2-for-12 with runners on base and 1-for-7 with runners in scoring position against the Rebels. But it's the same group of hitters that managed four runs on eight hits against likely No. 1 overall pick Casey Mize on Thursday night, and scored seven runs on Georgia Wednesday afternoon in tough weather conditions. I see an order that is finally established, really for the first time all season. Coach Will Bolt knows who the top nine to 10 guys are that he'll run out there to start each game, and who the three or four positional guys are that will potentially see action in pinch hitting or defensive substitution situations late in games. The roles are better defined right now than they've been all season, and that can only help the guys lock in moving forward.
* While Michael Helman carried the offense with a 6-for-16 showing in Hoover, and Braden Shewmake and Zach DeLoach each had their moment or two in the "sun" last week, the biggest development offensively in Hoover was the re-emergence of middle-of-the-order power bats Chris Andritsos and Logan Foster. "Andy" hit homers in his last two at-bats to blow the doors off of Georgia, and in doing so, undoubtedly punch the Aggies' ticket to the NCAAs. His presence is critical for A&M's lineup and he can change a game and an entire weekend when he's swinging a hot bat. Foster consistently put together superb at-bats all week, and all five of his hits were driven on a line to right and right center. When the right-handed-hitting Foster lets the ball get deep and uses all fields, that is a sure sign that he's seeing the baseball really well in the box. Usually when that starts to happen, the power numbers quickly follow. Foster is my player to watch this weekend because of that and I think he's in for a big Regional in Austin, Texas.
Foster is my player to watch this weekend because of that and I think he's in for a big Regional in Austin, Texas.
* The SEC tied its own national record with 10 teams getting into the NCAA Tournament. It also happened back in 2014. Many pundits believed that Kentucky would get into the Tournament to make it a record 11 SEC bids but the Wildcats, at 13-17, were likely leap-frogged last week by A&M and LSU for the final SEC spots. You can make a strong case that UK is more deserving than, say, Oklahoma State out of the Big 12. And while Kentucky is undoubtedly one of the 64 best teams in college baseball, this is a prime example of this league's ability to chew you up and spit you out. And if you aren't careful, one or two bad weekends late in the season and your season is over. That's the case here with the 'Cats getting swept by Vandy on the final weekend of the regular season and going 0-1 in Hoover. But all in all, a wonderful year by the League of Champions.
* Let's go back to the Texas host bid for a minute. The Longhorns grabbed the #13 overall seed and are paired with the Ole Miss Regional. Texas got a higher overall seed than Minnesota, Coastal Carolina and NC State and got a host bit ahead of A&M, Auburn and UConn. I'm not banging on the table for A&M to get to host over Texas, but I do think Auburn was far more deserving. Here are some numbers, and we'll throw the Aggies in the comparison just for fun...
Wins:
T1. A&M - 39
T1. Auburn - 39
3. Texas - 37
RPI:
1. Auburn - 14
2. A&M - 15
3. Texas - 22
SOS:
1. Auburn - 8
2. A&M - 12
3. Texas - 21
Top 50 Wins:
1. Auburn - 19 (only four teams in college baseball with more)
2. A&M - 14
3. Texas - 12
Top 100 Wins:
1. Auburn - 28
2. Texas - 23
3. A&M - 21
Bad Losses (outside Top 100):
1. Auburn - 0 (19 of 21 losses were vs. top 50 teams)
2. A&M - 1
3. Texas - 4
Other Notables:
* Texas won regular season conference title ... RPI league #2.
* Texas AD Chris Del Conte is on the selection committee.
* A&M finished T-10th (seeded 11th in tournament) in SEC ... tough to overcome.
* A&M won just three SEC series in the regular season and was 2-7 in final 3 series.
* A&M went 3-1 in Hoover to get back into the conversation.
So if I'm Auburn, I'm royally ticked off to get sent to the NC State Regional, where if the Tigers win this weekend, they get shipped to Gainesville, Florida ... assuming the Gators get it rolling again and get out of their own Regional as the No. 1 overall seed.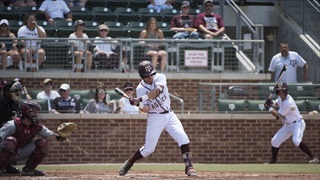 Brian Okosun
* I've seen and heard a little bit of hand-wringing over A&M getting a #3-seed. I thought the Aggies earned the #2-seed for sure but I was more worried about A&M getting the benefit of a Regional draw than I was the actual seed number. You still have to go out and beat a pretty good team in a 2 vs. 3 matchup in game one of a Regional so it doesn't really matter. Now, where it really factors in is if A&M gets out of the Austin Regional and heads to Super Regional play. If Ole Miss takes care of business, the Aggies will head to Oxford next weekend. But as the #3 seed, if the Rebels get upset at home by 2-seeded Tennessee Tech, the committee would be apt to give TTU the Super Regional host bid. But that is assuming that TTU put in for a host bid in the first place, as A&M certainly did, and if they are even able to host in their facility. The Golden Eagles play at Howell Bush Stadium in Cookeville, Tennessee and the ballpark holds about 1,100 seats. So A&M might get lucky once again if all heck breaks loose and the Aggies win another road Regional and get the benefit of an upset in the Regional that is paired with the one in Austin. But that's something to simply file away because we're a long, long way from worrying about that.
* Here are quick capsules on the four teams competing in the Austin Regional this weekend...
Texas Longhorns (#1 seed)
Record: 37-20 (17-7 Big 12)
RPI: 22
SOS: 21
Top 50 Record: 12-12
Team Batting Average: .272
Team Home Runs: 53
Team Stolen Bases: 70-of-91
Team ERA: 4.36
Team Fielding Percentage: .977
Best Hitter: Kody Clemens - JR - INF (.341 / .431 / .687 ... 19 HR; 61 RBI)
Best Pitcher: Andy McGuire - JR - RHP (1-2; 2.12 ERA; 7 SV; 29.2 IP; 21 H; 8 R; 7 ER; 11 BB; 26 K; .200 Opp. Avg.)
Indiana Hoosiers (#2 seed)
Record: 38-17 (14-9 Big Ten)
RPI: 29
SOS: 75
Top 50 Record: 8-12
Team Batting Average: .284
Team ERA: 2.95
Team Fielding Percentage: .976
Best Hitter: Matt Gorski - SO - INF (.363 / .414 / .574 ... 8 HR; 39 RBI; 19-of-22 SB)
Best Pitcher: Jonathan Stiever - JR - RHP (5-5; 2.89 ERA; 96.2 IP; 87 H; 40 R; 31 ER; 30 BB; 96 K; .242 Opp. Avg.)
Texas A&M Aggies (#3 seed)
Record: 39-20 (13-17 SEC)
RPI: 15
SOS: 12
Top 50 Record: 14-16
Team Batting Average: .284
Team ERA: 3.23
Team Fielding Percentage: .973
Best Hitter: Michael Helman - JR - INF (.366 / .453 / .511 ... 6 HR; 34 RBI; 12-of-14 SB)
Best Pitcher: Nolan Hoffman - JR - RHP (4-1; 1.24 ERA; 14 SV; 51.0 IP; 45 H; 12 R; 7 ER; 11 BB; 51 K; .231 Opp. Avg.)
Texas Southern (#4 seed)
Record: 27-26 (17-6 SWAC)
RPI: 215
SOS: 275
Top 50 Record: 0-8
Team Batting Average: .307
Team ERA: 5.18
Team Fielding Percentage: .967
Best Hitter: Kamren Dukes - SR - OF (.396 / .463 / .548 ... 3 HR; 39 RBI; 30-of-36 SB)
Best Pitcher: Aron Solis - JR - RHP (10-3; 3.44 ERA; 3 CG; 2 SHO; 86.1 IP; 88 H; 39 R; 33 ER; 25 BB; 65 K; .270 Opp. Avg.)
* The Lineup...
Pretty easy to figure out what the lineup will be. I think eight of the nine slots are pretty well settled heading into the Regional, with the DH being a lefty-righty platoon situation. Here's how it will most likely look…
1. Zach DeLoach - CF
2. Michael Helman - 2B
3. Braden Shewmake - SS
4. Chris Andritsos - 1B
5. Hunter Coleman - DH / Will Frizzell - DH
6. Logan Foster - LF
7. Allonte Wingate - RF
8. George Janca - 3B
9. Cole Bedford - C
* The Rotation...
A&M will spend part of today really analyzing the matchups against Indiana and (most likely) Texas to help determine whether to start lefty John Doxakis in game one or to roll with right-hander Mitchell Kilkenny on short rest. In the end, however, I am pretty confident that "normal rest" will win out and that you'll see Dox get the ball against the Hoosiers in game one and Killer pitching on Saturday very likely against the Longhorns. Additionally, I suspect you'll see Rob Childress utilize lefties Chafin and Lacy - starters last week - out of the bullpen as needed in the first two games alongside right-handed relievers Hoffman and Sherrod. Childress will do whatever it takes and will hold nothing back to win the first two games and position the Aggies well at the start of the Regional. Even if it's not announced this way, look for a pseudo "TBA" situation in game three. If the third game features a team that struggles against lefties, and if Chafin or Lacy are fresh at that point in the weekend, look for one of them to get the ball ahead of right-handed veteran Stephen Kolek. But odds are also rather high that Kolek gets the game three start. Nonetheless, teams often have to play four and sometimes five games to get out of a Regional so there's another big benefit of what we saw from the A&M pitching staff last week in Hoover. There's a chance we could see all five of those guys getting the ball in a starter's role this weekend at some points.
That about does it for today. I'm very much looking forward to the Regional at The Disch and having to get by the Longhorns - and of course Indiana and Texas Southern - in order to advance in the Tournament. Potentially matching up with Texas when it matters most ... hard to beat that storyline from my vantage point.
Enjoy the interviews and talking segments in the above playlist. Much more content coming your way throughout the week in advance of the Austin Regional getting underway on Friday.
Never miss the latest news from TexAgs!
Join our free email list