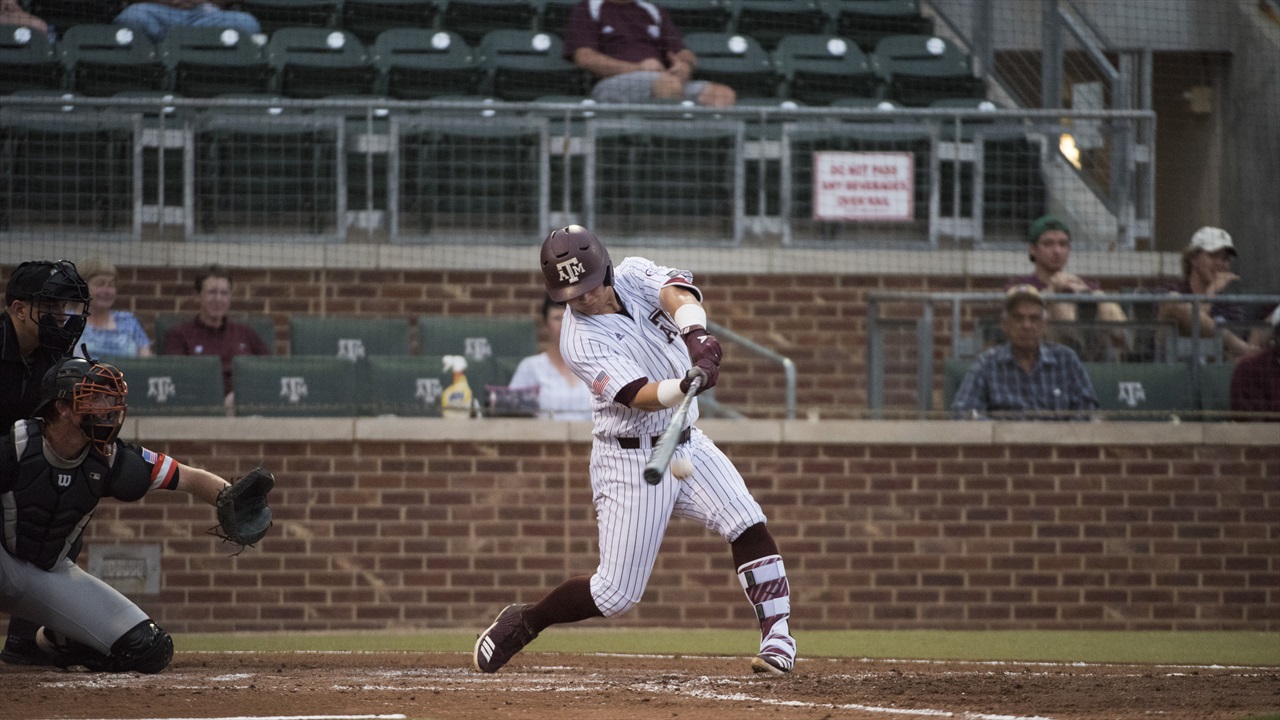 Rob Childress
Hunter Coleman
Cason Sherrod
Allonte Wingate
Texas A&M Baseball
Aggies get back in win column with victory over Sam Houston State, 6-5
---
Game #52: Texas A&M 6, Sam Houston State 5
Records: Texas A&M (35-17, 12-15 SEC), Sam Houston State (35-18)
WP: Cason Sherrod (5-2)
LP: Gabriel Sequeria (4-3)
SV: Nolan Hoffman (11)
Box Score
---
Sam Houston State scored three runs and brought the tying run to the plate in the ninth, but Texas A&M held on for a 6-5 win Tuesday night win in front of 4,621 fans at Olsen Field.
"Very big for us just getting that taste out of our mouth [from last weekend's sweep] and coming out and competing against a good Sam Houston State team," Hunter Coleman said after the game. "They came in and competed just like they do year in and year out, and it was definitely good for us to get back into the win column."
The Aggies, who struggled mightily at the plate in last weekend's sweep at Arkansas, got on the board immediately as Coleman ripped a two-out RBI triple to the right-center field and then Will Frizzell followed with an RBI single to left to put A&M ahead 2-0.
"I couldn't be more proud of our guys," head coach Rob Childress said. "For them to come out with energy and enthusiasm and be ready to play was the best thing we could've done rather than have to sit on [the sweep] all week before the weekend series."
Kaylor Chafin got the start on the mound for the Aggies and tossed two scoreless innings, but when he left the game the Bearkats offense went to work. Consecutive singles and a hit-by-pitch loaded the bases with one out, and then Clayton Harp grounded into a 3-6 fielder's choice. Braden Shewmake threw wide of first trying to complete a double play, and SHSU scored two runs on the play to tie the game.
The contest remained tied until the sixth, when Aaron Walters and George Janca hit back-to-back singles to put runners on the corners with one out. Allonte Wingate followed with a perfectly executed hit-and-run, singling sharply to right with Janca running on the pitch to give the Aggies a lead. Janca advanced to third and scored on a Zach DeLoach sacrifice fly, and later in the inning Michael Helman plated Wingate with a single to left.
The productive frame was a welcome sign for the Aggies, who hit a paltry 3-for-34 with runners in scoring position last weekend against the Razorbacks.
"We just got to our approach and landed on pitches," Wingate said. "We did a good job tonight of actually landing on pitches and not swinging through a lot of them. That was the difference — putting the ball, making people make plays and hitting balls hard."
Hitting coach Will Bolt talked to the team prior to the game about cutting down their swings and not swinging through fastballs, and the minor adjustment seemed to pay dividends against the Bearcats. The Aggies cranked out 11 hits and eight of the nine starters notched at least one hit.
"We were fouling a lot of fastballs back and not really hitting the fastballs that we should have been hitting," Coleman said. "We were able to make that adjustment and get our swings shorter and more compact like they were toward the beginning of the year."
Logan Foster, who entered the game in the eighth as a defensive replacement, scampered home from third with two outs in the bottom of the eighth to put the Aggies ahead 6-2, and that run proved crucial after the Bearkats' late comeback bid.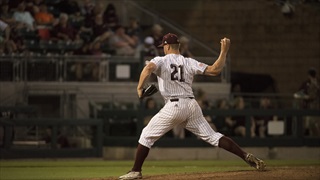 Brian Okosun
Asa Lacy came on in relief in the third to escape a jam, inducing a ground ball to third base to keep the game tied. In all, Lacy struck out four in 2.1 innings of scoreless relief, and Cason Sherrod followed that up with 2.2 scoreless innings of his own, striking out four.
Closer Nolan Hoffman relieved Sherrod with two men on and two outs in the eighth, getting a groundout to end the frame, but then surrendered three hits and three runs in the ninth before getting three-straight groundouts to seal the Aggies' first victory in more than a week.
"Confidence builder is the right word for that," Sherrod said of the Aggies' pitching performance. "The bullpen hasn't been getting it done, myself included, and tonight was definitely a confidence booster."
A&M returns to Blue Bell Park Thursday for the series opener against South Carolina. First pitch is scheduled for 6:30 p.m. and can be seen on SEC Network +.
"Hopefully this gives us quite a bit of momentum," Childress said. "It's all about the finish and it's our last home weekend of the regular season. It's hard to believe that it's here. South Carolina is an incredibly hot team right now and playing really good. I'm certainly glad we have them at home."
Never miss the latest news from TexAgs!
Join our free email list