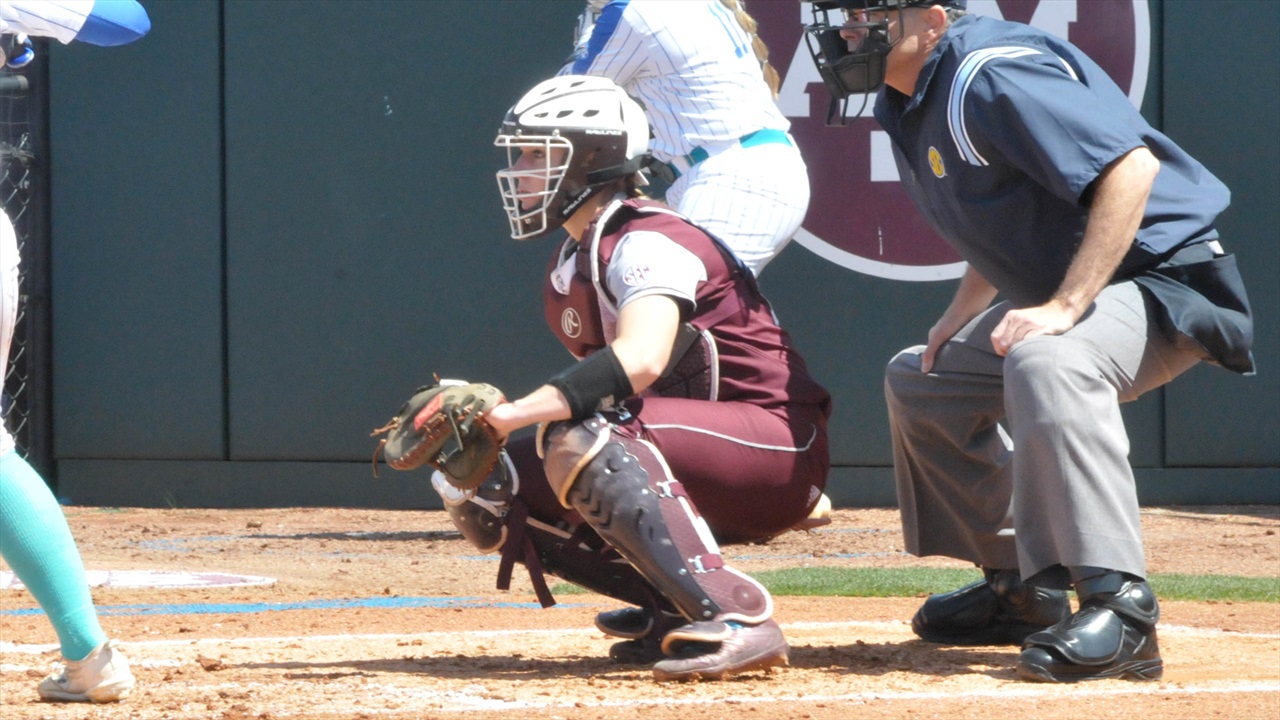 Photo by Brianna Hillman, TexAgs
Texas A&M Softball
Texas A&M falls to Kentucky in final game at Aggie Softball Complex, 3-2
---
In the final game at the Aggie Softball Complex — the home of Aggie softball since 1994 — the Aggies (36-10, 9-6 SEC) fell, 3-2, to No. 20 Kentucky.
The Wildcats drew first blood. After A&M starter Trinity Harrington surrendered two-straight hits, Abbey Cheek lined a ball up the middle for an RBI single and Kentucky's first run.
The Aggies responded in the bottom of the third with three consectutive hits. After a single up the middle by Sarah Hudek and a double by Tori Vidales, Ashley Walters capitalized by driving in her teammates with a two-RBI double to left center field. Walters had a productive weekend series, notching six hits to go with six RBI in the clean-up spot.
Kentucky fougth its way back to tie the game in the top of the fifth. With the wind blowing out, designated player Mallory Peyton launched the ball over the right field fence for a home run.
The Wildcats grabbed the lead in the top of the sixth after Lexi Smith (7-2) was brought on in relief. After giving up a walk, Alex Martens hit a double to left field – just out of reach of the glove of Keeli Milligan – for an RBI.
A&M threatened again in the bottom of the sixth. After loading the bases, Erica Russell struck out, and Kelbi Fortenberry lined into a double play.
Harrington started in the circle for A&M and worked her way through five innings, while giving up four hits and two runs before turning the ball over to Smith.
Smith was tagged for a run in the top of the sixth but bounced back. After loading the bases in the top of the seventh, Smith buckled down and pitched around the jam by finishing with a punch-out to keep her team within one.
Despite the late run Smith allowed, head coach Jo Evans said she liked what she saw from her pitcher.
"I thought Lexi did well. If you look at it, she gets a fly ball caught in left field, she gets out of that inning," Evans said. "She did a great job in that sixth inning or seventh inning, with bases loaded and they've got an opportunity to score with bases loaded and one out. She gets a huge strikeout and then gets an out. I thought she did a really good job."
A&M took the series despite losing Sunday's game. As it stands now, A&M sits in third place in the SEC behind Florida and Georgia.
A&M took the series despite losing Sunday's game. As it stands now, A&M sits in third place in the SEC behind Florida and Georgia. First baseman Tori Vidales said she likes what she saw from the team and they will look to take another series against LSU.
"I think we're fine, we played well," Vidales said. "We could've wished we had a little more hits or made a play, but that's what the next game is for, trying to get better every day and hopefully go to LSU and take two from them."
As a senior, Vidales said she's excited to move over into the new facility at Davis Diamond. One of Vidales' favorite memories of her time at the Aggie Softball Complex was hitting an opposite field home run against Texas in the 2017 Super Regional.
"It's definitely bittersweet, knowing that the last game was a tough one, but knowing we get to go across the street to a great facility that's being built for us is definitely exciting to get to move on to the next chapter," Vidales said.
Evans agreed with Vidales about it being bittersweet and said she greatly appreciated the support from fans over the years.
"I just want to thank all of the fans for coming, we had a great crowd today," Evans said. "I wish we could've sent them home with a win but I want to thank all of the fans that've come out here to our beloved stadium, field. I say beloved field because I appreciate the fans that sit in the hard bleachers with no chair backs with not a lot of room, and they come day in and day out. So I just really appreciate them and it's been a great run here, but we're ready start a new run at Davis Diamond."
The Aggies will return to action when they hit the road to take on LSU for a weekend series in Baton Rouge. First pitch is set for 6 p.m., and the game can be seen on the SEC Network +.
Never miss the latest news from TexAgs!
Join our free email list