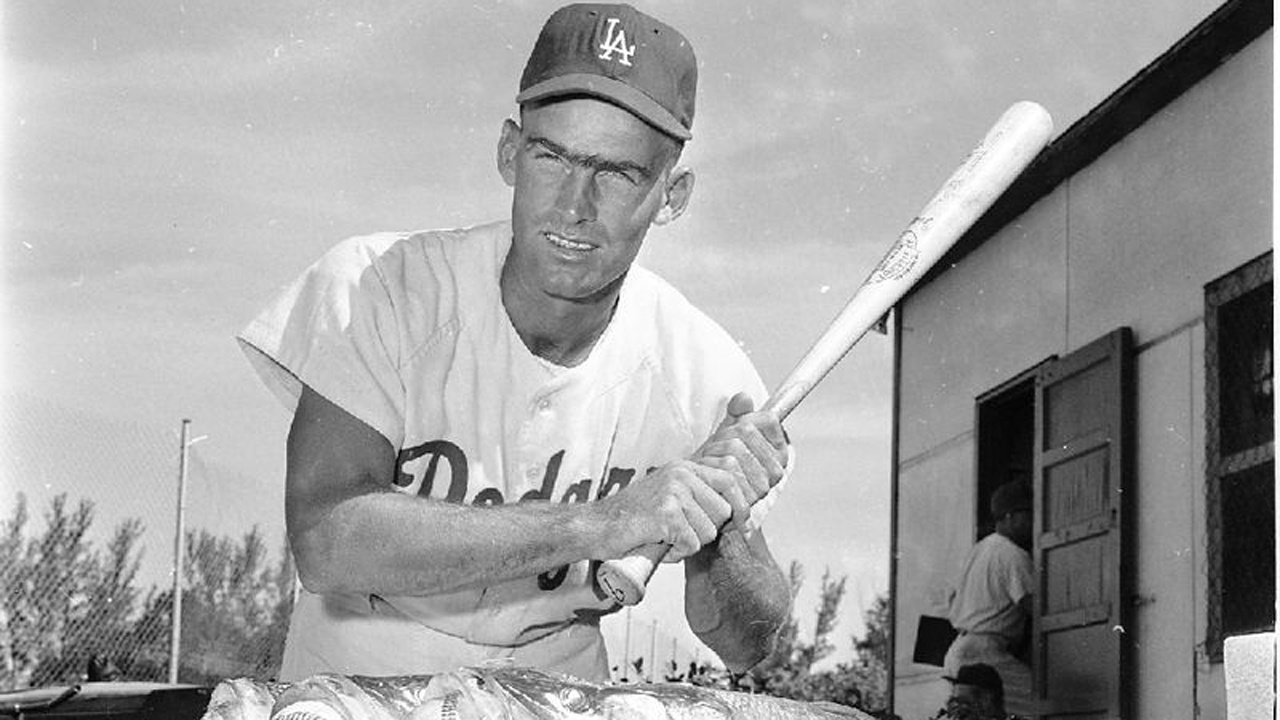 Photo by WallyMoon.com
Texas A&M Baseball
A Legend Passes: Texas A&M baseball great Wally Moon dies at 87
---
Wally Moon, a Texas A&M Sports Hall of Famer and one of the most decorated athletes to ever wear the Maroon and White, passed away Friday evening in Bryan, Texas. He was 87.
Moon played basketball and baseball at A&M in 1949 and 1950 and was an All-Southwest Conference outfielder in his final season. He went on to a highly successful career in Major League Baseball, hitting a home run in his first MLB at-bat in '54 on his way to winning Rookie of the Year honors as a member of the St. Louis Cardinals. Moon went on to lead the LA Dodgers to three World Series titles, in '59, '63 and '65.
Moon was a three-time All-Star and NL Gold Glove winner as an outfielder in 1960. The other two outfielders to win the Gold Glove that year in the NL? Willie Mays and Henry Aaron.
Moon became famous around baseball in the '50s and '60s for his propensity to hit mammoth, sky-high home runs, often referred to around baseball as "Moon Shots." He hit 142 career round-trippers and never hit more than 24 in a single season. But it was the way he hit them that had players, media and fans around the game in awe.
When the Dodgers moved to Los Angeles in '58, they played in the LA Coliseum for four years before moving into their current stadium at Chavez Ravine. The left-handed-hitting Moon was coming off of a season in which he hit .238 with just seven home runs in his final season in St. Louis. To make matters worse, the Coliseum's odd dimensions were a death nell for left-handed pull hitters. The power alley in right center field was 440 feet away from home plate. But the left field fence was just 251 feet away, protected by a 42-foot tall "monster."
Moon had a conversation with his old Cardinals teammate – the legendary Stan "The Man" Musial – upon his move to the Dodgers. Musial encouraged him to focus on hitting to the opposite field and helped him change his mindset as a hitter.
It worked. Moon changed his swing to get the ball high in the air toward that left field wall – a la David Ortiz for years in Boston – and hit .302 in his first year in LA with 19 home runs, a league-leading 11 triples, 26 doubles and an .890 OPS. He was an All-Star in '59 and finished a career-best fourth in the MVP voting. And thus, the legend of "Moon Shots" was born.
His knack for hitting eye-popping home runs began at Texas A&M when, according to legend, Moon once hit a ball from old Kyle Baseball Field over the wall and onto the track surrounding Kyle Football Field. Moon described this specific home run when he joined TexAgs Radio on September 20, 2011.
"I hit one from the baseball field onto the Kyle Field track in 1949," Moon said. "Coach Anderson, the track coach, retrieved it for me. I still have that baseball. It was a monstrous home run, and lots of people still talk about it. It was high, and I would classify that as my first 'Moon Shot.'"
Moon humbly estimated that home run at 400 feet. Others who saw it say it eclipsed the 500-foot mark. As time passes by, the genesis of the "Moon Shot" continues to grow in distance and legend among those who were lucky enough to see the home run in-person.
Click here to watch Moon's appearance on TexAgs Radio in full.
Wally Moon was known for his "Moon Shots" on the baseball field. And those closest to him remember his love and passion for his family, the great game of baseball and for Texas A&M.
Never miss the latest news from TexAgs!
Join our free email list