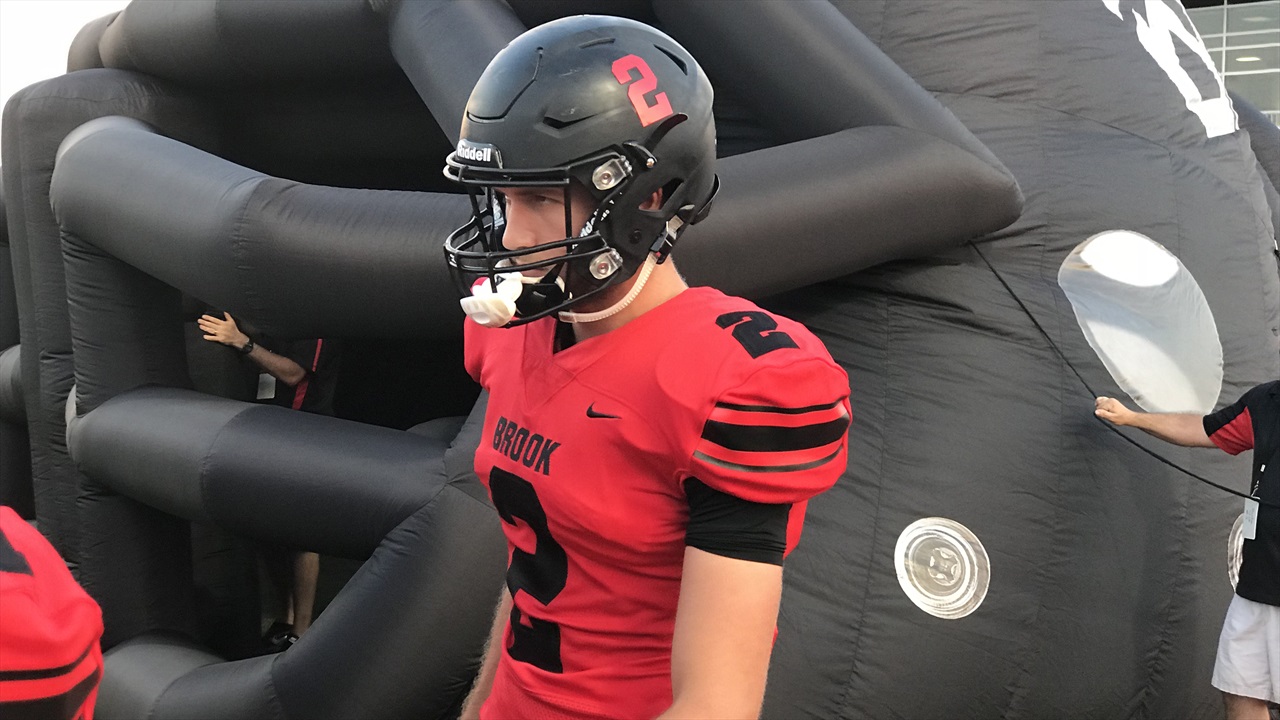 Recruiting Rankings Update: Shaking up the 2018, '19 & '20 Classes
---
Another month of high school games have come and gone, which means the TexAgs recruiting team has adjusted its rankings based on what our analysts have seen on film and on the field. There are some new names that have made the cut, and some old names that have made some big moves. With only one month left until the early signing period, we're closing in on the last chapter for the 2018 recruiting cycle.
Here's a breakdown of the movers and shakers from each class:
2018
What's new in the top 10?
Not much really. There were a few alterations, though. A&M commit Max Wright fell a few places to No. 7 after his knee injury, and Texas commit DeMarvion Overshown moves into the top 5.
Big movers
• A&M WR commit Caleb Chapman (pictured above) from Clear Brook continues his ascension up the chart and now finds a home at No. 13 overall. He's essentially traded places with Houston Lamar's Al'vonte Woodard, who dropped down to No. 18.
TexAgs
• Welcome to the top 40, Joseph Ossai. The Oak Ridge defensive end has been playing good ball and deserved a little bit of boost in his rating.
• Speaking of boosts, the biggest mover of all was Texarkana WR Tevailance Hunt.
The TCU commit jumped nearly 60 spots to land at number 40.
• Dallas Madison WR Danny Gray (Mizzou) is now at No. 54, and Klein Collins LB Donavan Mutin (UH) finds himself at No. 77. Both prospects got pretty significant bumps.
• Frisco Heritage TE Nic McTear and Frisco Lone Star LB Nicholas Bolton both took a bit of a hit and fell in our rankings, as did Cuero TE Bralen Taylor (Baylor).
New names
Here are the guys making their first appearance or a reappearance in the top 118:
2019
As the 2018 group winds down, a lot more focus is beginning to shift to a talented group of juniors across the state. Here are some of the changes we've made to our 2019 rankings.
There's no change to the top 10, but Katy Taylor DE Braedon Mowry makes a jump all the way up to No. 12 after a really strong run of form. He's traded spots with his buddy from across town as Mayde Creek's Marcus Stripling takes a bit of a fall to 21.
It's been an impressive month in terms of offers for Fort Bend Bush's Erick Young, and he's now moved up to No. 20 and is the top corner in Texas.
It's been an impressive month in terms of offers for Fort Bend Bush's Erick Young, and he's now moved up to No. 20 and is the top corner in Texas. Staying at corner, Spring Dekaney's Marcus Banks moves up a few spots to number 41.
Wide receivers Garrett Wilson (Lake Travis) and Dylan Wright (Ennis) also saw a significant rise as they land at Nos. 26 and 32, respectively.
New names
2020
There was only one move in our sophomore rankings as recent Louisiana transplant WR Jacobi Bellazin (Katy) goes from unranked to No. 6 overall. He visited A&M last weekend and looks like he'll be one of the more highly-recruited players in the Houston area.
You can view our full rankings here:
Never miss the latest news from TexAgs!
Join our free email list