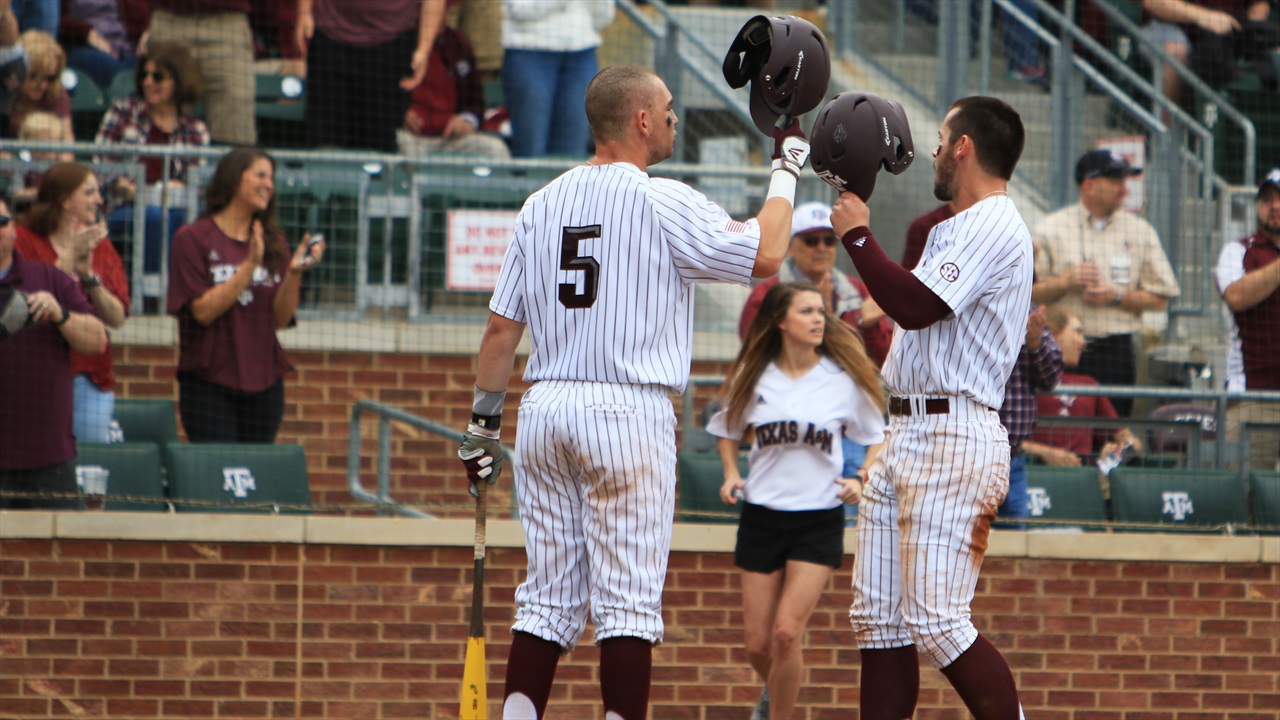 Photo by Alex Parker, TexAgs
Texas A&M Baseball
Michael Barash & Nick Banks talk A&M advancing to the CWS & more
---
Key notes from Nick Banks and Michael Barash interview


Nick Banks

Right now it's great in the minors. We are leading our division looking to clinch the first ever playoffs. The best part is getting to meet all these people from around the world and playing with guys you've been playing with since 11. I have two people on my team that I've been playing with since I was 11 years old. The worst part is the bus rides and I'm trying to get acclimated to that.


It's been awesome. I got to meet a lot of the younger guys this off-season and I knew they would fit in with that culture. Coach Childress does a great job with all of those guys, it starts with him. The players have to buy into it and they have great leaders like Nick Choruby, Austin Homan and Walker Pennington.


I got to watch the first 10 innings of the first game and my heart was pounding. I got to watch the last inning of the clinching game to go to Omaha with Kyle Simonds. We didn't change or anything after the game we just went right to the couch to watch. Watching the dog pile was one of the coolest things. I was getting chills watching it on TV. It's real special for that program and Coach Childress really deserves that.


Kyle and I played with half of the guys on the team. We joked around saying we built that, but we know those guys deserve that. They've done a lot and they were the underdogs this year. No one thought they would be in that situation and we had nothing to do with that.


Blake Kopetsky, he wasn't sure if he wanted to come back this year and it's tough. He had already graduated and he was coming off of an injury, but he stuck it out and did it for the team. He knew there was a run to make it to Omaha. He is such a big contributor for this team, I'm so proud of him. Nick Choruby has been a grinder since his freshman year. It shows the hard work he puts in every day. For him to go from infield to outfield and make an impact on the outfield right away, you can't ask anything else from that kid.


My advice would be to keep your head down. Everyone is going to be against you. No one will think you will come out on top. Keep your head down and keep moving. Pitch by pitch.
Michael Barash
That team has had some growing pains since they are so young, but as the year has gone on they have started to mesh and get a feel for how college baseball works. Those seniors; Chorby, Homan, Davis and Pennington are leading the guys through the fire.


The leadership is great, but it starts with the coaches. They create that culture and they have done an outstanding job. It's been great to watch, Kilkenny's performance in game one was huge. He really figured it out and it was awesome to watch. He was able set the tone for the next day.


Cole Bedford is a kid that didn't get the opening day start, but he stuck with the process. When I first met him, I knew he was going to be great. He had that persona about him and he goes about his business the right way. He just needed a chance and when he got it, he ran with it. I couldn't be happier for him. He's really emerged as someone who can control that team. He handled the pitching staff better than I think I would've of. I can't say enough, I'm really proud of him.


My advice would be to stay in the moment. No moment is too big and no moment is too small. Everyone is against you. Stick with it, go have fun and play hard. Anything can happen in Omaha.
Never miss the latest news from TexAgs!
Join our free email list