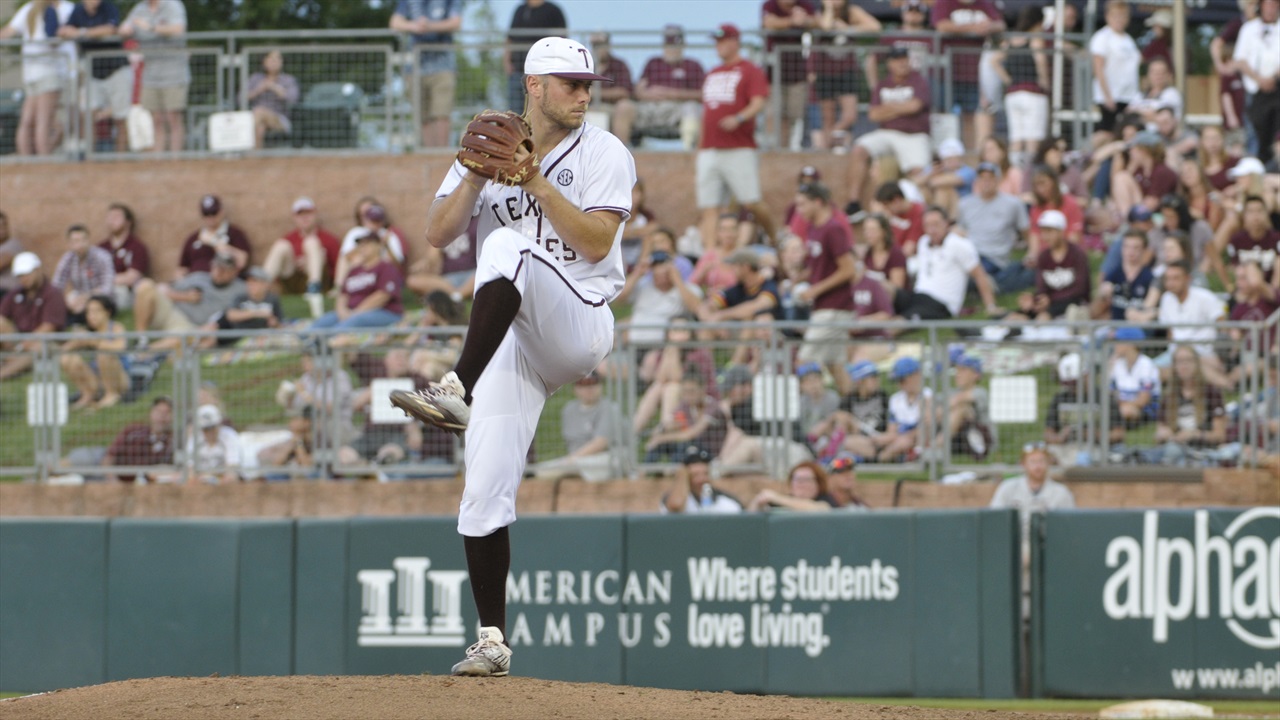 Rob Childress
Corbin Martin
Hunter Coleman
Texas A&M Baseball
Corbin Martin, Hunter Coleman lead Aggies past Razorbacks, 5-2
---
Game #55:
Texas A&M 5, Arkansas 2
Records: Texas A&M 36-19 (16-13), Arkansas 38-15 (17-11),
WP: Corbin Martin (6-3)

LP:
Dominic Taccolini (4-1)
S:
Cason Sherrod (3)
BOX SCORE
Coming off of four straight losses – including one in extra-innings on Thursday – and the loss of starting first baseman Joel Davis to a foot injury, Texas A&M needed someone to step up in its second game against the Razorbacks. Luckily enough for the Aggies, two guys were ready to do just that.
Starting pitcher Corbin Martin and newly-minted first baseman Hunter Coleman lifted the Aggies to victory, 5-2, to even the series with the Hogs. After battling through early struggles, Martin kept the Arkansas bats at bay for eight solid innings, while Coleman provided a spark to the A&M lineup, crushing a three-run home run in the win.
After two scoreless innings, Arkansas took control early. Martin gave up a lead-off double in the third, and the runner, Razorback second baseman Carson Shaddy, came home to score on a Jared Gates RBI-single almost immediately, giving the Hogs a 1-0 lead.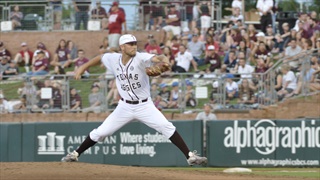 Marc Flores, TexAgs
More trouble followed for Martin and the Aggies. The junior gave up another single to the nine-hole hitter, putting runners on first and second.
Two outs later, he threw a wild pitch and walked a man to load the bases. On his heels, Martin got Grant Koch to fly out to center to escape the jam.
The Aggie offense picked Martin up in the bottom of the frame. George Janca and Nick Choruby led off with back-to-back singles and advanced into scoring position on an Arkansas throwing error. One Cole Bedford RBI-flyout later, the Aggies had tied the game, 1-1.
Braden Shewmake came to the plate next and drew a walk, leaving runners on first and second for Hunter Coleman. The freshman proceeded to launch one of the hardest-hit balls of the year over the center field fence. The three-run blast gave the Aggies a 4-1 lead. Coleman knew it was gone when it left his bat.
"He left a fastball over the plate," he said. "I put a good swing on it. The wind was blowing out, so it back-spun it well, and it carried out. That one I felt good about. It was the first one I've looked at all year."
Martin took back over in the fourth and – though he surrendered a couple of hits – got out of the inning without allowing a run. From there, the fiery right-hander recorded strikeout after strikeout and shut down the Arkansas bats almost completely through the sixth. Martin felt he got stronger as the game wore on.
"The second time through the lineup, we started mixing speeds a little bit more and giving them a different look, so I think they started to adjust back to that," he said. "We started pitching a little bit backwards, which was nice."
Martin gave up his second run of the night in the seventh inning. Gates reached base with a lead-off single and came around to score on a double two batters later. Martin struck out the next man to preserve the 4-2 lead.
All told, Martin threw eight innings, allowing just two runs on eight hits and recording 12 strikeouts.
A&M tacked on another run in the bottom half of the frame on another Razorback error, giving Martin a 5-2 lead to work with in the eighth. He then recorded two quick strikeouts and a flyout to end his night. All told, Martin threw eight innings, allowing just two runs on eight hits and recording 12 strikeouts. A&M head coach Rob Childress couldn't have been happier with his starter's performance.
"What an amazing performance," he said. "He knew we needed some length out of him tonight. That's as offensive a club as we've seen since Kentucky, and for him to slow them down tonight and get us through eight innings was just a remarkable performance."
Cason Sherrod came in to pitch the ninth inning and made quick work of the Razorbacks to secure the 5-2 victory.
Texas A&M will take on Arkansas once again on Saturday in game three of the weekend series. First pitch is scheduled for 11:00 a.m.
Never miss the latest news from TexAgs!
Join our free email list