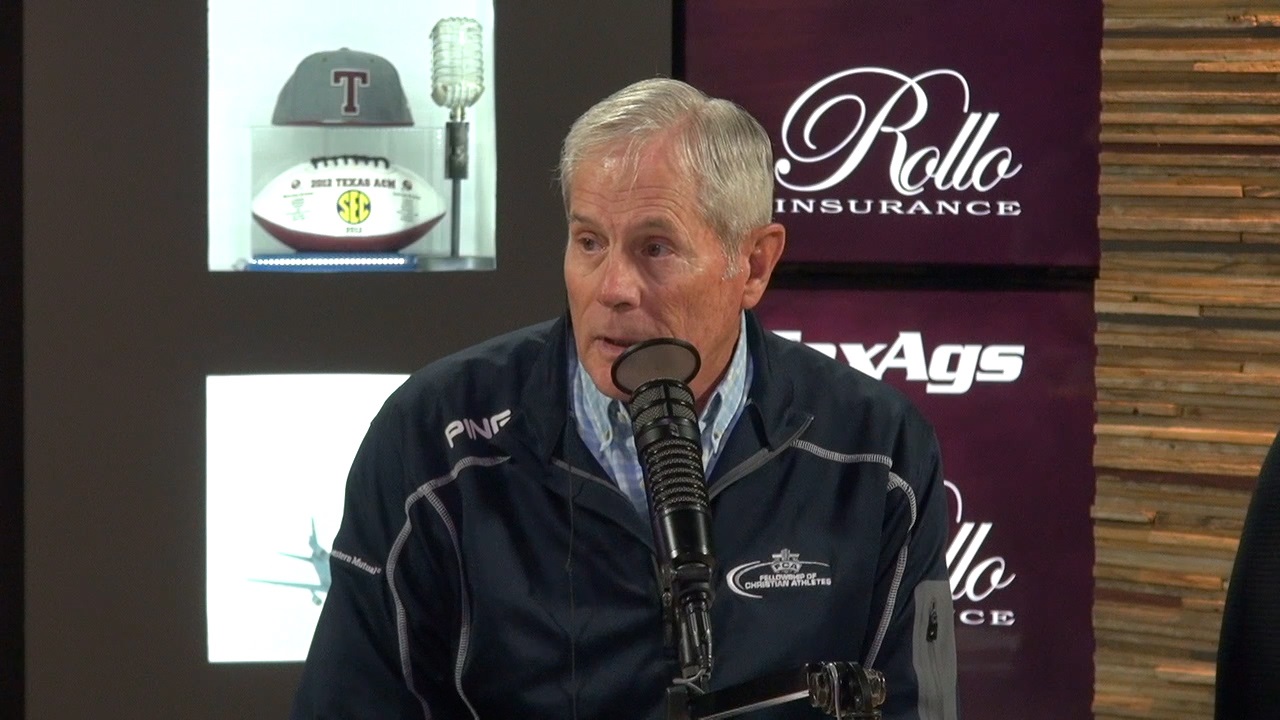 Texas A&M Baseball
Mark Johnson gives insight on Aggie baseball, Ray Dorr Golf Classic
---
Key notes from Mark Johnson interview

The Ray Dorr Golf Classic to benefit FCA is May 7th and 8th at Traditions Golf Course. There are three choices of flights: Sunday afternoon the 7th, Monday the 8th at eight in the morning or Monday at two in the afternoon. On Sunday evening, there is also a Tee Party get together. Kevin Sumlin and his staff will be there and Kevin will speak as well as a few student athletes. We are raising money for scholarships for kids in the Brazos Valley area that FCA touches base with. There's a state all-sport camp and this helps with scholarships. You can find out more about the Brazos Valley FCA at www.fcabv.org or (979) 268-4285.
FCA helps get balance in young people's lives. Balance is the key to success. We see changes, the kids change. It's not because of FCA but from the message of FCA. It allows young people to come together with other athletes who have problems. It's not easy to stand at the free throw line or be at the plate or make the play, those things are tough. I've been involved in it over 40 years because I've seen it make a difference. It's a great organization and it's something we need to have sponsored here because we are touching base all over the Brazos Valley.
Every week is so big in the SEC. As we see, there are upsets every week. In this conference this year, it doesn't appear that we have an unbelievable team that's going to pull away from the pack. The league always has had a lot of strength in the bottom half but it'll be interesting. It's almost time to get in the stretch run in the middle of the season. We've gotta make hay these next two weeks. If you want to get up there near the top then that's what you have to do. If you look at the stats, we need to get in there and get after it. All of a sudden you're 1-5, then you go down to LSU where they're not expecting anyone to show up and you win two of three. It's there, it's just a matter of getting it going. It's time for the pitchers to mature and make it happen. They have the talent.
The kids can't slow down. There are a couple guys there that are close to getting it going, especially on the pitching staff that could really dominate and just haven't gotten it out there yet. We have three guys hitting pretty well in conference and then it drops down tremendously. The pitchers can't go out there with that kind of pressure and have to hold a game down that much. Braden Shewmake isn't hitting that well in conference but I think he'll get it going.


You've got a couple of guys that can get it going, like Austin Homan. Homan's not hitting what he did last year, but he stirs a lot of dust. I give these guys a lot of credit. They lost five games in a row and in the fifth one they got boat raced, 17-3 by Vanderbilt. They came back Sunday and got a win there and that was huge. Then they go to LSU, where no one likes to go and play, and they win two. It makes you think that this team is strong mentally and emotionally and they're getting leadership from somewhere. Obviously they've got good coaching but it's got to be on the field leadership. You can't do it with just the coaching.
You have got to remember that these freshman are good hitters, but they haven't seen this type of stuff on a daily basis yet. They've seen some guys on occasion that can throw hard but this is a baseball conference. You don't get a chance to regroup. It's Friday, Saturday, Sunday, just like it is when we throw our guys out there. You don't get an easy week, even on Tuesdays. It's an adjustment, they haven't had a week long dry spell at the plate ever before this. If you look at Logan Foster, he's got great bat speed. He can turn a game around, he's got power. There's a few freshmen that are going to be really great but they can't carry the load right now.
Never miss the latest news from TexAgs!
Join our free email list