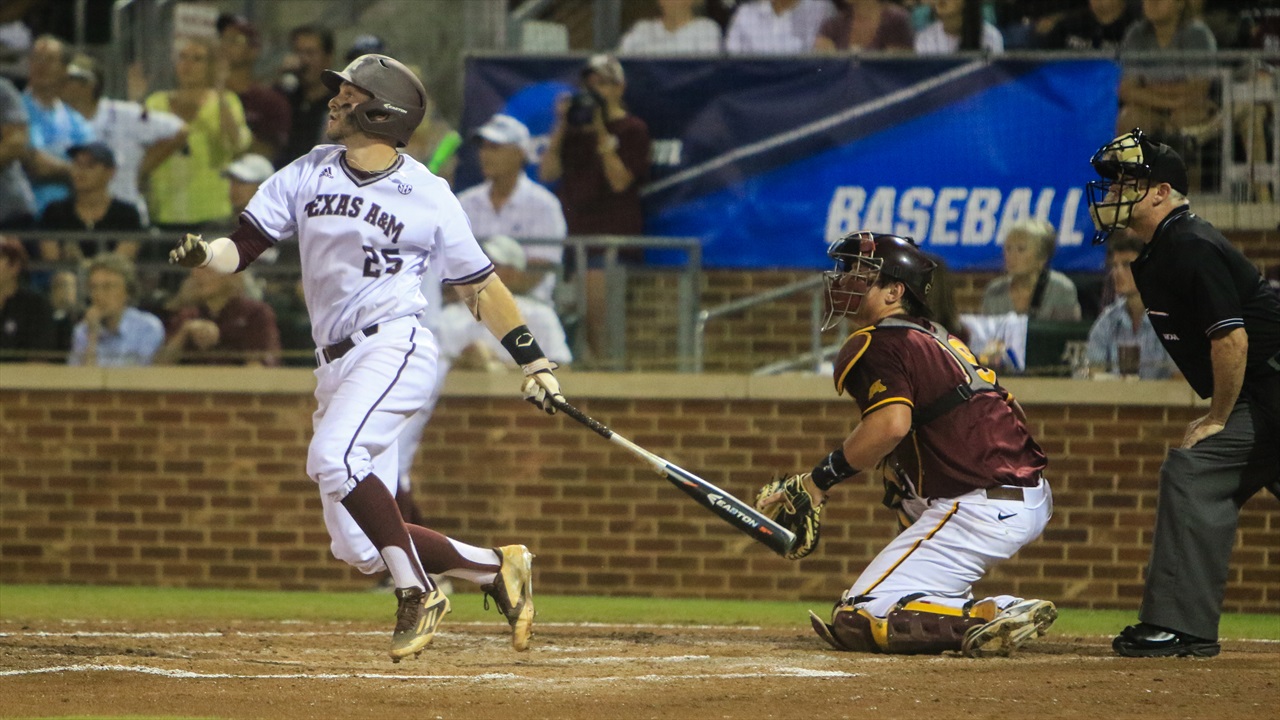 Photo by Kirby Clarke, TexAgs
Texas A&M Baseball
Series Preview: #20 Texas A&M vs. Bowling Green
---
Who:
Bowling Green Falcons (17-37, 7-17 MAC in 2016)
Where:
Olsen Field at Blue Bell Park — College Station, Texas
When:
Friday 6:30 p.m. CT (SEC+)
Saturday 1:00 p.m. CT (SEC+)
Sunday 12:00 p.m. CT (SEC+)
Pitching matchups


Friday: Brigham Hill (RHP, 9-2, 2.51) vs. Tyler Anderson (RHP, 1-1, 3.63)
Saturday: Stephen Kolek (RHP, 3-0, 3.30) vs. Brad Croy (RHP, 2-4, 4.95)
Sunday: Mitchell Kilkenny (RHP, 2-0, 1.67) vs. Zac Carey (RHP, 3-10, 6.69)
Bowling Green players to watch
Long-time Bowling Green head coach David Schmitz is in his 27th season leading the Falcons on the diamond with an all-time 679-674-5 record. Schmitz has had some success in the MAC, winning four regular season championships, three MAC tournament titles, and qualifying for three NCAA regionals. He's winningest active coach from the MAC and he's third on the all-time wins list for MAC coaches.
But those lifetime achievements had little to do with last season's dismal 17-37 record. The Falcons were young and inexperienced, and the 2016 numbers backed that up. Bowling Green's team batting average was a paltry .230 with a .287 slugging percentage that makes any baseball pundit's head spin. The Falcons hit just 13 home runs on the season and scored 152 runs, which comes out to 2.81 runs per contest.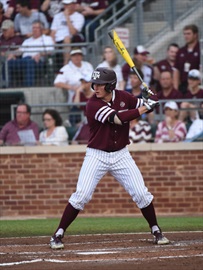 Abigail Cook, TexAgs
Bowling Green has seven starters from last year's lineup returning, led by Derek Dawes who was tops on the team with a .298 batting average in limited action. Senior Greg Basalyga is the most experienced hitter in the lineup. The three-year starter hit .267, and he'll likely be in the middle of the batting order and playing first base or DH. The Falcons are also hoping that junior infielder Randy Righter bounces back after a sub-.200 injury-riddled sophomore campaign. He garnered freshman All-MAC honors two years ago and looked to be a key piece in Bowling Green's offense for four years. He'll also land in the middle of the batting order this weekend.
The rest of the line-up will consist of newcomers and returning contributors who hit around the Mendoza line in the Mid-American Conference in 2016. Offensively, there's simply not much in the 2016 numbers that stands out and puts fear in an opposing pitcher.
On the mound, Bowling Green had a little more success last season. Friday night starter Tyler Anderson finished the 2016 season at 1-1 and a respectable 3.63 ERA, but it his final three starts last year could be a sign that he'll be a challenge to Texas A&M hitters. In those starts, he allowed just two runs in 15.1 innings of work. Even more impressive is that 4.1 innings of scoreless action came against national power Florida State. So Anderson won't be intimidated on the mound against the Aggies. He's had success against similar competition.

Sophomore Brad Croy is coming off a solid yet unspectacular freshman campaign where he primarily started mid-week games and finished with a 4.95 ERA. Junior Zack Carey takes the ball for Sunday's finale, and the right-hander is looking to erase his miserable 3-10, 6.69 sophomore campaign after being named the MAC Freshman Pitcher of the Year in 2015. As a freshman, Carey finished the last six weeks of the season with a 7-0 record and a 2.40 ERA in 63 innings.

Texas A&M players to watch
By now, you've seen
TexAgs extensive preseason coverage of Aggie baseball
, so there's no need to go into great detail about who to watch in week one. Clearly on the mound, all eyes will be on Friday night starter Brigham Hill who will need to be dominant in 2017 to match the opposing elite arms he'll face on Fridays in the SEC. He needs to be the table-setter all season and get a weekend series off on the right track. With Turner Larkins still working back into shape from an offseason injury, the Aggies will call upon sophomores Stephen Kolek and Mitchell Kilkenny to round out the weekend. Kilkenny had a tremendous freshman year and had his name penciled into the weekend rotation, but Kolek made a big move in preseason practices to grab a weekend spot when many observers felt in the offseason that he would be a bullpen resource.
Clearly on the mound, all eyes will be on Friday night starter Brigham Hill who will need to be dominant in 2016 to match the opposing elite arms he'll face on Fridays in the SEC. He needs to be the table-setter all season and get a weekend series off on the right track.
Nobody doubts the talent of Corbin Martin, who throws in the mid-to-upper 90's with a filthy breaking pitch. The drawback for Martin in his career at Texas A&M has always been control and staying ahead in the count. He's been on solid ground so far this spring and looking good as the team's primary closer. Cason Sherrod has also turned heads in spring workouts and he could be a factor in late innings as well.
At the plate, the run production in the middle of the order will come from seniors Walker Pennington and Joel Davis. If this pair gets off to a hot start, the Aggie offense will roll because there's plenty of speed and natural hitters in front of them in the order including freshman phenom second baseman Braden Shewmake, who will make his collegiate debut in the all-important three-hole. Senior Nick Choruby's speed in the lead-off spot is critical, and he'll need to prove to the coaching staff he can get on-base consistently via line drive, infield hit, bunt, or walk. Veteran shortstop Austin Homan surprised everyone with his .356 average last season, and he'll be a asked to do the same in the two-hole.
Keep an eye on senior Blake Kopetsky in the outfield. He's a team leader and has been around the clubhouse a long time, but he's never been a full-time starter. He'll need to get off to a big start this weekend because he has a couple of hard-charging talented freshmen breathing down his neck in Logan Foster and Cameron Blake. The other area to closely observe is the catcher's spot, where the Aggies are still searching for an adequate replacement for Michael Barash. Freshman Hunter Coleman and veteran Cole Bedford will likely split time behind the plate this weekend, as that competition is still ongoing.
What's at stake this weekend
Hey, it's opening weekend at Olsen Field! That's all Aggie baseball fans need to know. But the season starts with several question marks simply because the program lost so many big contributors after a 49-win season that fell one game shy of Omaha.

It sounds so cliched, but the Aggies need to focus on themselves and how the team performs and not worry about the scoreboard. Bowling Green doesn't have the horsepower to hang with Texas A&M if the Aggies play smart, solid baseball. Clearly, the expectation is to win all three games, but through the years, the Aggies have lost a game or two on opening weekend against inferior opponents.

With a team of so many newcomers to the starting lineup, the key will be early success and building confidence on some early season momentum. That starts this weekend against the Falcons. It won't be just about the wins either. This team needs to prove to themselves they can compete with the top teams in the SEC and the nation, as the Aggies face No. 1 TCU and No. 15 Texas Tech at the Minute Maid Classic in two weeks. Preparation starts this weekend at Olsen Field.

Never miss the latest news from TexAgs!
Join our free email list