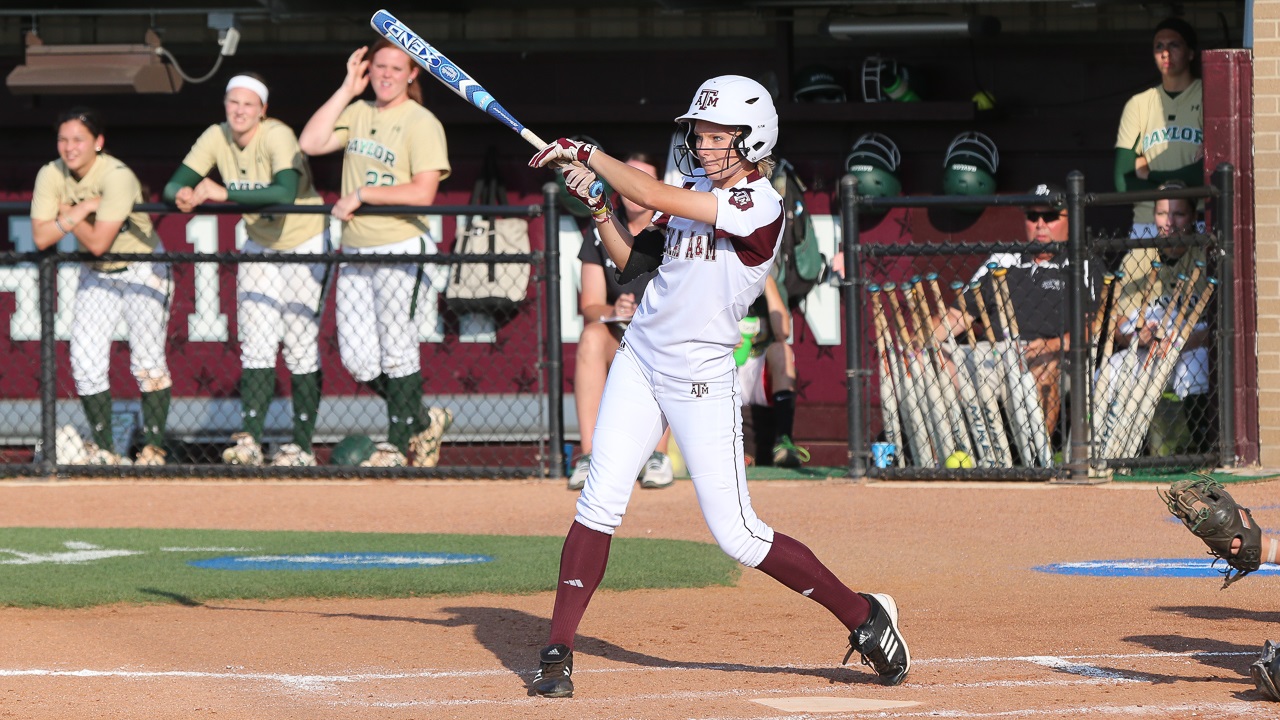 Photo by Matt Sachs, TexAgs
Texas A&M Softball
Softball: No. 8 A&M splits pair on home-opening day
---
GAME #7:
Texas A&M 8, Oregon State 0
RECORDS:
Texas A&M 7-0; Oregon State 3-5
WP:
Katie Marks (3-0)
LP:
Amanda Najdek (1-3)
S:
None
BOX SCORE:
LINK
GAME #8:
Texas A&M 2, McNeese State 4
RECORDS:
Texas A&M 7-1; McNeese State 4-3
WP:
Jamie Allred (3-2)
LP:
Lauren Ainsley (1-1)
S:
None
BOX SCORE:
LINK
---
College Station - The No. 8 Texas A&M softball team split a pair of contests on Friday afternoon, run ruling the Oregon State Beavers 8-0 in six innings while falling to the McNeese State Cowgirls 4-2 in the second game of the day. With the results A&M now sits at 7-1 on the season and 1-1 in the 2014 Aggie Classic.
After scoring two runs in the bottom of the third in game one against Oregon State, the Aggies exploded for five more in the bottom of the fourth to open up a 7-0 lead.
Victoria King
Senior center fielder Emily Albus knocked in Taran Tyler with a single to start the barrage of runs in the fourth and sophomore Cali Lanphear hit a triple to left with the bases loaded to score the final three of the frame.
"It was nice to see [Lanphear] get comfortable at the plate," stated Evans. "She hadn't had a hit up until that point, so it was nice to see her get out there and feel comfortable in a game."
A&M would end the game by run-rule in the bottom of the sixth when Lanphear doubled to right-center field, scoring senior Amber Garza from second.
While the offense was once again great, it was the pitching performance of sophomore transfer Katie Marks that stole the show. Marks pitched a complete game, giving up no runs on five hits to lower her season ERA to 0.91. The Katy native also struck out six Beavers in the contest.
"I thought Katie was terrific," said Evans. "She kept them off balance and got outs when she needed to. She got in a couple of jams early on and got herself right out of it. She looked really composed on the mound."
The second game of the day didn't go quite so well for the tournament hosting Aggies, however.
A&M struck first against the Cowgirls in the bottom of the second when Tyler doubled to left-center, scoring Lanphear from first for the 1-0 lead.
But McNeese would score two in the third and two in the fourth, all four earned runs charged to A&M junior Lauren Ainsley, to take a 4-1 lead.
The Aggies had a chance to get back into the game in the bottom of the fifth when they were presented a no-out, bases loaded chance, but could only muster one run off a sacrifice fly from catcher Nicole Morgan.
Once again, A&M had a chance to rally in the seventh frame when they put two on with just one out, but a strikeout from Lanphear and a popout from Tyler ended the game at 4-2.
Matt Sachs, TexAgs
In all, A&M left 11 runners on base in the loss to the Cowgirls, something that Evans said was unacceptable in her post-game comments.
"We had plenty of opportunities tonight," said Evans. "We stranded 11 runners; that's way too many. Many of those were in scoring position with who we thought was the right person up."
It wasn't all terrible for the Aggies in the nightcap, however, as freshman second baseman April Ryan went 3-for-3 at the plate. Ryan came into the weekend hitting at a .450 clip and had knocked in 13 runs in six games this season.
"She's so solid," Evans said of her talented freshman. "She's aggressive and wants to hit. She's always looking for counts to hit in and really attacking the ball. She's doing everything she can to help us win a ball game."
A&M now looks to Saturday as they once again play McNeese, followed by a contest against Oregon State. Those games can be seen at the Aggie Softball Complex at 3 and 5:15 p.m. tomorrow afternoon.
Never miss the latest news from TexAgs!
Join our free email list