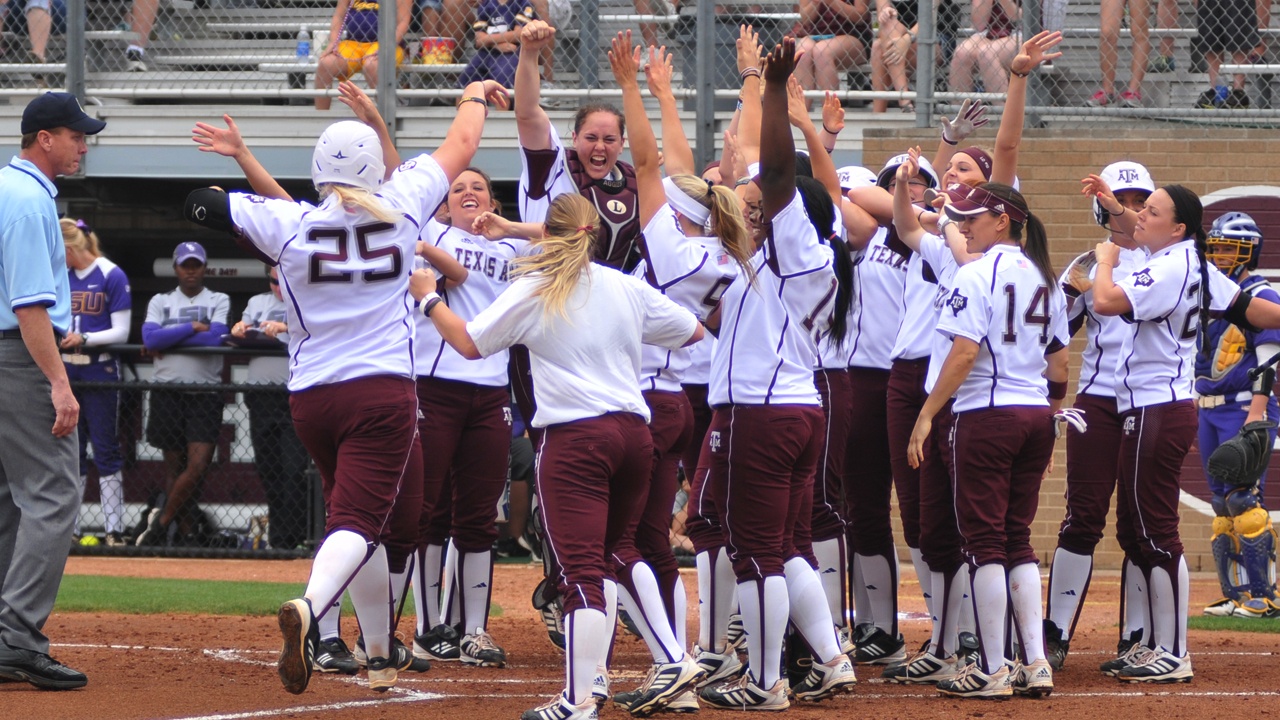 Texas A&M
Baylor
Arizona
Penn
Texas A&M Softball
Softball: Coaches, players meet with media prior to NCAA regional
---
On Thursday, the coaches and select players from the four teams participating in the College Station regional of the 2013 NCAA Softball Tournament met with members of the media to discuss playing in the post-season, the atmosphere of the Aggie Softball Complex, improvement through the regular season and much more. On Friday, Arizona and Baylor will play at 4:30 and Texas A&M and Penn will play at 7:00 in the first two games of the weekend. Those and all others from the College Station regional can be seen live on ESPN2.
Texas A&M (39-15, 10-13)
Seed: 1 (16th overall)

Conference: SEC

Coach: Jo Evans

Mascot: Aggies

Bid: SEC At-Large

Probable Friday Pitcher: Mel Dumezich (26-7, 2.36 ERA)

Leading hitter: Cali Lanphear (.363 Avg., 53 RBI, 18 HR)
Head Coach Jo Evans
Opening Statement...
"Obviously we're excited to be hosting. We're familiar with two of the three teams that are coming in. It's a great opportunity for us. We worked hard to put ourselves into a position where we can host and have that home-field advantage. We're really looking forward to getting out there and getting after it."
On Penn...
"What I know about Penn is that they're very well-coached. I've heard great things about Leslie King, their head coach. I know she's got a great softball background – competed at Cal State Fullerton, was a catcher, had the opportunity to play in some World Series, played on national teams and New Zealand teams. Everything I've heard is very positive. She seems like a players' coach and someone that the kids will want to play hard for.
"Coming in here, we know that they're a team that's got nothing to lose. They're calling themselves the Cinderella team and they know that this would be a huge upset for them to come here and win. It's our job to make sure that doesn't happen. We want to be gracious hosts, but not that gracious. We know that they're going to get after it. I respect them and I respect how hard they work.
"You look at what they're up against – we're a program that gets the opportunity to practice all fall and all spring, starting in January. The Ivy League starts practicing in February, they start playing in March, they play 48 games condensed into about two months. It's pretty remarkable what they do, and with the academic load that they have. I have a lot of respect for them and what they've done on the field and off the field."
On hosting three consecutive years...
"It's something that we try to instill in the culture of our team, that this is an expectation. When you come here the first day we have a meeting in August, and Meagan can attest to this, we're talking about hosting. We're talking about having the opportunity to play here at home and we know it's not easy. It's why we work so hard, it's why we put in the lineup that we put in every day, it's why we do what we do, to have this opportunity right now to host and have that advantage to move through. We don't sit there and think it's just going to happen. We know it's going to take a lot of hard work."
On focusing on Penn with Arizona and Baylor looming ahead...
"I think it's easier for us this year to focus on Penn because we've had some ups and downs that we recognize that we can get beat if we don't show up to play. It just makes it easier because our team understands what the task is at hand for us, and we're really focused on us being more consistent and playing the game at a level that we expect to play at. So, it's a lot easier, I think, to come into a regional like this where we're playing an opponent we don't know so well, where we understand that we'll be the favored team on paper. It's easier for us to really focus in on this game because we understand what's at stake and we understand that we are only going to win when we play at a really high level."
On the pitching rotation...
"We know that Mel is the pitcher that's going to win championships for us. She has a supporting cast. She has a supporting staff of pitchers, but there's no question in anyone's mind who our ace is and our other pitchers know that as well. It's a big responsibility for the other pitchers to understand that they have to have Mel's back. There's no doubt in my mind who needs to be on the mound and who needs to take us to the College World Series. Mel is in a position to do that right now. I think as far as pain tolerance with her injuries, she's doing well in that area. My concern would be how many games will she have to pitch. It's important for us to stay in the winner's bracket. But, I know that kid and I know that she'll pitch as many innings and as many games as she has to."
On playing on national TV all weekend...
"I'm really excited about that. I'm excited that the NBA stepped up and helped us out. I apparently am a Grizzlies fan now. It's just a great opportunity for our program to be playing on ESPN. It's not the first time, certainly, but it's a time of year that you want to be on there and at the times that we're on there. This is the time of year that every kid that plays softball in the country is watching, and every adult that has a daughter that plays is watching, and the Major League Baseball players are in the clubhouse and they're watching. It's just an exciting time, and for us to be on television and get that exposure for our program is a huge bonus for us. It's great for recruiting, and it's great for publicity and exposure, and it's important that we get a great crowd. I don't want to be on national television on primetime and have an empty stadium. It's really critical for us to get our people out to support us and let the country see what kind of atmosphere we have."
On having a week off after the SEC Tournament...
"In hindsight, yes. Obviously, like any coach, I despise losing so it wasn't fun to leave there without a win. But looking back on it now, I think more so for us mentally and emotionally, it was nice for us to have a little down time. We gave our kids a couple of days off. They went home and spent Mother's Day with their mothers and came out that night on Sunday night and practiced and watched the Selection Show. We've had really quality practices this week, and I think that rest gave us the opportunity to have quality practices. We've tried to mix it up. I think it gets very mundane if you continue to do the same thing day-in and day-out in the postseason, so we've added some fun and a little silliness to practice while also getting our jobs done. It's a fun time of year right now because our kids don't have to worry about school, so really they're just paid to play. They're like professional athletes right now. I think they enjoy that. I can tell there's a weight off of their shoulders in terms of having to go to class and take care of school."
Senior Catcher Meagan May
On using what she's learned from playing in the SEC in the NCAA Tournament...
"The SEC is definite competition. Every game, you've got to come with your best game that day. Even if you have your ups and downs, you have to work really hard, you have to concentrate on the details because it's ridiculous the amount of talent that the SEC holds. All of these teams are well-rounded, they all have deep pitching staffs, amazing offenses, their defenses are amazing.
"It's all really fun games, up and down. We've had intense competition all year. That's going to be a great thing for us going into the postseason. We haven't been playing weaker teams. We've been playing the Alabamas and the Georgias and the great teams in the country. That's really going to help us out in these later games."
On using last year's regional loss to motivate this season...
"We have not even mentioned it actually. That's the furthest thing from our minds. We're taking this one game at a time. We know that this is a completely team than we had last year, a completely different dynamic, and we're just really looking forward now. We're not concentrating on the past."
On playing at home for the final time...
"Honestly, I haven't been thinking about it as, 'this is my last time at home'. The more you think about that, the more it takes away from the actual game and who you're playing. When you start thinking about it being the end, it's just going to make you sad and I want to stay happy and excited and really positive about what we can come out and do this weekend."
---
Baylor (39-15, 10-8)
Seed: 2

Conference: Big 12

Coach: Glenn Moore

Mascot: Bears

Bid: Big 12 At-Large

Probable Friday Pitcher: Whitney Canion (23-7, 1.63 ERA)

Leading hitter: Kaitlyn Thumann(.384 Avg., 31 RBI, 4 HR)
Head Coach Glenn Moore
Opening Statement...
"We're excited to be here. Anytime you have an opportunity to play in the postseason, you've got to be excited about it. We know this is a tough field, maybe the strongest regional in the country, but we're 90 miles away and looking forward to having some green and gold in the stands. I think we're playing our best ball right now. Somebody's got to win this thing, so who better than us is the way we're looking at it."
On being familiar with the atmosphere in College Station...
"I think it's very important. We know that this is a tough environment when you're playing A&M. We've not played anyone else down here, because we've never been in a tournament here. I, for one, am very excited about the fact that we're able to have fans here. We know what to expect from A&M fans – they're good, they're loud, just short of saying obnoxious every now and then. No, it's a great home field environment for the Aggies, I know, but I think we're going to have the closest to a home-field environment on the road that we could possibly have in the NCAAs."
On whether he thinks Arizona has matured toward the end of the season...
"I've made that point a couple of times – I think that we have a lot of similarities. We've struggled at times and that's what you work for throughout a season is to try to be hitting as close to on-all-cylinders at the end as possible, and I think that they're doing that. I think we're knocking on the door as well."
Redshirt Junior Pitcher Whitney Canion
On coming back from injury...
"It was so nice to get back out this year and start playing. It was a long road from last year when I tore my ACL. The rehab was very tough at times, but now that I'm sitting here realizing it, this year was all worth it. It's been a blast. I feel like I appreciate the game so much more with things that have happened with my health, so I really take advantage of every pitch I throw because you never know when that last one could be. I've really had a blast this year coming back and playing."
On what challenges Arizona will present...
"They've always been good team throughout the postseason, but I think it's going to be a good match-up, whether they're going to play the short game or long ball, or whatever it is. I just have to hit my spots and know that my defense is behind me, and really just work ahead on all the batters. I think if I'm doing that, that's when I'm at my best."
---
Arizona (32-24, 9-15)
Seed: 3

Conference: Pac-12

Coach: Mike Candria

Mascot: Wildcats

Bid: Pac-12 At-Large

Probable Friday Pitcher: Shelby Babcock (16-10, 3.68 ERA)

Leading hitter: Chelsea Goodacre (.343 Avg., 58 RBI, 17 HR)

Head Coach Mike Candrea
Opening Statement...
"This is the place that everyone wants to be after going through 56 games and getting the chance to move on in the postseason. We're very excited to be here. This team has come a long way from day one and has gone through its ups and downs, but I think in the last couple of weeks has played very good softball. We're very excited to begin our competition tomorrow."
On improving at the end of the regular season...
"This is a young team. I knew going in that we were going to go through some ups and downs. I didn't realize that we would have such a difficult time putting all aspects of the game together. That was really a key at the beginning of the year. We just couldn't put our offense and defense and pitching together. We had one thing going, we were lacking in the other. It was a matter of growing – some young kids growing physically and mentally, and then the team just growing emotionally that they could get the job done. We gave away a lot of games this year in the latter innings and it became a mental struggle more than anything. I think of recent, we've put more of the game together, therefore we've had more success."
On facing Baylor LHP Whitney Canion..
"Whitney's a good pitcher. We've faced, I think, some good lefties. Keilani Ricketts I'd say is pretty good, and [Michelle] Gascoigne, the other pitcher for Oklahoma. We've had an opportunity to face a good pitcher from Oregon in [Cheridan] Hawkins. I think the key for us is going to be to make her throw strikes and to get good pitches and put a good swing on it. I don't think it's any different.
"The plate is still 17 inches wide, so our ability to lay off the bad pitches or the rise ball and get something down in the zone and put a good swing on it is the key. I think the other thing is to keep the game simple. For us to be successful, we've got to stay on top of things and hit ground balls and line drives. We're not a team that's going to show a lot of power, although we do have it. The key right now is just getting a good pitch."

Senior Shortstop Brigette Del Ponte
On what was different at the end of the regular season...
"I would say our maturity definitely grew at the end of the year. At the beginning we were kind of struggling with everything, but I think everybody's attitudes got better and we came together as a team more."
On facing Baylor LHP Whitney Canion...
"Yes, she's a lefty pitcher but I don't think that makes that much of a difference. It's still a pitch, it's still coming to you. It's just a fact of righties getting inside of the ball instead of letting it get jammed. I don't think we've really seen anyone like her, except for maybe Oregon's pitcher. She was a lefty, but I know Whitney throws a lot of rise balls. That's all I've really heard."
---
Pennsylvania (30-18, 16-4)
Seed: 4

Conference: Ivy League

Coach: Leslie King

Mascot: Quakers

Bid: Ivy League Champion

Probable Friday Pitcher: Alexis Borden (17-10, 2.38 ERA)

Leading hitter: Samantha Erosa (.344 Avg., 20 RBI, 4 HR)
Head Coach Leslie King
Opening Statement...
"The team is very excited to be here. It's a great opportunity. It's the first-ever trip to the NCAA Regionals for Penn Softball, so it's a historic journey for us. We're very excited about the challenge and we're going to come out and make sure we have a good time out here."
On what is different about this year's team from past squads...
"I think the big difference was leadership. We have seven seniors on our squad, Sam [Erosa] being one of them. You can't substitute for experience and leadership like that. I think that was a big key. They were single-minded on winning an Ivy League Championship, and they came through."
On not playing in a power conference like A&M, Baylor and Arizona...
"It is what it is. Our conference is what it is. The one thing about the Ivy League is that there is a lot of parody in the league, so the competition is very intense, week-in and week-out. So, while some may say the standard of play isn't as strong, the actual intensity and the heatedness of the rivalries – you're talking 100-year-old rivalries – is pretty intense. I think that gives us good preparation, and certainly the team that faced Ole Miss early-on in the season is a much different team now, a much more hardened, game-ready team than we were earlier in the year."
On motivating her team against tough competition...
"Someone's got to be the Cinderella. Why not us? We're just focusing on playing our game, having a good time, staying relaxed. We don't have the pressure on us that some of the other teams may have. We've got everything to gain, nothing to lose, so we're just going to go out there and give it our best shot, try and stay loose and have fun with it."
On what she knows about Texas A&M...
"I played against Texas A&M many, many times when I was at Cal State Fullerton. It was in 1982, I believe when we came to their tournament out here. They came to our Regional out at Fullerton. We faced Lori Stoll at the College World Series. I know A&M pretty well."

Senior Second Baseman Samantha Erosa
On winning an Ivy League Championship...
"As Coach said, I'm a senior on the team, so it's been four years. We finally took the Ivy Championship title, and now we're here for the first time. The team is very excited. It's a once-in-a-lifetime experience for our senior class. Penn Softball will be returning in the future. Everyone is really excited, as Coach said. It's definitely a challenge, but one that we're prepared for. As we speak, we're warming up right now for our practice. I think that we're just going to continue our same game plan – just stay focused, stay relaxed and play the game we can."
On Texas A&M...
"You know, I try not to focus on stats or any numbers. I think that's the best way to be. They're players just like us. We have talent, they have talent. I think it will be a good ballgame."
On being the underdog in the region...
"I kind of think that's really cool – the underdog title. It's just a title, so we're just going to come in and play hard. They may have experience, we may be beginners, but beginners luck is always something so we're going to give them a fight."
On whether she knew anything about A&M before Sunday's Selection Show...
"Honestly, I knew that they are a very good program, but like I said before we're not focusing on numbers or stats just to mess up our mental game. We're pretty confident at this point and are looking to pose a challenge. Everyone is very excited and we just want to get the ballgame started."
Never miss the latest news from TexAgs!
Join our free email list