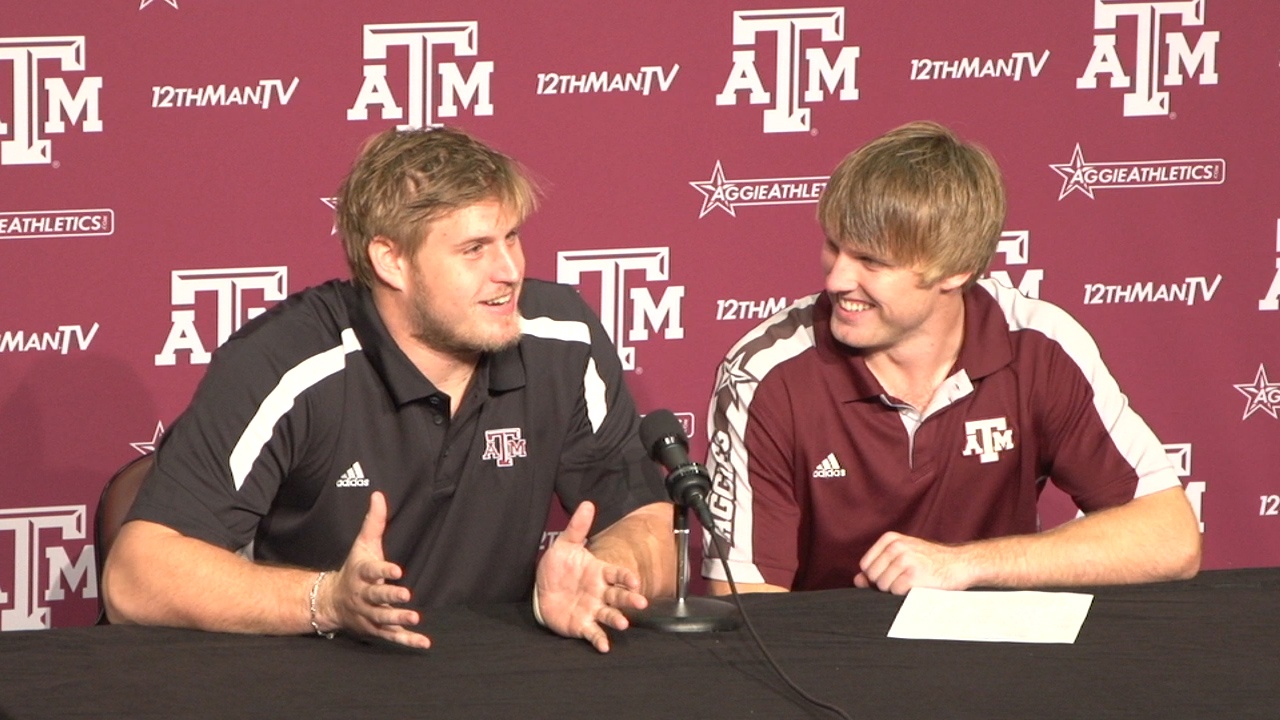 Kevin Sumlin
Nealy & Swope
Kenric McNeal
Patrick Lewis
Sean Porter
Jonathan Stewart
Texas A&M Football
Quotes, Notes & Video: Texas A&M 59, Missouri 29
---
A&M Head Coach Kevin Sumlin
On getting a Gatorade bath from the seniors...
"It was cold. Damontre got me with the ice. But it's always worth it. These guys — I said it last week — for 12 weeks to play the way they've played, they've accomplished a lot without a bye week. It was really important to them to finish up the season and finish what they started. We weren't always perfect, but we did play with a lot of effort and a lot of enthusiasm. Our older guys have really bought into what we were trying to get accomplished. Our seniors and experienced players and junior class really led the way for us.
"I'm particularly happy for these seniors to go through what they've gone through with different coaches, different position coaches, going into the new league, handling everything and winning 10 games for the first time since 1998 — that's something that nobody can ever take from them. It was really important for them to accomplish that."
On the Heisman...
"I really hadn't said much about it until last week, but what I said last week still holds true. I think you put Johnny's numbers up against anybody in a single season — not just this year but any year, anybody who has ever played the game — and they speak for themselves. The voters are going to recognize that.
"It doesn't matter what year you are, you're talking about the types of numbers. You put that in perspective with the league that we're playing in, I think the combination of those two things tell you all the things you need to know about voting."
On Spencer Nealy...
"What you saw tonight was a culmination of him every week. I can remember in the spring and in two-a-days going, 'Wow, we're going to move him inside and play D-tackle?' The guy, week after week after week after week, has played with incredible energy, has been another catalyst for us on this team with his energy during the week, during the game, a guy that's probably not supposed to do what he's done, but nobody knew that. We all knew it, but not Spencer Nealy. I don't think he knew that he wasn't supposed to go in there and play the way he's played all year at 270 pounds.
"He's a leader by example but there are other guys who see that and say, 'Well if he can do that I ought to be able to do that. All we've got to do is play with effort and know what you're doing and that gives us a chance.' He's another one of those guys I was talking about that it's so important to him. He's such a team guy but it's so important to him that he made other people around him better."
On the senior class...
"It was satisfying tonight, but if you've been paying attention, it's been that way for the last six weeks, really. I know that Johnny gets a lot of credit and so does Mike Evans, but these guys have been doing this over the course of this season, in particular the last half of the season when we went on the road stretch and we had to play on the road. The great leadership during the week, big plays by [Jonathan Stewart], last week Sean Porter, Steven Terrell, I could go on and on. Dustin Harris has become more steady and made plays.
"I keep talking about Pat Lewis ... we couldn't do anything without him. We can't go up-tempo if he doesn't get to the ball. He makes all of the protection calls. He really targets the ball and takes the heat off of a young quarterback. We told C-Mike earlier this week that this is Senior Night — you're going to be starting. He responded in a big way for us early in the game.
"All of those guys have really contributed and led this team. As I said, as a coaching staff we're forever grateful for them because they didn't sign up for us. They have had different people come in since they've been here, whether they were position coaches, head coaches, philosophies, change in positions. They could have easily said, 'You know what, I'm tired of this,' and they didn't do that. There's no way that we could have won half as many games as we did this year if those guys didn't buy in and lead this football team."
On what this season means to the future of the program...
"Coming into the year, we really didn't care what everyone else's expectations were. We had a lot of work to do and we still have work to do. The biggest concern from everybody except for the people in this room was whether we could compete in the SEC. In Birmingham, the three main questions were 'You guys don't have a quarterback, your offense is a question mark and you're thin in the defensive front — how are you going to compete in the SEC?'
"I think that these guys kind of took that to heart and they set a tone for this program that 'You know what, not only can we compete but we can win.' We have a process that's in place now that our current players understand. I think that what these seniors have done is to really set the tone for how to do things away from Saturday. There was a big change in that type of culture, so for us right now, I think that beforehand, it really was just guys having faith; belief without proof.
"And now if you're a young player in the program you understand the process that makes sense because of your rewards and if you're a young prospect out there, you understand that we've got a great university, we've got a great game day experience, and we're in probably the best league in the country and you can come to Texas A&M and win. From that standpoint, this year is extremely important."
C Patrick Lewis
On what this win meant as a senior...
"It means a lot. First of all, it was a 10-win season for us at the end of the regular season and we hadn't beaten Mizzou at home for the past couple of years. It was really important for us as seniors on Senior Night to get a win and really help the program and continue to win and continue to build our future."
On whether he would have predicted a successful season...
"I think it has to do with the seniors and the attitude we came in with. The type of season we had last year was just a nightmare of a season. We just tried to put it behind us, almost as if it didn't happen. This is a new team and we had high expectations. We expect to win every game, even when people didn't really give us a chance coming into the SEC. We set our own expectations real high.
"To be honest, we knew we could win this many football games in a season. People in the fan base, people in the school believed in us and that's what it's all about. It's about us, us playing to our standards and that's what we did and that's why we had the success we had this season."
On beating Missouri for the first time in his career...
"It was a big relief - not only to beat Mizzou and Arkansas for the first time this season, this is only the 11th team in Texas A&M history to win 10 ballgames and we take a lot of pride in that. Every win was big. This has been a season of first, like Coach Sumlin always says. We beat Arkansas for the first time and we just beat Mizzou. We're just real happy right now and we're real excited about what we've got going as a team."
LB Jonathan Stewart
On first half effort...
"It meant a lot on senior night to play fast and physically. As seniors we have seen all types of seasons, so it meant a lot. It was great for us to finally come out and have a season full of Texas A&M football."
On excitement...
"It felt great, the seniors were all ready for this game. We all wanted to do as much as we could do to make sure we got this win, and fortunately we did."
On senior memories...
"We will remember all the fun times we had together: on the field, off the field, and in the locker room. Probably not specific plays but time we spent with each other and relationships we were able to build over the past four years."
LB Sean Porter
On how big this game was...
"It was really fun; we hadn't beaten them over the seniors' careers, so it was a really great experience to knock them off and come up with ten wins for the season. It is huge for us."
On how far the team has come...
"We feel ten times better than the beginning of the season. As soon as a good team can clean up all the small mistakes they make they win a lot of games. I think we realized what was going on and fixed it."
On what it took...
"It took great leadership from both coaches and players. I think the seniors really stepped up and led us when we needed it. It was a combination of leadership from people that were supposed to be leading us the entire time."
WR Kenric McNeal
On the attitude about season...
"It's been a very special year. As seniors, we look forward to trying to win every game. We had a young team this year but they came along and did what we need them to do and we came out on top."
On near-perfection with third-down conversions...
"We try to keep the drive alive and keep the defense off the field. We do whatever it takes. We call ourselves the "Third-Down Warriors" so we just try to keep the ball going."
On Johnny Manziel's potential for winning the Heisman...
"At the beginning of the season, I said that Johnny would win the Heisman and I think he should win it. Have you ever seen anybody like Johnny? I think he is the only person in the world that can do what he does. You can't teach what he does. I think he deserves it, freshman or not."
WR Ryan Swope
On the season...
"Its' definitely been a very special season; getting to experience the SEC and the change when no one thought we could compete. I'm glad I get to share it with these seniors, these coaches and this team, and it's one that I will remember for the rest of my life."
On shedding tears...
"I think everyone probably shed a few tears tonight. It was an emotional night. We had a very close senior class and we were very tightly knit and we are going to miss each other; it was our last night to play on that field in front of the greatest fans in the country. I'm glad I get to share it with guys like Spencer, Sean Porter, and Steven Terrell, but at the same time I'm going to miss these guys."
On Johnny Manziel...
"I think he has progressed tremendously. I knew he could run the football in high school. He was a big question mark and when he was named starting quarter back he took off from there and he hasn't slowed down. He is a tremendous player and has a passion for the game. He is exciting to watch and the scary thing is that his is only a freshman."

DT Spencer Nealy
On Senior Night...
"For four years a lot of people said that I couldn't do something which I loved because that puts the biggest fire underneath a person. It's been a phenomenal season. It makes me proud to be a part of it. It's been absolutely extraordinary."
On last game...
"It started out with those fireworks. I consider all of us blue-collar guys, we roll our sleeves up and work hard for what we get, and that's how I feel. Seeing fireworks like that was pretty neat and I got pretty pumped up. It was our last time and that's how you have to play."
On why Johnny Manziel should win Heisman...
"Johnny is the most exciting player in the world. 'Heismanziel' is pretty catchy. Johnny deserves it and he has competed consistently. He is an incredible player and a good guy too."
---
Missouri Post-Game Quotes
Head Coach Gary Pinkel
"Texas A&M was like the team we saw on TV. Their offense is very potent. Johnny Manziel is a great player. It was perfect storm in the wrong way. We couldn't get off the field on defense, and offensively we had our struggles as we've had all year. That combination is not very good.
"Obviously, we are very disappointed. We knew James Franklin wasn't going to play on Wednesday, because he had all the symptoms. We knew all along Corbin was going to play. You should give A&M credit. They have scored a lot points against a lot of teams this year. We are talking about a great quarterback. Johnny made most of his plays running around back there just like John Elway used to do for Stanford. The things he did to us he did to a lot of people."
RB Kendial Lawrence
"We made a lot of mistakes to start the game, and it affected us the whole game. The offensive line is a great group of guys that has been through a lot, and getting that 1000 yards means a lot. It is tough ending the year like this. The last three years we have gone to a bowl so it is tough to end on this note."
QB Corbin Berkstresser
"We were very disappointed after the game, especially the seniors. They are trying to take in everything right now and it is very emotional. They just played their last college football game. I couldn't get in a rhythm against their defense. We were trying to play catch up the whole game. We just tried to compete the best we could."
---
Post-game notes
About the win
* The Aggies defeated Missouri 59-29 for their 10th win of the 2012 season. It was A&M's first 10-win season since 1998 and the twelfth 10-win season in program history.
* A&M finished the regular season with a 6-2 record vs. SEC opponents, which tied for second in the SEC West division.
* It was A&M's fifth-straight win.
* The win snapped the Aggies' three-game losing streak to Missouri.
* It was the tenth win of head coach Kevin Sumlin's first season at Texas A&M. The previous high winning total by a first-year Aggie coach was eight by R.C. Slocum in 1989 and D.X. Bible in 1917.
Manziel takes down Newton's SEC yards record
* Redshirt freshman QB Johnny Manziel erased 2010 Heisman Trophy winner Cam Newton's SEC record for total offense. Manziel finished the day with 439 total yards to break Newton's old record of 4,327 gained over 14 games. After 12 games, Manziel has generated 4,600 total yards.
Another big game for #JohnnyFootball
* Manziel passed for 372 yards and three TDs and rushed for 67 yards and two TDs as he generated 439 total yards and five scores.
* Manziel matched one of the oldest records in the Aggie record book with his 19th rushing touchdown. Joel Hunt originally set the record in 1927 and it had been matched previously by Darren Lewis in 1990 and Jorvorskie Lane in 2006.
* Manziel was responsible for five TDs against the Tigers, bringing his season total to a record 43 scores (19 rushing, 24 passing). Manziel had been tied with Jerrod Johnson, who was responsible for 38 TDs in 2009.
* It was Manziel's fifth game with 400 or more total yards, and his ninth straight game with at least 300 total yards.
* Manziel has generated five or more TDs in six games in 2012, including the last two.
6,000 yards for Aggies
* Texas A&M became the eighth SEC team to surpass the 6,000-yard level in total yards this season. The Aggies surpassed 6,000 total yards for the second straight year and the third time in program history.
Trends and notables
* Redshirt freshman WR Mike Evans grabbed eight passes for 99 yards, surpassing the 1,000-yard mark for the season in the process. Evans is the first freshman and the third player in school history with 1,000 yards. He has 75 catches for 1,022 yards and five TDs on the season.
* Senior WR Ryan Swope joined former teammate Jeff Fuller as the only players in school history to surpass the 3,000-yard plateau in career receiving yards. For his career, Swope has 244 receptions for 3,013 yards.
* Texas A&M wore white helmets at Kyle Field for the first time since 1978.
* The Aggies set a school record with their fifth 50-plus point game of the season. A&M posted four 50-plus point games in 1912 and 1997.
* Texas A&M ended the game with 537 points on the season, setting a new single-season school record. Last season, A&M set the mark with 508 points.
* Senior RB Christine Michael scored a pair of TDs to become the 15th Aggie to score 200 or more points during his career.
* Sophomore WR Malcome Kennedy posted career bests with seven catches for 110 yards (previous bests were four for 60 yards vs. Oklahoma in 2011).
* Tonight's attendance was 87,222, which is the eighth-largest crowd in Kyle Field history and the second-largest of the SEC era. For the season, Kyle Field's average crowd was 87,013, which was just off the school record of 87,183 set last year.
Captains, 12th Man
* Game captains for the Aggies were: senior center Patrick Lewis, senior safety Steven Terrell, senior linebacker Sean Porter and senior wide receiver Ryan Swope. Missouri won the toss and deferred its choice to second half. A&M defended the north goal.
* Making his eighth 2012 start and 20th of his career at 12th Man was defensive back C.J. Jones, a senior from Klein Forest HS in Houston.
Never miss the latest news from TexAgs!
Join our free email list