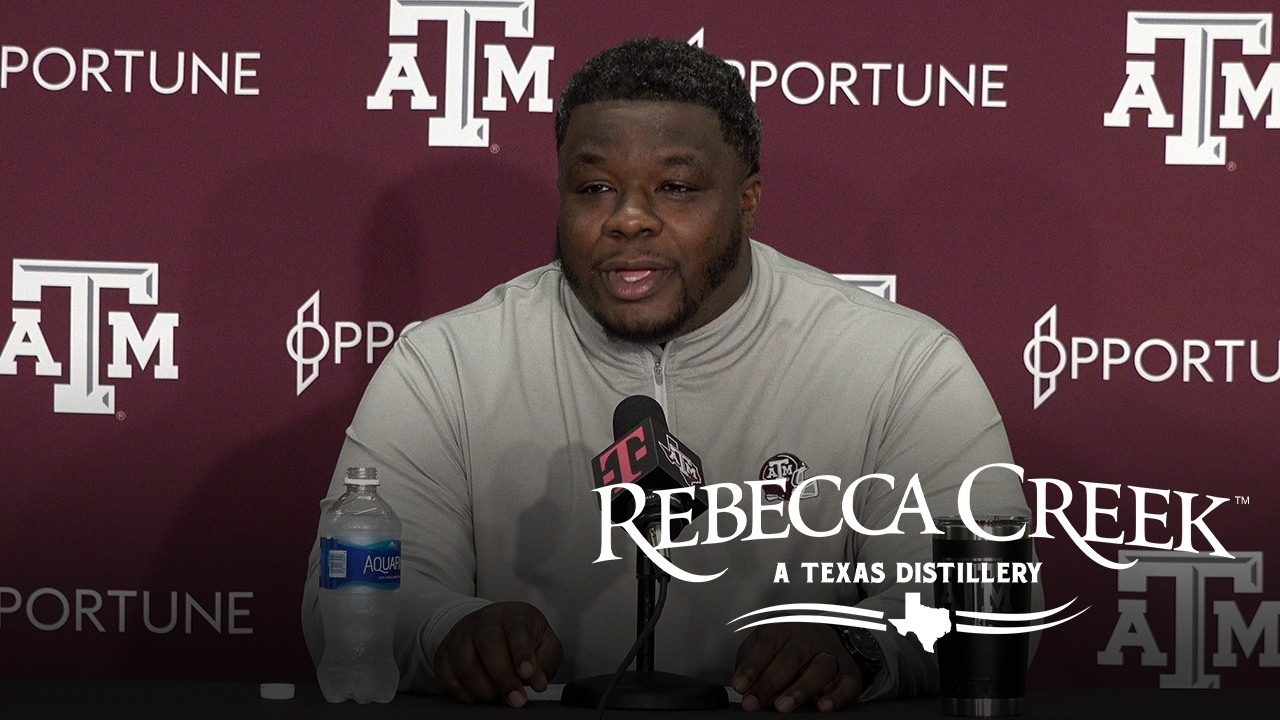 Elijah Robinson
Ainias Smith
Texas A&M Football
Press Conference: Robinson, Ags eye next opportunity in Baton Rouge
---
The regular season wraps up on Saturday in Baton Rouge as the Fightin' Texas Aggies look to knockoff Brian Kelly's Louisiana State Tigers. Ahead of this weekend's matchup, Elijah Robinson and Ainias Smith spoke to the media to preview the matchup.
---

Elijah Robinson
Happy early Thanksgiving. It was a great win for us. Looking forward to the challenge this week. Looking forward to the week coming up.

The biggest difference was no longer focusing on the defense and defensive line. I had to be more engaged in the whole scheme of things.

Ths guys responded to a great challenge they had last year against LSU. That was their last game. It all came together. All three phases played well.

My mother and grandmother told me to never get too big or low. That's how I was raised. They kept me humble.

We met as a staff. We met to determine what was the best way to get our guys prepared. Coach Bobby Petrino came down on the field. Promoting coach Tony Jerod-Eddie helped me focus on head coaching roles.

Jayden Daniels is extremely talented. He has a great coach in coach Brian Kelly. He is a problem. We have to be on top of our game to give ourselves a chance. Daniels has grown so much since last year. He's not up for a Heisman for no reason.

They have two first-round draft picks as receivers. They have a talented group.

Max Johnson and Josh DeBerry are day-to-day.

This week, tomorrow is the last day of school. I don't think there is a need to leave on Thursday so the team and players can have Thanksgiving with their families. The team will travel on Friday because they do not have academic obligations.

The protection goes beyond the O-line. You can't put it on one group. The coaches have to narrow it down to put our players in the best position.

I wanted Petrino down on the field to talk directly to the quarterback.

It's a blessing. I am thankful for this opportunity. I wouldn't not rather be doing anything else.

Every week, the players' job is to prepare. I am happy for Moose Muhammad and the success he had.

My mom wanted all boys. She finally had me after three girls. It's not easy being a single parent. She is a God-fearing woman, so she is praying for me and the staff. She is appreciative and proud. My kids are everything to me.

My sisters told me I was always spoiled. My mom would whisper and tell me I was her favorite.

That's what it is all about. How awesome was the 12th Man kickoff? Those guys will remember that for the rest of their life. Those guys had the time of their life. That was special. Put chills to my body.
Never miss the latest news from TexAgs!
Join our free email list
SPONSORED BY