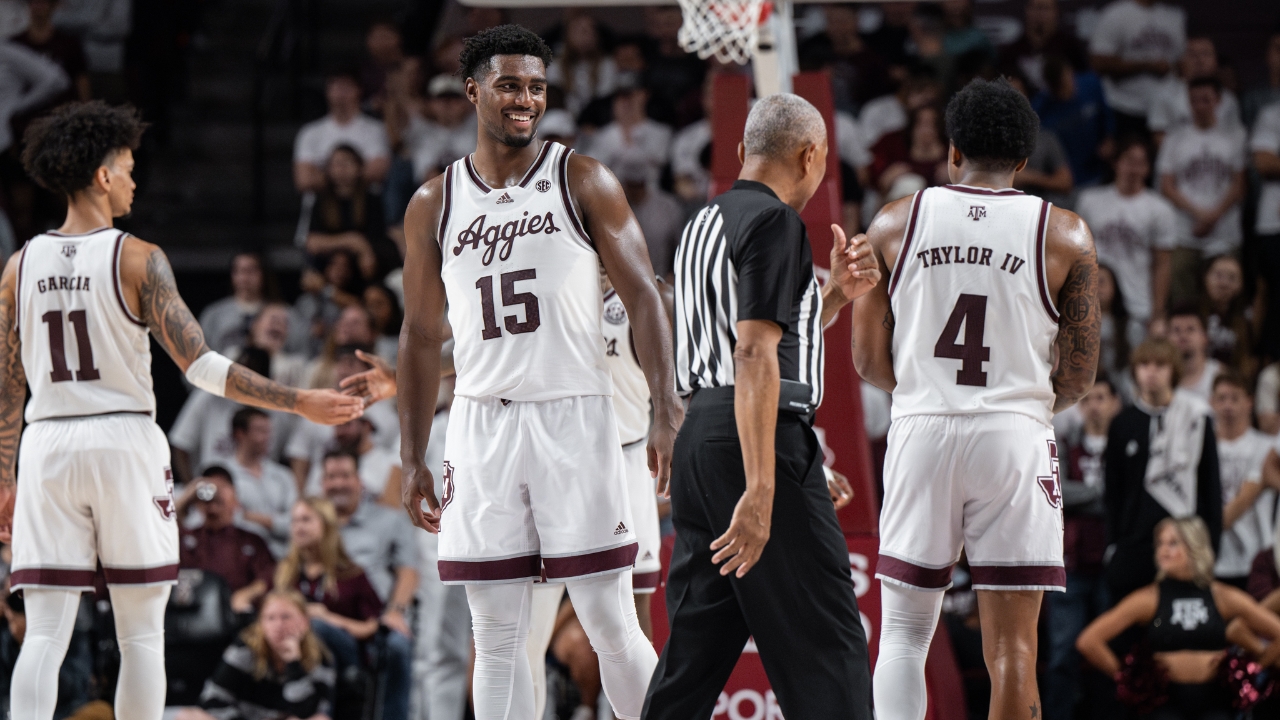 Buzz Williams
Hefner & Coleman
Texas A&M Basketball
No. 13 Texas A&M continues perfect start with 74-66 win over Oral Roberts
---
4-0.
With 10,689 on hand at Reed Arena, No. 13 Texas A&M (4-0) remained perfect with a 74-66 Friday night victory over Oral Roberts (1-3).
Ahead of next week's ESPN Events Invitational in the Sunshine State, the Aggies improved to 4-0 for just the second time in the Buzz Williams era.
"This 4-0, I think, is a little different from strength of schedule, and I think what's upcoming in the next four games is a little different in strength of schedule too," Williams said.
This fourth win came with at least some Friday night anxiety.
ORU hit five of its first eight 3-point tries, but even with that scorching start, the Golden Eagles never led by more than five.
With A&M's five steals and five blocks, the visitors were content to rely on deep shots, which eventually cooled to finish 11-of-28 behind the arc. The Aggies also turned eight turnovers into 10 points.
With Thanksgiving six days away, A&M cooked five "turkeys."
"This 4-0, I think, is a little different from strength of schedule, and I think what's upcoming in the next four games is a little different in strength of schedule too."
"They just played free," Hayden Hefner said of ORU. "You can see it. Guys taking shots and playing how they want to play. That's a recipe for disaster, but we did a good job of sticking to our game plan. Not letting the shots they were hitting get to us."
A&M dominated the rebounding battle by a 53-29 margin, including a 28-6 edge in offensive boards.
"We didn't make a very high percentage of our shots, but we were phenomenal on the glass," Williams said. "If you don't turn it over, you do get a shot. We'll make more shots, but even though we didn't, great job on the offensive glass.
"The overarching theme is that what we're trying to do is difficult, and it requires the maturity of not just during the game but all of the things that lead up to a game to be our best."
Ultimately — as it did in Columbus and Dallas — A&M's defense and rebounding abilities carried.
That defense will be leaned on again next week.
An opportunity for revenge on Penn State awaits on Thursday. A top-15 showdown with No. 10 FAU could follow.
"In a multi-team even like this, everybody is going to play three games in four days," Williams said. "How you handle the week leading up to that is really important."
Trailing 24-19 midway through the first half, A&M embarked on a much-needed 11-4 run to assume the lead.
Finally in front 30-28 with 3:26 remaining before halftime, the Ags did not trail again.
Although Tyrece Radford had the go-ahead bucket, it was Henry Coleman III who contributed eight points during that ascent.
Only Isaac McBride's 27 points out-did Coleman, who finished with 19.
Beyond that, Coleman grabbed 10 rebounds to complete a third consecutive double-double. He now has 52 points and 36 boards in his last three games.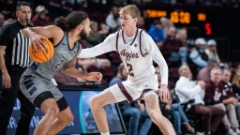 Jamie Maury, TexAgs
"I'm not paying much attention to it, honestly," Coleman said of his streak. "Yeah, I see my mom text me, and my dad text me, but I'm just trying to keep doing what I'm doing each day."
What started as a small A&M lead grew to 38-31 at the break.
With 13 minutes remaining, the advantage first reached double digits on Solomon Washington's fastbreak bucket.
However, Oral Roberts refused to go away, but A&M was never truly threatened.
"They hit a lot of tough shots," Coleman said. "Coach just says 'Piña Coladas' when people hit tough shots."
A modest second-half gap that fluctuated grew to as many as 13 despite A&M missing its first 11 3-pointers of the night. Radford mercifully ended that deep-shot drought nearly five minutes in the second half.
Radford's lone triple was part of his 11-point output. Wade Taylor IV joined him and Coleman in double figures with 16 on a perfect 8-of-8 night from the free-throw line.
All 11 Aggies that played scored a point.
Still, the Aggies shot 35.6 percent (26-of-73) from the field and just 9.1 percent (2-of-22) from range.
"We faced adversity today," Coleman said. "Last year, I don't think we win this game... We hit adversity, and we were able to bounce back and get through it."
While slow shooting has yet to truly plague the Aggies, they have reached a minimum of 73 points in each of its first four contests. Ironically, opponents have settled for 66 in three straight.
While the emphatic victory with a stark increase in offensive production eluded A&M on Friday, the lone stat that matters improved once again.
4-0.
Never miss the latest news from TexAgs!
Join our free email list