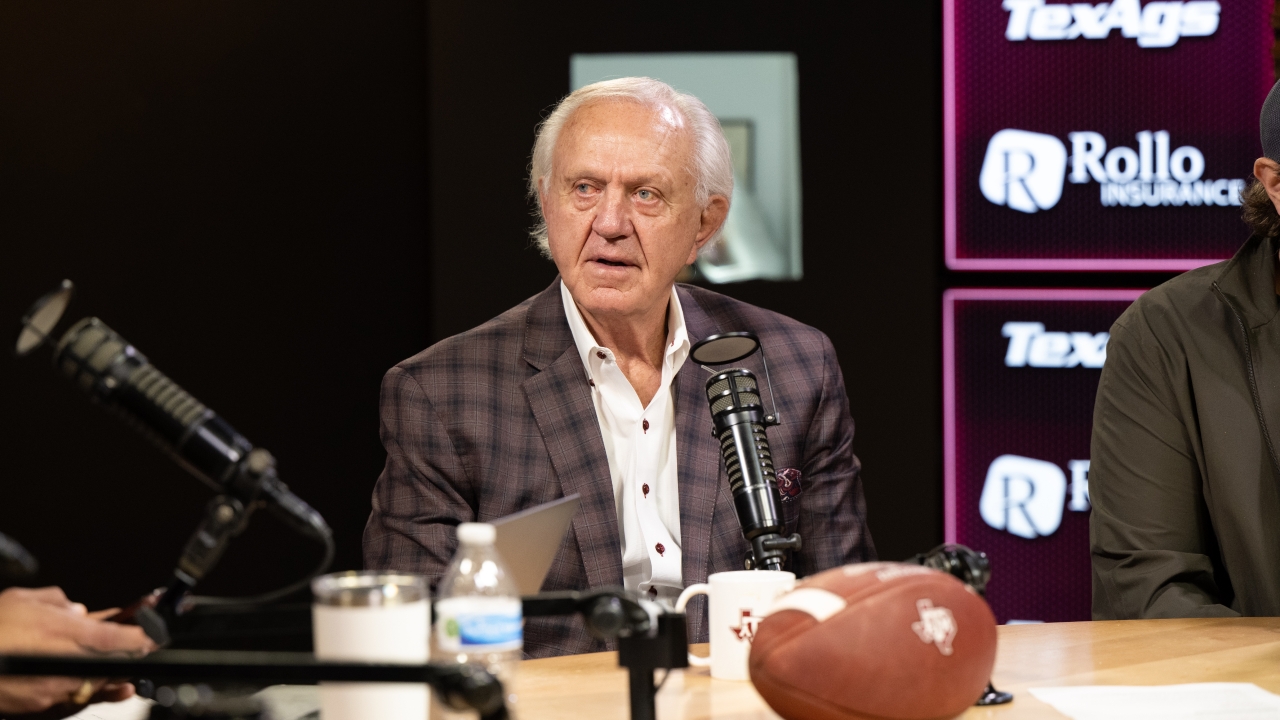 Photo by Katie Smith, TexAgs
Texas A&M Football
A&M legend Jackie Sherrill to be honored by 12th Man Kickoff Team Foundation
---
In Aggieland to be honored by the 12th Man Kickoff Team Foundation, legendary former Texas A&M coach Jackie Sherrill joined us in-studio on Friday's edition of TexAgs Radio. Sherill discussed the creation of the 12th Man Kickoff Team, A&M's head coaching vacancy & more.
---

Key notes from Jackie Sherrill interview
Let's go back real quick. The head Redpot burst into my office and gave me a challenge in the spring of 1983. He asked if I wanted to be THE Aggie coach or just another Aggie coach. I took his challenge. He put me in Elephant Walk. That was James Fuqua. Fast forward, I would pass by the Bonfire stack on my way home. One day, I finally stopped. He handed me a pair of pliers that had been passed down for four generations. He taught me how to wire. We are in the crane, and he is swinging us all around.

There were 40,000 students and enough kids that were crazy as hell that would do anything to get on Kyle Field. The 12th Man Kickoff Team changed the culture. It took our football team to the student body. It made the students feel a part of it.

We put an ad in the paper for the 12th Man Kickoff Team, and 252 signed up for the first meeting, including two females. We whittled it down to 40. They came out to spring practice, and then we whittled that down further. Their return average was 12.5. The furthest one out was to the 30-something-yard line until we played Auburn in the Cotton Bowl, and Bo Jackson ran it out to the 43-yard line. Today, the No. 1 team in the Power 5 is Michigan is 13.8. It wasn't like they weren't good.

I tried to bring a similar special teams unit to Mississippi State. It didn't work there. It would work at A&M because of the student body and their love for Kyle Field. Even last week with that crowd, that is not normal, but it is here.

It's the players. Not the coaches. I am fortunate to have had players who were not just players, and I am talking about some of the greatest to play college football. It's what they do afterward. You look at the success of those players in the 1980s, and the success they have in life is off the charts.

I thought I was a good coach when I came here. The first two years were so-so. If we would have won one or two more games, we would have been very good. You have to give your players more than Xs and Os. We wrote a manual called the "Making of A Champion."

We had one player who turned this program around, Ray Childress. We went to Arkansas and got our butts beat. I had nothing to say at halftime. TCU won the conference. In a Thursday meeting, Childress said he was not letting TCU beat him. He was a one-man Wrecking Crew. It gave confidence to the players. I didn't do that. That was their own teammate. That one player helped turn A&M around.

This year, if we had that one play in one game early, it would have turned this season around.

The bottom line for a new head coach is this: Is he a winner? That's what A&M is looking for and every kid that comes here.

Go all the way back to when A&M was founded and it was all military. What people don't realize is how important A&M has been to the world and to the United States. You can go back to World War II. The whole student body was deployed. You got seven Congressional Medals of Honors out of World War II. You give me a handful of Aggies, and I'll win the war. They did.

If you don't understand A&M, it's going to be difficult to win. Is he a winner? Does he know football? Can he recruit? Today, with the transfer portal, I'm glad it wasn't around back when I was coaching. We would have had a lot of players take off. NIL too. Everything has changed. You are looking for the right fit.
Never miss the latest news from TexAgs!
Join our free email list
SPONSORED BY