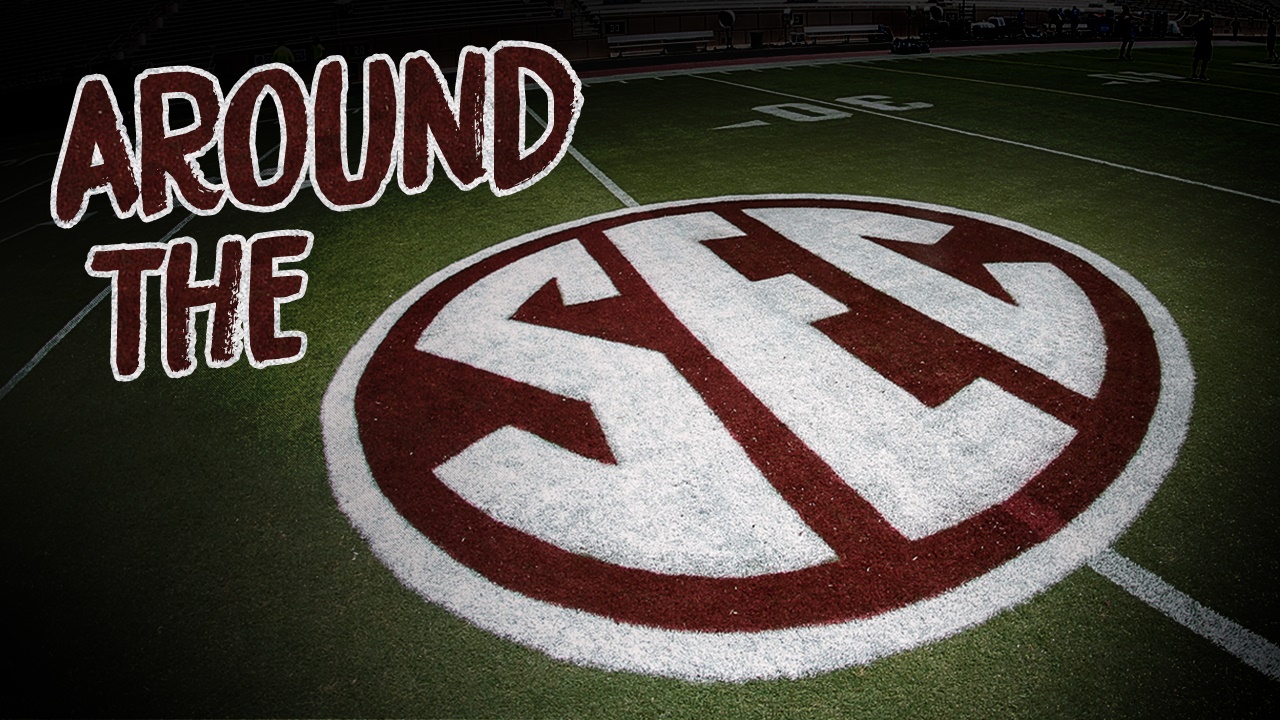 Photo by Ray Carlin-USA TODAY Sports
Texas A&M Football Recruiting
Around the SEC: Recruiting News & Trends
---
The December signing period is quickly approaching, and SEC programs are working hard on the recruiting front. Commitments have been made, decommitments have been declared and decisions are causing ripples across the SEC recruiting landscape. Now it is time once again to take a look at the latest news, notes and headlines.
Big Gets
CB Wardell Mack‍ flips from Florida to Texas
http://instagr.am/p/CzkIGFsswrh
DE Jamonta Waller‍ flips from Florida to Auburn


S Laquan Robinson‍ picks Auburn


2025 TE Ryan Ghea‍ commits to Auburn


2025 DE Zion Grady‍ selects Alabama

Headlines
Jaren Sensabaugh‍ decommits from Vanderbilt – Nashville (TN) standout defensive back Jaren Sensabaugh committed to Vanderbilt in June, but he has seen a flurry of offers this fall. Now he is taking a fresh look at his recruitment with Missouri, Tennessee and NC State as some of the schools in hot pursuit.
Cai Bates‍ decommits from LSU – Orlando (FL) Edgewater cornerback Cai Bates recently backed away from his LSU pledge. He chose the Tigers in July after taking official visits throughout the summer to FSU, LSU, Tennessee and Alabama. He recently made unofficial visits to Texas A&M and FSU.
Courtney Crutchfield‍ decommits from Arkansas – Pine Bluff (AR) wide receiver Courtney Crutchfield has decided to take another look at his options. Regarded as one of the top prospects in Arkansas, he originally committed to the Razorbacks in April over college programs near and far.
Braylon Burnside‍ re-opens recruitment – Starkville (MS) ATH Braylon Burnside is taking another look at his options. He originally chose the hometown Bulldogs over Ole Miss, Auburn, Texas A&M and Arkansas when he made his summertime decision back in late June.
Oklahoma rolling in 2025 – Brent Venables and the Sooners continue to add top talents to their 2025 class, with three recent in-state additions bringing the class to eight total commits. On Nov. 2, the Sooners received a duo from Carl Albert High School as teammates Trynae Washington‍‍ and Marcus James‍ made the call. Then on Nov. 10, the Sooners added edge defender Alexander Shieldnight‍ from Wagoner High School.
New Name to Know
ATH Damari Drake‍, Shreveport (LA) Evangel Christian – 2026
At 6-foot, 215 pounds, Drake has earned the nickname "Hit Stick" for his physical style of play as a two-way standout. He plays running back and linebacker, and with role models Ray Lewis and Marshawn Lynch, he prides himself on playing with aggression and intensity. He also brings explosion and power, which shows in the weight room, where he has a 260-pound bench press max.
The 2023 season has been a wildly productive one. He is Evangel Christian's leading rusher with 565 yards and eight touchdowns on 50 carries, which rounds out to 11 yards per carry on average, in case you were wondering. Then on defense, he is second on the team with 121 tackles, including eight for loss, three sacks, one interception, three pass breakups and a pair of forced fumbles.
College coaches are beginning to take notice of the sophomore. He did not attend any camps, but he is hearing that coaches from LSU, Ohio State, Kentucky, Tennessee and Texas A&M have liked what they've seen so far.
In addition to football, Drake also competes with Evangel Christian's track and field program.
What's up with the top
Top prospects in each SEC program
Alabama: WR Cameron Coleman‍, Phenix City (AL) Central – Texas A&M
Arkansas: DL Charleston Collins‍, Little Rock (AR) Mills - Arkansas
Florida: WR Jeremiah Smith‍, Opa Locka (FL) Chaminade-Madonna – Ohio State
Georgia: QB Dylan Raiola‍, Buford (GA) - Georgia
Kentucky: QB Cutter Boley‍, Lexington (KY) Lexington Christian Academy - Kentucky
Louisiana: DL Dominick McKinley‍, Lafayette (LA) Acadiana – Texas A&M
Mississippi: DL Kamarion Franklin‍, Lake Cormorant (MS) – Ole Miss
Missouri: DL Williams Nwaneri‍, Lee's Summit (MO) Lee's Summit North - Missouri
Oklahoma: DL Daniel Okoye‍, Tulsa (OK) NOAH Homeschool - Oklahoma
South Carolina: OL Josiah Thompson‍, Dillon (SC) – South Carolina
Tennessee: CB Josiah Thompson, Nashville (TN) CPA - Georgia
Texas: WR Micah Hudson‍, Temple (TX) Lake Belton – Texas Tech
Never miss the latest news from TexAgs!
Join our free email list