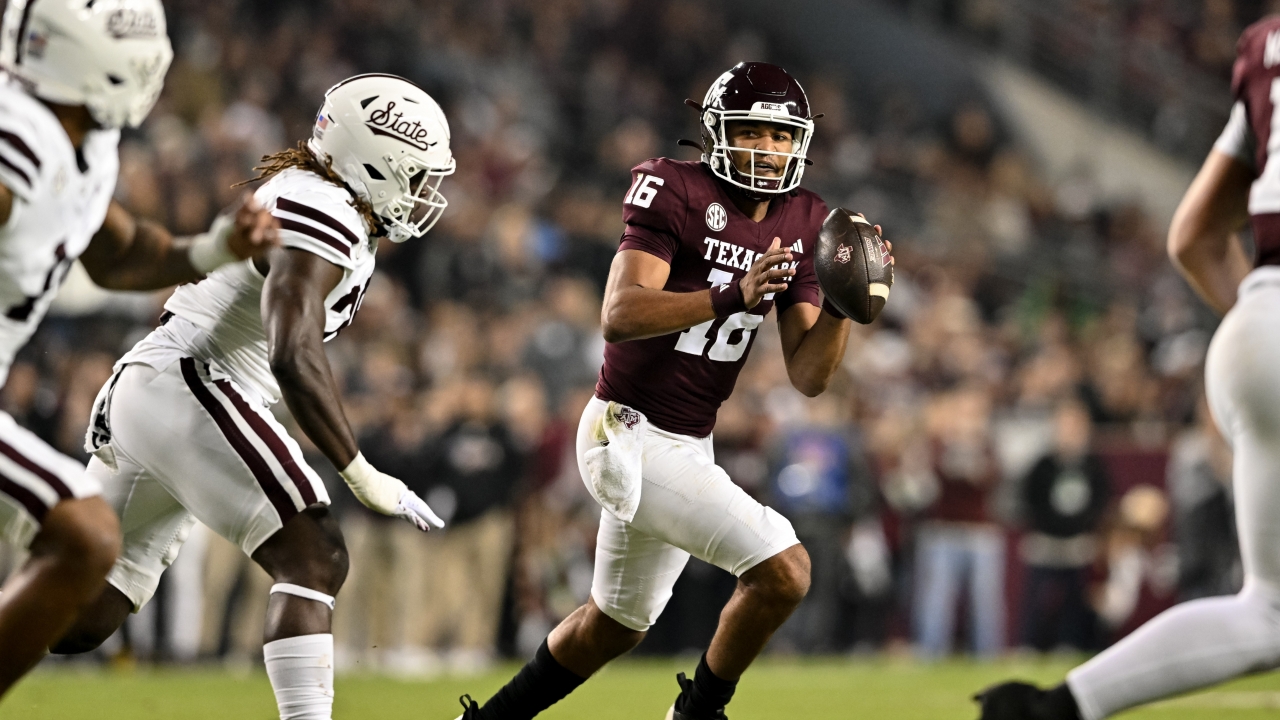 Photo by Maria Lysaker-USA TODAY Sports
Texas A&M Football
Post Game Review: Texas A&M 51, Mississippi State 10
---
QB3 helps the Aggies earn bowl eligibility.
Under the lights of Kyle Field, Texas A&M routed Mississippi State, 51-10, powered by third-string quarterback Jaylen Henderson.
Despite the big win, Mississippi State struck first by housing a 94-yard kickoff for an early 7-0 lead.
With quarterback Max Johnson sidelined, Henderson took the field with just five completed collegiate passes under his belt at Fresno State.
Henderson used his legs to gain 12 before hitting Noah Thomas for his first completion of the night. Thomas' 31-yard gain was backed up by another 13 yards from #3. Henderson found his way into the end zone with a 22-yard rushing touchdown, the first of his career to tie the game, 7-7.
With injuries lingering on the Mississippi State sideline, backup quarterback Chris Parson also earned the start. Seth Davis found 16 yards to move the chains until a trio of false starts triggered by the 12th Man disrupted the drive. On third down, Deuce Harmon took away the possession with the second pick of his career.
Back-to-back carries from Amari Daniels moved the sticks and began the Aggies' second drive until the march fizzled out at Mississippi State's 30-yard line. To follow, a collection of Davis rushes could not find enough yardage to pass the line to gain, and the Bulldogs punted away.
A kick-catch interference penalty boosted the Aggies 15 yards to begin their drive on State's 31-yard line. Rueben Owens and Ainias Smith gained 11 out of the backfield until Daniels punched in the score from 1-yard out, 14-7.
Back on defense, A&M's secondary posted their second takeaway of the night as Jacoby Mathews intercepted Parson to set up Henderson & Co. 14 yards away from their end zone. Though, an eight-yard sack forced A&M to settle for a field goal from 33 yards out, 17-7, to end the first quarter.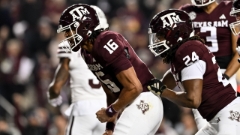 Maria Lysaker-USA TODAY Sports
The Bulldogs looked to Mike Wright to lead their offense after Parson threw a pair of interceptions in the opening quarter. A&M's defense continued their dominant ways as they stuffed the Bulldogs on fourth-and-1. The Aggies remained aggressive as they took a deep shot to the end zone, yet miscommunication and another incompletion sent out Randy Bond. The kicker nailed a 52-yard to tie his career-long and put the Aggies up 20-7.
MSST responded with a field goal of their own as Wright's first completion to Lideatrick Griffin led to a big third-down conversion — a 14-yard rush by Jeffery Pittman. The Bulldogs reached the red zone but ultimately couldn't find six as they kicked a field goal from 36 yards out.
A&M's next successful drive was kicked off with an emphatic 42-yard rush from Daniels and moved the chains once more on Smith's first catch. His next reception came in the form of a touchdown grab from 19 yards out to make it a 27-10 ballgame.
On the other end, the Bulldogs continued to struggle as they went three-and-out once again and only gained a yard before being pushed back by a delay-of-game penalty.
Henderson got the ball back and hit Max Wright for a gain of 17 before scrambling to find 14. With two minutes to go before the half, Henderson took it upon himself to run his way to the goal line and make it a 24-point lead at the break.
With possession after the half, the Aggies stalled out with their first three-and-out of the night.
Handing the ball back to State, Wright handed off to Davis, who carried the rock 46 yards downfield and sparked what looked to be a successful drive for the Bulldogs. Yet, things took a turn for the worse as Wright was sacked by Jarred Kerr, forcing a fumble, and Shemar Stewart picked it up to finish off the scoop with a score, 41-10.
Back on offense, Mississippi State slowly worked its way over midfield until Zavion Thomas hauled in a 28-yard catch along the sideline. On A&M's 23, the Bulldogs had a chance to score their first touchdown. However, Parson was sent back in as the signal-caller and threw another interception right into the hands of Tyreek Chappell.
20 yards in penalties pushed A&M's offense back. But Smith gained that back and more.
Smith's wide-open 27-yard catch got the Aggies over midfield, and a series of runs kept the offense moving. Henderson threw a dart to Jahdae Walker in the end zone to stretch the home squad's lead, 48-10.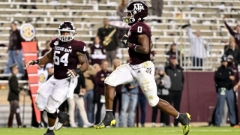 Maria Lysaker-USA TODAY Sports
Moving a 48-yard drive downfield, Mississippi State still couldn't find the end zone but kicked a field goal from 49 yards out that wound up short.
A&M's David Bailey saw his first reps at running back, posting, six-, 19- and 14-yard gains. Bond capped off the rush-heavy drive with a 45-yarder through the uprights to extend the lead to 51-10.
The Maroon & White's QB4 Marcel Reed saw action as the clock winded down to solidify the much-needed win.
RUMBLED: Jaylen Henderson gave the Aggies the performance they needed and more. The third-string quarterback was just 5-for-8 for 49 yards before his career at A&M. On Saturday night, he posted four touchdowns with 150 yards through the air and 60 on the ground. Called upon in a desperate time of need, he delivered a blowout victory.
STUMBLED: Mississippi State's shortcomings were topped off by four turnovers — three picks and a fumble returned for a touchdown. The Bulldogs did not score an offensive touchdown all game. Five of their 12 possessions resulted in some kind of takeaway for the Aggies. Safe to say, business was handled defensively.
TURNING POINT: The Aggies' three-score second quarter extended their lead to 34-10 at the break. A&M kept its foot on the has and held momentum throughout the entirety of the second half.
UNSUNG HERO: Unsung to fans of Texas A&M? No. Unsung to those who vote for the Butkus Award? Seems like it. Edgerrin Cooper continued what has already been an All-American season for, posting 11 tackles (six solo) and a quarterback hurry. Now that's worthy of praise.
KEY STAT: A&M's 34 first-half points are the most in an SEC game dating back to Nov. 8, 2014, against Auburn. This was also the first time A&M scored 50+ points in a conference game during regulation since Aug. 28, 2014, vs. South Carolina (52-28).
Scoring Summary
First-quarter
MSST: 14:48 - Zavion Thomas 94-yard kickoff return for a touchdown. Mississippi State 7, Texas A&M 0.
A&M: 11:47 - Jaylen Henderson 22-yard rushing touchdown. Drive: 6 plays, 80 yards. TOP 2:57. Mississippi State 7, Texas A&M 7.
A&M: 2:32 - Amari Daniels 1-yard rushing touchdown. Drive: 5 plays, 31 yards. TOP 2:10. Texas A&M 14, Mississippi State 7.
A&M: 00:46 - Randy Bond 33-yard field goal. Drive: 4 plays, -1 yards. TOP: 1:55. Texas A&M 17, Mississippi State 7.
Second-quarter
A&M: 12:40 - Randy Bond 52-yard field goal. Drive: 4 plays, 0 yards. TOP: 0:20. Texas A&M 20, Mississippi State 7.
MSST: 6:55 - Kyle Ferrie 35-yard field goal. Drive: 10 plays,57 yards. TOP: 5:45. Texas A&M 20, Mississippi State 10.
A&M: 4:48 - Jaylen Henderson 28-yard touchdown pass to Ainias Smith. Drive: 6 plays, 72 yards. TOP 1:55. Texas A&M 27, Mississippi State 10.
A&M: 1:20 - Jaylen Henderson 11-yard rushing touchdown. Drive: 8 plays, 60 yards. TOP 2:23. Texas A&M 34, Mississippi State 10.
Third-quarter
A&M: 11:10 - Shemar Stewart recovered fumble for a 43-yard touchdown. Texas A&M 41, Mississippi State 10.
A&M: 2:00 - Jaylen Henderson 11-yard touchdown pass to Jahdae Walker. Drive: 10 plays, 80 yards. TOP 5:12. Texas A&M 48, Mississippi State 10.
Fourth-quarter
A&M: 8:44 - Randy Bond 45-yard field goal. Drive: 8 plays, 42 yards. TOP: 3:12. Texas A&M 51, Mississippi State 10.
Never miss the latest news from TexAgs!
Join our free email list