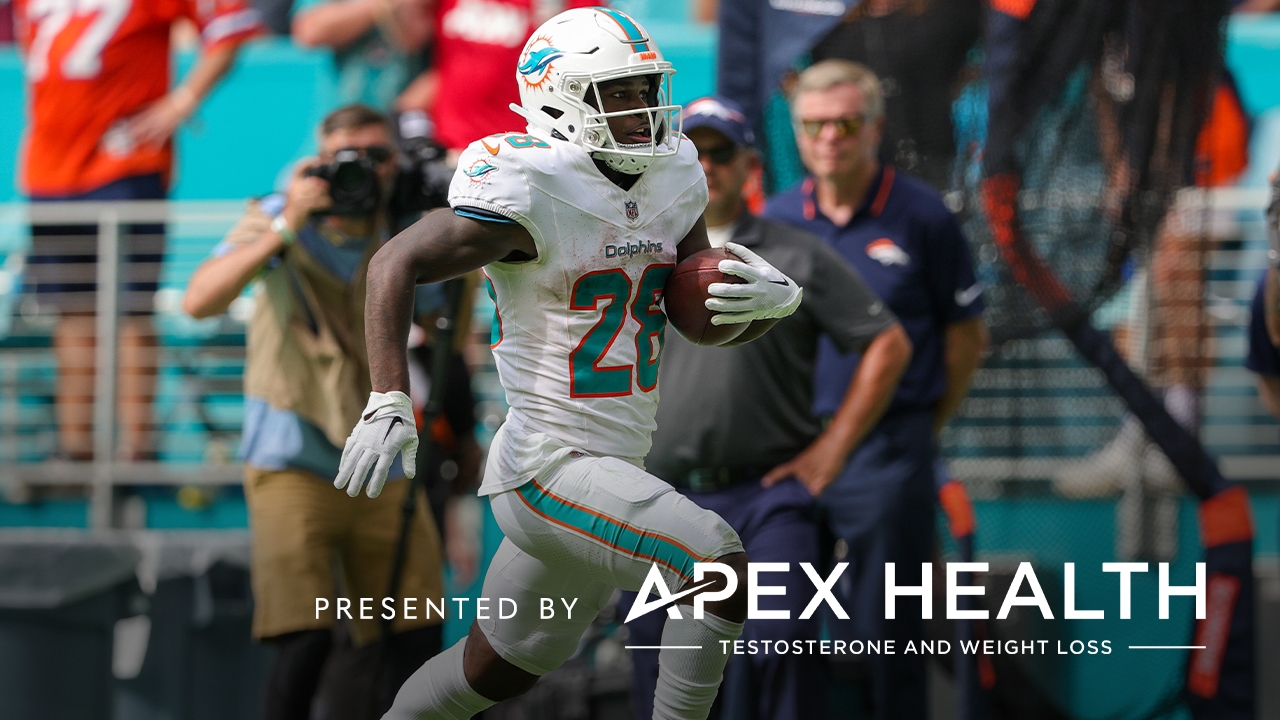 Photo by Nathan Ray Seebeck-USA TODAY Sports
Texas A&M Football
Apex Performance of the Week: Achane shines in Miami's historic win
---
In this week's Apex Performance of the Week, we highlight former A&M football player De'Von Achane as well as Max Johnson, Edgerrin Cooper and Le'Veon Moss. Achane logged 22 touches for 233 yards and four touchdowns in the Miami Dolphins' historic 70-20 victory over Denver.
---

David Nuño's Performance of the Week: Max Johnson & De'Von Achane
Max Johnson came in, and it was a difficult situation and a close game. It wasn't close for long. Johnson did not miss a beat, and A&M had a better offensive half with him in. I asked Jimbo Fisher about the adjustments at half, and he said it was more about seeing things in the moment vs. what you weren't seeing.

Mike Evans is always on fire. He's a great football player. A Hall of Famer. Donovan Wilson had four tackles and one TFL. Justin Madubuike had a nice game as well.

De'Von Achane had 22 touches, 233 total yards and four total touchdowns.

You're seeing Le'Veon Moss grow each week. Amari Daniels had the biggest run.
Olin Buchanan's Performance of the Week: Edgerrin Cooper & Le'Veon Moss
I'm not going to take the low-hanging fruit, but the guy I am excited about is Edgerrin Cooper. The Hog Hunter warmed up against Auburn. He had eight tackles and two sacks. He was an Apex Predator on Saturday.

Max Johnson's touchdown pass to Evan Stewart was picturesque.

I guarantee De'Von Achane will have another four-touchdown game in his career.

Another performance I want to point out is Le'Veon Moss. He had 97 yards rushing. He showed he could make the big play, and he showed he could get the tough yardage.

I fully expect the Rangers to get into the postseason, but you should not assume they will win the division. You should never assume anything with the Rangers. They've won six in a row.

Ryan Brauninger has me excited about Texas A&M baseball with the way he's talking about this lineup with Jace LaViolette and Braden Montgomery. There could be a lot of runs scored this year.
Never miss the latest news from TexAgs!
Join our free email list
SPONSORED BY